"Look at market fluctuations as your friend rather than your enemy; profit from folly rather than participate in it."
- Warren Buffett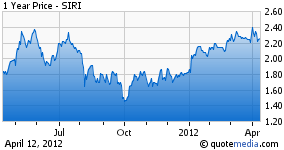 Market fluctuations or "volatility" have always been one of those things that many investors have been unable to adequately analyze. What astute investors understand is that everything that goes up in the market is not a great stock. And we can come up with many examples such as Netflix (NFLX) when it soared to over $300 last year. And conversely just because some stocks go down for an extended period of time, does not mean they are bad stocks. A stock that fits that category might be Bank of America (BAC) which traded last year at a low of $4.92 and has surged to over 70% this year while leading all of the Dow components in performance.
What separates both scenarios during their periods of fluctuation is the most important word on the market and that is value - another term that is often left up to interpretation. But neither stock has fluctuated over the years more than Sirius XM (SIRI) - one of the most volatile stocks on the market. Sirius is one stock where the words "price and value" as well as one's credibility is often determined by which side of the debate one is on. But there is no denying what now appears to be limited upside potential to the stock absent some serious improvements to its model. While many investors continue to hinge on hope that the stock will trend higher there is now more evidence that the so called "smart money" continues to exit the stock and close out positions.
(Click to enlarge)

Click to enlarge
The chart above shows institutional activity during last quarter ending March 31st. I don't think it is any coincidence these sales occurred during the same period that Sirius' CEO Mel Karmazin announced that he plans to exercise 60 million worth of options to begin selling as early as this month. So it stands to reason that several of the funds saw some opportunities to sell at some recent highs, reaching the $2.40 level to profit while retail investors continue to hope. What I also find to be pretty telling is that these sales occurred (again) during the same period that Sirius reported what I thought was one of its most disappointing quarters since its flirtation with bankruptcy.
So as the company is due to report its Q1 earnings in a couple of weeks, it is possible that smart money have decided to exercise some intelligence and not wait for what they perceive might be more disappointment on the horizon. A total of 4 million shares sold for an average of 35% reduction from their existing holdings - essentially five separate firms have decided to cut their exposure to Sirius by over 1/3 percent. If that is not significant I don't know what is. The obvious question is, what is it that they know that the average retail investor does not?
But to the extent that Mel might be able to manage the stock price and considering what the market is now saying as it relates to this current trading range, this is something that we are certain to find out when the company reports earnings in a few weeks. To me Sirius continues to be its own worst enemy by how it operates. But it continues to get a pass from investors who continue to demonstrate that they do not fully understand exactly what they are investing in and realize that Sirius continues to get in the way of its own success.
Summary
While we continue to hear about how free cash flow is growing and the increasing subscriber count, these terms don't often mean a whole lot to smart money investors. They are not impressed by such customized company metrics. Instead, today's smart money wants to know "what's next?" What is it that is going to blow away the competition and keep customers thirsty for the next iteration of your product? In other words, the "great turnaround story" is over with. Now is the time to show that you can perform on a higher level and on the biggest stages. It's disappointing though, as evident by its low-ball 1.3 million subscriber projections, the company often gets stage-fright.
Disclosure: I am long BAC.