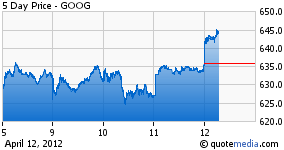 Google (NASDAQ:GOOG) is expected to report Q1 earnings after the market close on Thursday, April 12, with a conference call scheduled for 4:30 pm ET.
Guidance
The consensus estimate is $9.65 for EPS and $8.15B for revenue, according to First Call. Google reported weaker than expected fourth quarter results after its third quarter results beat expectations. The outlook for first quarter results is mixed, as Google's shares have pulled back a bit in the last few weeks. In fact, Google shares have slipped 1.54% this year, compared to the Nasdaq's gain of 15.79%.
Last quarter, Investors were particularly concerned about an unexpected drop in prices for Google's Internet search ads. Some analysts believe the change reflects a shift to more searches on smartphones, where advertising rates are lower. Others are worried that the downturn in ad prices is a sign that Google is losing share to competitors, including Facebook (NASDAQ:FB). Investors will be looking for clues in order to determine whether the drop in ad prices last year was an aberration or the start of a trend that could slow the company's growth. Google's Q1 expenses also are likely to be a focal point of the report, as CEO Larry Page has pledged to make expensive investments in employees and projects that he believes will boost the company's long-term returns. Analysts also will likely inquire about the status of Google's proposed $12.5B acquisition of cellphone maker Motorola Mobility Holdings (NYSE:MMI).
Analyst Views
Needham's Q1 estimates are below consensus expectations, with the firm predicting that the company will be hurt by continued declines in cost-per-click, or CPC, rates and weakness in Europe. The firm expects Google to report Q1 net revenue of $8.043B and pro forma EPS of $9.26. Needham says that while the number of Google's U.S. core search queries increased 9% YoY in Q1, strong mobile growth should push overall query growth ahead of these expectations. However, the firm believes that CPC rates could decline 4%. Additionally, Needham believes that European search spending continued to slow due to the macro environment there. After conducting industry checks and evaluating YouTube trends, the firm expects the growth of Google's display business to moderate in Q1. However, Needham expects advertisers to continue to allocate more of their budgets to Google, given its deep search relationships, large YouTube audience, and end-to-end display advertising ecosystem. Android activations reached 850,000 per day in Q1, Needham notes, and the operating system should continue to be the primary growth engine for Google's mobile advertising and app revenue, said the firm. Needham maintains a Buy rating on the shares with a $750 price target. Consensus estimates for Q2 and FY12 are: $10.01 on $8.43B in revenue and $42.60 on $35.45B in revenue, respectively.