All physical assets have intrinsic values that depend not on what people perceive the value of these assets should be, but rather on what it costs to produce and replace such physical assets.
The fair market value of a physical asset is roughly decided by the marginal production cost, which is the highest cost of production needed to adequately meet demand.
For example, copper could be produced at $2.00, $3.00, $3.50, or $4.00 per pound, depending on specific mines. If the copper demand is met by mines producing at a cost of $3.50 or less per pound, then roughly $3.50 per pound -- plus a bit of reasonable profit margin -- would be the fair market value of copper. If demand increases and the $4.00-cost copper mines must start to produce as well, then the fair value of copper would be $4.00 plus reasonable mark up. This works well because profitability encourages more production, and vice versa.
But gold seems to be different. The supply/demand and marginal production cost argument does not work well for gold. This metal is a monetary metal and a hard currency. There is a huge stockpile of above-ground gold in the world. If all the gold mines in the world were shut down today, the existing gold stockpile can last the world for a thousand years. Most gold ever produced still exists today in one form or another: jewelry, coins, and bullion. Since there will never be a shortage of gold, the supply/demand analysis does not work. Investors purchase gold at one time only to sell it at another time, so they could be either on the side of demand or the side of supply. Without certainty in supply/demand, the marginal production cost becomes a moot point.
So what determines the fair value of gold? Precious metal analysis quotes very different production costs from very different sources. But none of the cost figures quoted are fair to determine gold's value.
For example, copper producers refine copper using the electrolysis process which produces anode slimes that contain the precious metals gold, silver, platinum, and rare metal tellurium. These byproduct metals can be extracted from the anode slime at minimal cost. U.S. copper producer Asarco regularly extracted and sold tellurium, a metal 10 times rarer than gold, even at a time when tellurium sold for only $7 per kilogram. Asarco would be happy to extract gold from the slime and make a profit even if gold sells for $7 per kilogram. Since there is never going to be a gold shortage, the gold extracted from copper anode slimes is more than the world ever needs. Should gold be fairly valued at $7 per kilogram then? Tellurium, being 10 times rarer than gold, was once only $7 a kilogram. Gold shouldn't be more expensive just because it is rare, right? No one sells one kilogram of gold for $7.
Looking at another example, if everyone in the world wants to own a few ounces of gold as a safe haven asset, gold produced from all the gold mines won't meet the demand. We could set up factories to extract gold contained in the sea water. The cost will be prohibitively high. It might be profitable if gold is sold for, say, $1 million per ounce. But no one buys gold at $1 million per ounce, either.
Those are two extreme examples of gold production cost. Gold could be produced dirt cheap or prohibitively expensive, depending on who you talk to. The point I'm making is that gold's fair value is not determined by the production cost of mines. The opposite causal relationship is true. A gold mining company will decide whether a specific mine should be produced profitably or not, depending on the current gold market price. Adding or removing some gold mines, on the other hand, has very little bearing on gold's supply/demand.
So what determines the fair market value of gold?
Gold's fair value is determined by its status as the world's most hoarded metal, most trusted hard currency, and best-known safe haven asset. Gold is used as a reliable hard currency and storage of value. Ever since the fiat currency was invented, there have been countless examples of currency collapse. Each time people rush to gold and other physical assets to protect their fortune, gold always holds up its value. The value of gold in terms of purchase power is very stable over the long term because the stockpile of gold is huge and does not vary much over time. Gold is not an investment, but rather an asset insurance during crisis times. Gold's status as a safe haven and asset insurance is what gives it fair intrinsic value.
The amount of fiat money circulating in the world, including paper money and coins, is estimated at roughly 5 trillion U.S. dollars at the end of 2010 -- and is growing fast. Adding in the nonphysical fiat money, the M2 and M3 money supply, the total amount of money in the world is much higher.
All fiat money has the potential to collapse and become worthless. Neither an individual, a corporation, a financial institute nor a country can afford to allocate all liquid assets in fiat money or fiat currency denominated debts. Everyone has to allocate a portion of their assets in the hard currency and safe haven, mostly in gold. Likewise, central banks who print fiat currencies cannot afford to leave their currency without the backing of physical assets. They have to have gold reserves that are adequate to the amount of currency in circulation in order to provide at least some sort of backing.
Click to enlarge image.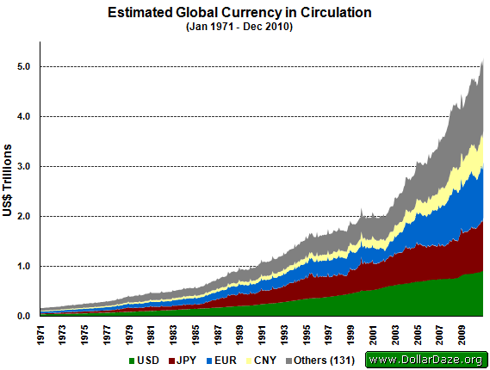 The need for people to dedicate a portion of their fortunes to the hard currency gold, the need of central banks to allocate a certain portion of their assets in gold to back up and protect their currencies, and the ensuring fight for the finite amount of gold that is available are all precisely what gives gold a fair market value.
The physical amount of gold is relatively fixed, while the amount of fiat money grows rapidly. So to ensure that gold constitutes a fair percentage of asset allocation, the value of an ounce gold -- measured in fiat currency unit -- must grow in proportion to the growth of the money supply. Gold does not become more valuable when the price goes up, it simply reflects that the value of the fiat currency goes down when more money is printed.
Let's look at some numbers. Central banks of the world are hoarding a total of 30,800 metric tons of gold. At the beginning of 2003, the world's total M1 money supply was US$2.0 trillion, gold was about US$400 per ounce. So the central bank gold hoard was valued at US$0.40 trillion. The gold hoard was roughly 20% of the M1 money in circulation. By the end of 2010, the M1 money supply had grown to US$5.0 trillion and the physical amount of gold hoard was little changed, but the per-ounce value of gold had grown to US$1,000, putting the gold hoard at a value of US$1.0 trillion. Again it is roughly 20% of the amount of M1 money in circulation, no more and no less.
The 20% says that it is prudent for people and central banks to put 20% of their assets in physical gold for protection. This is not an unreasonably high percentage; it's really just adequate. The hardly changed percentage also proves that various claims that gold is a bubble or that the gold bull market has ended are baseless. Since that percentage hasn't shifted to the higher side, the gold bull market hasn't even started so far. As long as money keeps getting printed, gold will keep moving up in fiat currency prices while it is simply holding up its purchasing power. I would start worrying about gold if I see the allocation percentage begin to move higher than 20%.
Have you allocated enough of your liquid assets into gold, silver, and other physical assets? Or is all your money in bank deposits? Please think about the 20% allocation figure; do you have enough gold?
My advice to China's Central Bank Governor Zhou Xiaochuan: China's M2 money supply reached 86.72 trillion yuan in February 2012, up 18% in a year, while China's gold reserve is only 1054 metric tons, worth 0.3478 trillion yuan -- a mere 0.40% of the M2 money supply. That's a far lower than the 20% average central bank gold allocation percentage. China must massively increase its gold hoard or the Chinese yuan is a disaster waiting to happen.
The M2 of the dollar is about US$9.75 trillion. The U.S. Treasury had a gold hoard of 8133.5 metric tons, or about US$0.426 trillion, equal to 4.37% of the M2 money supply. This is inadequate and tells me that the U.S. dollar has far to fall.
Since the gold reserve at Fort Knox has not been audited for many decades, there were rampant Internet rumors claiming that all the U.S. gold is gone. Despite repeated requests from elected officials, no one could visit the facility to verify whether the gold is still there or not.
Consider this: Every other nation and central bank in the world has purchased or sold off some gold and their gold reserve has changed. But the official U.S. Treasury gold reserve has remained a constant over decades. Why? If the U.S. sells or purchases any gold, it must then open the gold vaults to transport gold bars into or out of the vaults. If so, someone would know exactly what's in the Fort Knox gold vaults. If there is a "secret" in Fort Knox, the only way to safeguard that secret is to never buy or sell any gold and never create a need for someone to enter those vaults. What that secret may be I will leave to the imagination of readers.
Some gold and commodity investors are concerned gold could one day become a bubble. It is certainly possible. Is gold a bubble today just because some gold mines might be producing at very low costs? Not at all. When does gold become a bubble? Look at the historic money supply chart, during the famous gold run in 1980; there was no obvious peak of money supply at the time. It might be that the central bank gold allocation at the time far exceeded 20%. That would have been a good indication of a gold bubble condition.
So let me answer the question I posed earlier: What is the fair value of gold in U.S. dollars? I'll look at 1980 when gold peaked, 2001 when gold bottomed, and today when gold is at $1,660. Let's start with the U.S. dollar M1 money supply data, both current and historical. The official U.S. gold reserve is 8133.5 metric tons, or 261.5 million ounces. Based on the 20% figure noted above, the M1 money supply amount divided by 1.3075 billion (5*261.5 million = 1.3075 billion) should be the fair price of gold.
On Jan. 21, 1980, gold reached a peak of $850 per ounce. M1 was $413.2 billion. M1 divided by 1.3075 billion would give a fair gold price of $316 per ounce. Clearly, gold was overpriced at the $850 bubble price.
On April 2, 2001, gold reached a bottom price of $256 per ounce. M1 was $1114 billion. This would lead to a fair gold price of $852. Gold was underpriced and the dollar was overvalued at the time.
Today, gold is at $1,660 per ounce. The M1 is $2221 billion. This leads to a fair gold price of $1,699. That sounds about right. Gold has a bit to catch up. But if the Fed keeps printing money, gold prices should keep going up as the M1 keeps expanding. Will M1 stop growing anytime soon? I don't think so. So gold will go a lot higher.