On March 23, 2012, Neflix (NFLX) announced (via an 8-K) that it would be switching auditors; KPMG was dismissed and Ernst & Young was hired. Considering Netflix's volatile trading habits and increasingly uncertain performance, is this a worrisome development? Or is it a non-event that provides a great buying opportunity?
Performance of Netflix shares since the announcement makes it seem like investors may be slightly spooked. On the first trading day following the announcement, shares popped and peaked over $120, but they have since fallen by almost 20% in just two weeks. While some of this decline is certainly attributable to other developments and general stock market weakness, it may also be due to diminishing shareholder confidence after the auditor change. (Graph source: Yahoo! Finance.)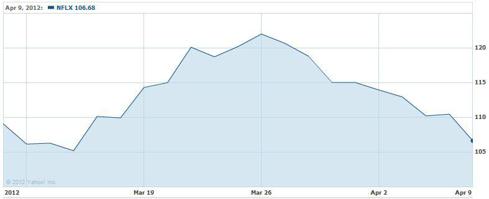 Click to enlarge
There do seem to be some potential accounting reasons why Netflix may not have a carefree relationship with its auditor. Netflix investors have always been aware of (and sometimes concerned about) off-balance sheet liabilities; as of December 31, 2011, there is a $3.9 billion obligation (of which only $740 million is shown on the balance sheet) relating to streaming content. Of that amount, $2.4 billion will need to be satisfied during 2013 and 2014; this $1.2 billion/year run rate is a much higher cost than Netflix has had to absorb in the past. The treatment of these obligations as off-balance sheet has to do with interpretation of recognition requirements, which are probably subjective (meaning that classification may change depending on the viewpoint of the evaluator.) Therefore, Netflix must be conscious of how an auditor interprets the correct way to classify such issues.
Another accounting-related possibility, which is something that many Netflix bears may have already concluded themselves, is that there could have been increasing doubt about Netflix's ability to continue as a going concern. The bases for such an idea are that Netflix is forecasted to lose money in Q1 and FY2012, and that the off-balance sheet liabilities (and just the general cost of providing streaming content on an ongoing basis) will overwhelm the company's resources. Netflix raised capital in late 2011 (which primarily demonstrated that management was very stupid in spending hundreds of millions of dollars to buyback stock prior to that); the capital raise strengthened the balance sheet a bit, but does not come close to offsetting the future liabilities.
However, nothing in the 8-K points to KPMG having any issues with Netflix's accounting. In fact, as part of the filing, Netflix notes that there were no disagreements due to accounting-related matters, and KPMG signs off on the truth of that statement. For those that enjoy accounting language, this is how the 8-K states that there was no accounting/reporting disagreement (emphasis mine):
During the fiscal years ended December 31, 2011 and December 31, 2010, and the subsequent interim period through March 21, 2012, there were (i) no "disagreements" as that term is defined in Item 304(a)(1)(iv) of Regulation S-K, between the Company and KPMG on any matter of accounting principles or practices, financial statement disclosure or auditing scope or procedure, which disagreements, if not resolved to the satisfaction of KPMG, would have caused KPMG to make reference to the subject matter of the disagreement in their reports on the financial statements for such years, and (ii) no "reportable events" as that term is defined in Item 304(a)(1)(V) of Regulation S-K.
So, it appears as though, at least to the extent that disclosure would have been required, there were no accounting disagreements that prompted Netflix to hire a new auditor. The 8-K attributes E&Y's hiring to "a competitive process to review the appointment of the Company's independent registered public accounting firm", though I would expect that hiring a new auditor always involves a competitive process. Therefore, there is no basis to conclude, based on available information, that there are any accounting issues at Netflix that prompted this auditor change.
In conclusion, the auditor change probably should not significantly change an investor's evaluation of Netflix. If one is already skeptical about the future prospects of Netflix, this event may strengthen his conviction. If an investor is bullish about the company, then he can buy shares for 17% less than you could two weeks ago. I have no position in shares, but tend to lump myself in with the former group; and as the old adage states, "where there's smoke, there's fire," so this may be another reason to believe that Netflix shares are headed in a downward direction.
Disclosure: I have no positions in any stocks mentioned, and no plans to initiate any positions within the next 72 hours.