Chinese stocks made huge gains this past week. Some tech names in China have more than doubled, creating unsustainable market caps. One notable stock comes to mind, China Finance Online (NASDAQ:JRJC). First we will take a look at JRJC's financials. The company currently has a market cap of near a billion dollars at 748 million. To put this into perspective we will compare JRJC to the United States version of the company, TheStreet.com (TSCM).
Below is a table with respective financial figures provided.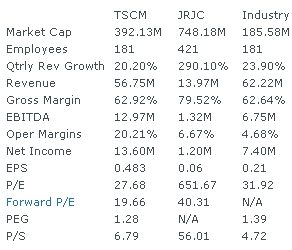 As you can see, China Finance Online has double the market cap yet just 25% of the revenue TheStreet.com generates. Furthermore, JRJC has 90% less net income than TheStreet.com. Even with the companies huge projected growth ahead its forward price to earnings multiple (forward P/E) is double that of TheStreet.com. All in all, China Finance Online seems overvalued on every measurable level. When momentum in Chinese tech stocks slows, shareholders of JRJC could play a game of musical chairs to get out of the stock. Based on TheStreet.com's forward price to earnings multiple being half of China Finance Online, JRJC seems fairly valued closer to $15.00 a share. Despite its over-valuation I wouldn't think about shorting the stock just yet. Its momentum will likely carry it to $50.00 or more. So how could JRJC demand such a high share price?

According to an upbeat article published in Investors Business Daily, China Finance Online has increased in price due to higher subscription rates. The company generates advertising and subscription revenue with ad revenue generating 19% of the company's revenue at $396,000. The total revenue for the second quarter was 5.7 million indicating 5.3 million in revenue came from a total of 37,400 subscribers. Based on these figures we can assume they make an average of $150 per subscriber (5.3M / 37,400). They charge $1,000 for their value engine subscription per quarter and various other amounts for other services offered, but the average revenue throughout all the paid content is $150.00 USD. So in order to equal TheStreet.com's quarterly revenue of 15 million China Finance Online would need to have approximately 100,000 subscribers, almost triple the current 37,400. China Finance Online expects about 20% subscription growth going forward with evidence of an 18% increase from Q1 to Q2. According to the diagram above it could take 6 or more quarters of 20% subscription growth to reach the revenue TheStreet.com generates. At 100,000 subscribers JRJC could justify its current share price. This all seems reasonable, but subscription rates fluctuate quarter to quarter. Some users will not renew their subscriptions and a downturn in the Chinese market could decrease the number of users.
All in all ,JRJC's valuation is almost completely tied to subscription users. Right now the market is pricing in 100,000 users into the current stock price when the company only has 37,400, 63% less. Based on this figure JRJC would be fairly valued at 63% less than its current share price of $39.00 or $15.00 . However, we must take into account the projected subscribers a year from now. This is what is referred to as the multiple and is what matters most in valuation. Looking at the diagram above the Q2 projected number of subscribers is roughly 77,000, 33% less than the needed 100,000 needed to justify current PPS of $39.00. Therefore JRJC could arguably be fairly valued at $30.00 (77% * $39.00) if projected growth stands true. (This is likely why Breen Murray values the company at 25$-35$ and JP Morgan $29). Watch the indicated subscription rates going forward to input your own revised subscriber estimates into the diagram above.