Eaton Corporation (ETN) seems to be favored by investors. Back toward the later half of February, Analyst Longbow upgraded Eaton to a buy. Within the next week it peaked at about $52.50. Since that time it has been moving down and is currently trading at around $46.60 - that is about a 10% loss in value in the last six weeks. Is Eaton still a good stock to buy?
Click to enlarge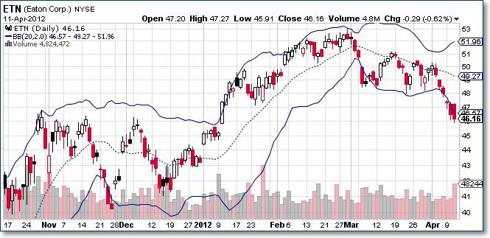 Eaton Corporation manufactures components and systems for use in automobiles, trucks, aerospace, agriculture, and fluid power systems. It's improved business model, comprising a broader range of products and services, has led to less earnings volatility by exposing the company to more higher-growth markets.
Interestingly enough, in the middle of its recent downturn, Stifel Nicolaus initiated coverage on Eaton Corporation with a buy. Why would anyone initiate a buy in the middle of a bearish run? One reason might have to do with the five segments where the company makes money. Here are Eaton's five segments of manufacturing and the revenues that come in:
Electrical (49.6% revenue)
Hydraulics (14.3% revenue)
Aerospace (13.5% revenue)
Truck (12.3% revenue)
Automotive (10.4% revenue)
Currently, Aerospace, Truck, and Automotive are doing well for Eaton, but Electrical and Hydraulics are down. Considering these two segments account for 63.9% of the company's entire revenue, it makes sense that the stock has been sliding for six weeks.
But, for the year, the company is expected to grow. The current quarter EPS growth estimates were downgraded from $0.96 to $0.90, but many others were also. As a company, it is expected to grow by 7.10% this quarter, 15.50% next quarter, and 12.10% for the year.
The key to understanding why the stock may fall now is in the electrical segment of the business that brings in a whopping 49.6% of the company's revenue. It manufactures circuit breakers, panel boards, switchboards, voltage switchgear, fuses. These are provided to industrial and commercial assemblies. The thing about this segment is that it follows seasonal changes, where the business gets much stronger in the second, third, and fourth quarter. For this reason, it makes sense that the stock is down in the first quarter. It make sense why the projected growth for the second quarter is twice that of the first quarter.
Eaton Corporation is a strong well balanced company that will turn around after the first quarter when the seasonal electrical segment really kicks into gear. Analysts know this and that is one reason they are bullish on the stock even though it is not having a good first quarter.