Cameco Corporation (CCJ) is one of the world's largest uranium producers. It is also the world's largest publicly traded uranium company. Cameco operates several mines across North America and one in Kazakhstan.
Twelve months on, the fallout from the Fukushima disaster (nuclear and financial) has subsided and the uranium sector has started to see some positive signs once again. The number of reactors globally is expected to increase in coming years, and Japan is even seriously considering reopening some if not all of its reactors.
Since our last update Cameco has consolidated further and the technicals are in favour of a buy - of note is the tantalizingly low RSI at 23.8.
Intuitively the fortunes of Cameco are directly tied to the price of uranium and this remains their biggest determinant of profitability. Over the last 20 years, reactors have consumed far more uranium than what was produced each year by mines. The shortfall was made up by inventories and secondary supplies that are being drawn down. Global demand for uranium is expected to rise 3% annually until 2019, driving the need for increases in supply.
There are concerns surrounding Japan's next action. If their plants re-open, demand for uranium picks up. What is of greater concern is the plants do not open, and Japan decides to pursue alternative forms of energy, then we face the possibility of their uranium reserves being sold to the detriment of mining companies.
The other large player in this market is China, where there are 27 nuclear reactors under construction, 11 of which will be completed in the next 3 years. China's nuclear capacity is expected to rise by a factor of nearly 8, before 2020 - if this were to occur China would produce almost as much nuclear energy as the United States (currently the largest producer) does now.
India is also expanding their nuclear energy base with 7 reactors currently under construction. Provided the U.S.-India Civil Nuclear Agreement is passed, capacity is expected to skyrocket 9 fold by 2020 to a level around half that of China's 2020 forecast.
Cameco has a market capitalization of $7.8 billion, a 52 week low of $16.59 and a high of $31.25. Average volume of shares traded is 2.9 million, and being the world's largest uranium company, liquidity is of no concern.
The 2012 first quarter results will be released on the 1st of May. The average analyst estimate of EPS for the quarter is $0.27. Generally when earnings fail to meet the general consensus, stocks sell off. Considering the average quarterly EPS last year was $0.28 (1 cent higher than what is forecast for this coming quarter), the forecast for the first quarter could be considered achievable and hence the probability of not meeting the forecast is low.
We see Cameco's growth opportunities as very healthy. With a current PE ratio of 18, if forecast growth in the nuclear energy sector is realized, then a significant capital gain is likely. For those interested in profiting from a short term bounce, a few well thought out options could be the way to trade this stock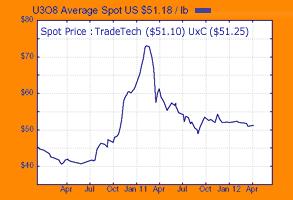 Cameco trades on the NYSE under CCJ and the TSX under CCO. For disclosure purposes we do not own any Cameco shares.
Disclosure: I have no positions in any stocks mentioned, and no plans to initiate any positions within the next 72 hours.