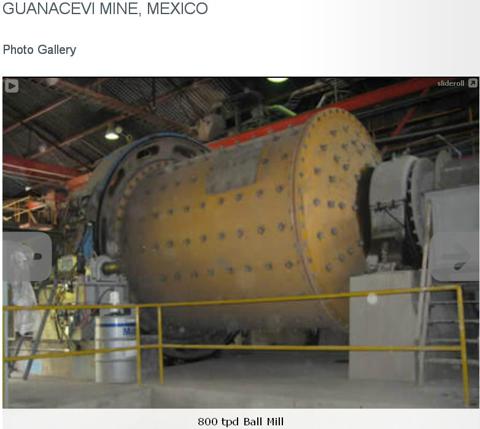 In our mail box this morning we have this news release from Endeavour Silver Corporation (EXK) which reported Record Production in First Quarter, 2012; producing 1,072,491 oz Silver, Up 19% and 6,321 oz Gold Up 26%, both of which are new production records.
Revenues were up 39% to US$49.0 million thanks to both the higher metal production and higher realized gold prices.
Now, before we look at the highlights we would like to draw the readers attention to the fact that Endeavour Silver is now one of few silver producers who are using part of their production as a mechanism for saving. Instead of having all of their profits in dollars, they now take a view of the market and decide just how much of their production will be sold in order to cover their needs and withhold the rest. In our view the management ought to be commended for having the foresight to adopt this strategy as they can get a higher return for their product. This action also has the effect of restricting the supply to the market and consequently puts upward pressure on silver prices.
What we need now is for the other produces to follow suit and implement similar strategies thereby putting a squeeze on the supply and driving silver prices higher, which would be to every investors benefit.
Production Highlights of First Quarter 2012 (Compared to First Quarter 2011)
Silver production increased 19% to 1,072,491 oz

Gold production rose 26% to 6,321 oz

Silver and equivalents production escalated 21% to 1.39 million oz (at a 50:1 silver: gold ratio)

Revenues jumped 39% to $49.0 million on 1,100,000 silver oz sold and 7,496 gold oz sold

Realized silver price fell less than 1% to $33.10 per oz sold (1.4% above average price for Q1/12)

Realized gold price rose 20% to $1,686 per oz sold (equal to average spot price for Q1/12)

Metal held in inventory at quarter-end included 925,100 oz silver and 3,927 oz gold
Note: In January and February, 2012, gold and silver prices enjoyed a significant rebound from their lows in December, 2011. Endeavour therefore elected to sell most of the precious metal inventory it accumulated in Q4, 2011 in order to capture the higher gold and silver prices. However, gold and silver prices corrected sharply once again in March 2012 so Endeavour management once again chose to accumulate its precious metal production in Q1, 2012 rather than sell at depressed prices. Management plans to monitor precious metal prices closely and sell some (or all) of the silver and gold inventory at appropriately higher metal prices, or if the need arises for more cash.
Godfrey Walton, President and COO, stated, "Endeavour's two mining operations have enjoyed a good start to 2012 with record silver and gold production in the First Quarter. As a result, the Company is well on the way to achieving its 2012 production guidance of 4.3 million oz silver and 26,000 oz gold. The 2012 organic expansion programs at both mines are now underway with plant throughputs expected to increase 60% by year-end at Guanajuato and 20% by mid-year at Guanacevi."
"At the end of Q1, 2012, the new 115 kva state power line into Guanacevi was connected and energized to the mine and plant. As a result, the Company should enjoy some reduction in operating costs as the electrical generators currently being leased will no longer be needed, and there should be far fewer electrical brown-outs and related pump failures at the mines. The new dry stack tailings facility will also be connected and commissioned this month thanks to the new power supply."
"At Guanajuato, the Lucero South ramp connected with the Lucero Main mine workings during the First Quarter, which should facilitate accelerated mine development and production from the Lucero vein going forward. Mine development continues to open up the Daniela and Karina veins for increasing production throughout the year in order to fill the newly expanded plant."
Final NI 43-101 Reserve and Resource Report
Endeavour has received its final NI 43-101 reserve and resource report to December 31, 2011 and filed it on SEDAR. Some final adjustments were made to the reserve and resource estimates at Guanajuato by the report authors from Micon International Limited.
The net effect is that the proven reserves at Guanajuato were reduced by 25,700 oz silver and 100 oz gold, the indicated resources at Guanajuato were expanded by 3,026,200 oz silver and 24,200 oz gold, and the inferred resources at Guanajuato were expanded by 192,900 oz silver and 3,900 oz gold.
The companies market capitalization is US$777.67 million with 87.38 shares (93.1 million shares fully diluted) outstanding. The 52 week trading range is $7.46 to $13.10, the P/E ratio is 42.92 and the stock price closed at $8.90 on the NYSE yesterday.
For disclosure purposes Endeavour Silver Corporation is our second largest stock holding.
Our expectation is that silver prices will end the year a lot higher than they are now and Endeavour Silver Corporation will be one of the major beneficiaries of such a move, so if you don't own this stock already, please give it some consideration as a candidate for your core position in the silver space. For those with a slightly more cavalier outlook it is possible to trade options on this stock, but as always go very gently when making use of them.
Disclosure: I am long EXK.