As a subscriber to the conservative long-term approach that is the dividend growth investing theory, my main goal today while I am young is to accumulate as many quality uber long term names as early and as cheaply as possible. The earlier I put these quality deckhands to work for me the more fabulously wealthy I will be later in life.
One of these quality long-term pillars I am currently accumulating that I have not written about thus far is Procter & Gamble (PG). I began to really appreciate Procter & Gamble when I looked at how broad and diversified the worldwide geographic penetration has become. They are reaching a brand familiarity worldwide that rivals any company. Their products have reached even the local scale worldwide.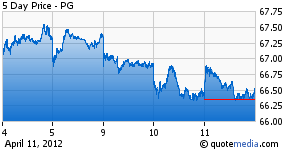 Even in a correction I would look for Procter & Gamble to remain relatively stable. It has a current beta of 0.45. They have a long history of product innovation and brand loyalty so changes in the economy are relatively unlikely to affect its performance. Future growth can be found by expanding into even more developing countries.
Procter & Gamble has a current P/E ratio slightly lower than its peers at 19.5. The company is expected to post profits of $4.03 in 2012 and $4.38 in 2013. Therefore, its forward P/E ratio is 16.7 also slightly lower than competitors. Over longer terms, Procter & Gamble's earnings are expected to grow at about 9% annually.
Procter & Gamble offers an attractive dividend yield of about 3.16%. The real value in this blue chip is its beyond impressive record of increasing its annual dividend payment for 55 consecutive years. Last year, the company increased its quarterly dividend from $0.4818 per share to $0.5250 per share roughly an 8% increase. They have also participated in buybacks over the last couple years totaling $13 billion.
Warren Buffett and Berkshire Hathaway seem to be very bullish on Procter & Gamble owning more than $485 million worth of it's shares. Lately this recommendation does not hold the same gravitas it once held, though. Many other hedge funds have also joined ship.
The only real future problem I can see is continued declining growth. This might be the real catalyst for the recent cost cutting/reduction program. Over the last couple years operating income and EPS have been steadily declining, but even if their is a potential for market saturation brand loyalty and recognition will always be in their favor.
Procter & Gamble also announced in February that it had reached an agreement to divest its Snacks business to The Kellogg Company (K) for $2.7 billion cash. The deal is expected to be completed in mid 2012. According to Procter & Gamble, the transaction is expected to provide a gain of around $0.50 per share.
Closing
To borrow a comment I read from a friend.
"In an era dominated by retailers whose shelf space makes them franchisers to whom manufacturers must pay tribute, PG is the most dominant exception because their brands are the franchise."
Buy Procter & Gamble on any continued market weakness.