Investing in turnaround stocks is one of the more lucrative, but dangerous, strategies in investing. For every Apple (AAPL), there is a Research In Motion (RIMM). For every Ford (F), there is a General Motors (GM). Change is especially hard for technology companies and one has to look no further than Hewlett Packard (HPQ) to realize this. One of my current technology turnarounds seems to be gaining traction in their transformation from a hardware provider to a service provider and looks undervalued at current prices.
Xerox Corporation (XRX) - "Xerox Corporation provides business process and information technology (IT) outsourcing, and document management services worldwide. Its business process outsourcing services include human resources services; finance and accounting services; healthcare payers and pharma; customer management solutions; healthcare provider solutions; technology-based transactional services for retail, travel, and non-healthcare insurance companies; programs for federal, state, county, and town governments; transportation solutions; and government healthcare solutions". (Business Description from Yahoo Finance)
8 reasons Xerox is a bargain at just under $8 a share:
The company is picking up big wins against tough competition in its efforts to be a full service provider. It just won an $858mm contract with the state of Texas to consolidate 28 data centers into two, displacing IBM Inc. (IBM) in the process.
The stock is cheap at 88% of book value and 46% of annual revenues.
The market is not giving Xerox credit for its growth prospects. It has a five year projected PEG of under 1 (0.93) and goes for less than 7 times forward earnings.
The acquisition of Affiliated Computer Sciences will result in more stability in earnings given their annuity type long term contracts.
S&P's Fair Value Calculation gives a value of $12 for XRX. The median analysts' price target on Xerox is $9.
It provides a solid 2.2% dividend yield and sells for just over 5 times operating cash flow.
The stock is selling near the bottom of its five year valuation range based on P/E, P/S and P/CF.
The stock has long term technical support in the $7 to $8 range (See Chart)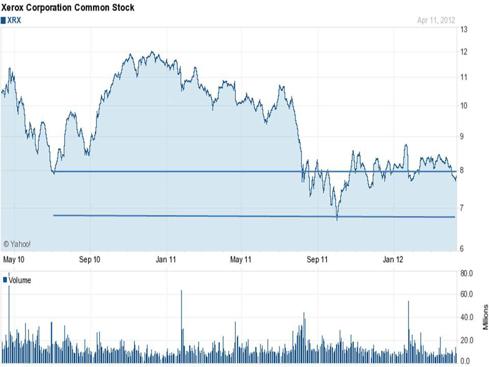 Disclosure: I am long XRX.