After seeing initial jobless claims trend in the right direction for most of the year, the past few weeks have shown a reversal. This morning, the Department of Labor reported that initial claims increased 13,000 to 380,000 (estimates were for a drop of 12,000). The four-week moving average for new claims, considered a better measure of labor market trends, rose 4,250 to 368,500. This morning is another piece of evidence that the job market is not exhibiting the same type of behavior that the stock market did during the first three months of the year.
(click to enlarge)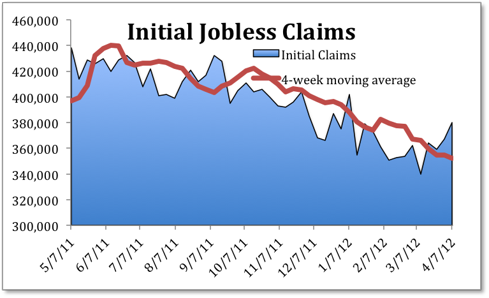 Many of the articles out there are blaming last week's rise in jobless claims on seasonality and the Easter holiday and that many people still expect jobless claims to trend lower in the coming weeks. However, after cratering in the beginning of March, claims have been on the rise. This past week was the worst week since January. A silver lining is that the 4-week average held below 400,000, which has apparently become the all clear sign for the job market. This past Friday, the Bureau of Labor Statistics reported that the economy only created 120,000 jobs during the month of March and that was with unseasonably warm weather. With these past few weeks' jobless claims results, I expect to see a downward revision to last month's BLS report.
The brighter picture for jobs has been one of the main reasons that the market has performed so well this year. If the past few weeks of jobless claims and the latest monthly employment report are any indication, the weakness we have seen in the market over the past few days is likely to continue. That being said, I think this pullback is healthy as the market got a little ahead of itself.