Applied Materials Inc. (AMAT) was founded in 1967 as a small tech startup. Within half a century, the company became a technology giant. Headquartered in Santa Clara, California, Applied Materials provides cutting edge equipment, services and software to customers worldwide. The company has more than 14.000 employees and approximately 8000 issued patents. Applied Materials is one of the top suppliers in the semiconductor field. The company is mostly known for its semiconductors that has vital importance on high-end products and related industries. In last April, AMAT received the "Preferred Quality Supplier Award" from Intel (INTC) Corporation. Apparently, there is a strong co-operation between Intel and Applied Materials Inc. AMAT also has a significant presence in the solar energy field. The company provides cost-reducing solar systems, which I believe will help to shape a better future of our planet. The demand for renewable energy systems are increasing every day. Despite the cyclical slowdown in the demand of semiconductor equipment during the second half of 2011, Applied Materials announced record revenue of $10.52 billion and $450 million operating profit.
As of the time of writing, AMAT was trading at $11.92 with a 52-week range of $9.70 - $15.97. The company has a market cap of $15.4 billion. Trailing twelve month [ttm] P/E ratio is 10.28, and forward P/E ratio is 10.55. P/B, P/S, and P/CF ratios stand at 1.78, 1.54, and 7.3, respectively. Operating margin is 18.97%, and net profit margin is 15.35%. With a low debt/equity ratio of 0.23, the company seems to have a minor debt issue. Applied Materials' dividend yield is 3.02%, supported by a payout ratio of 27.24%.
Applied Materials has a 5-star rating from Morningstar. Out of 9 analysts covering the company, 4 have buy, 1 has outperform and 3 have hold and 1 has sell ratings. Wall Street has optimistic opinions about AMAT's future. Average five-year annualized growth forecast estimate is 9%.
What is the fair value of AMAT given the forecast estimates? We can estimate the fair value using discounted earnings plus equity model as follows.
Discounted Earnings Plus Equity Model
This model is primarily used for estimating the returns from long-term projects. It is also frequently used to price fair-valued IPOs. The methodology is based on discounting the present value of the future earnings to the current period:
V = E0 + E1 /(1+r) + E2 /(1+r)2 + E3/(1+r)3 + E4/(1+r)4 + E5/(1+r)5 + Disposal Value
V = E0 + E0 (1+g)/(1+r) + E0(1+g)2/(1+r)2 + … + E0(1+g)5/(1+r)5 + E0(1+g)5/[r(1+r)5]
The earnings after the last period act as a perpetuity that creates regular earnings:
Disposal Value = D = E0(1+g)5/[r(1+r)5] = E5 / r
While this formula might look scary for many of us, it easily calculates the fair value of a stock. All we need is the current-period earnings, earnings growth estimate, and the discount rate. To be as objective as possible, I use Morningstar data for my growth estimates. You can set these parameters as you wish, according to your own diligence.
Valuation
Historically, the average return of the DJI has been around 11% (including dividends). Therefore, I will use 11% as my discount rate. In order to smooth the results, I will also take the average of ttm EPS along with the mean EPS estimate for the next year.
E0 = EPS = ($1.06 + $1.13) / 2 = $1.14
Average five-year growth forecast is 9%. Book value per share is $6.70.
The rest is as follows:
Fair Value Estimator

V (t=0)

E0

$1.14

V (t=1)

E0 (1+g)/(1+r)

$1.12

V (t=2)

E0((1+g)/(1+r))2

$1.10

V (t=3)

E0((1+g)/(1+r))3

$1.08

V (t=4)

E0((1+g)/(1+r))4

$1.06

V (t=5)

E0((1+g)/(1+r))5

$1.04

Disposal Value

E0(1+g)5/[r(1+r)5]

$9.50

Book Value

BV

$6.70

Fair Value Range

Lower Boundary

$16.06

Upper Boundary

$22.76

Minimum Potential

35.06%

Maximum Potential

91.41%
(You can download FED+ Fair Value Estimator, here.)
I decided to add the book value per share so that we can distinguish between a low-debt and debt-loaded company. The lower boundary does not include the book value. According to my 5-year discounted-earnings-plus-book-value model, the fair-value range for AMAT is between $16 and $23 per share. At a price of $11.92, AMAT is at least 26% undervalued.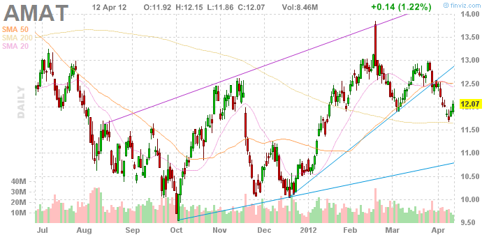 Click to enlarge(Source: Finviz)
Summary
Technology stocks are pretty cheap in general, and AMAT is no exception. Despite having a great moat in its field, the stock is trading at a substantial discount to the rest of the market. The stock returned near 20% since December, but I think it still has substantial upside potential. At the current prices, AMAT is trading somewhere between in the middle of its 52-week trading range. Its fundamentals look strong enough to encourage long-term investors. Based on my FED+ valuation, AMAT is trading at least 26% below its fair value range. I rate AMAT as a buy. However, considering the recent upward movement of the stock, it might be a good idea to wait for a pullback.
Disclosure: I am long INTC.