eBay Inc. (EBAY) reports 1Q12 earnings on April 18. The Street expects the company to earn $0.52 per share on $3.15 billion in revenue, and guide $3.36 billion in revenue for Q2. Heading into Q1 earnings, investors can expect continued momentum from PayPal.
In my view, eBay is the most and undervalued e-commerce company, based on its potential of becoming an offline commerce infrastructure provider with its broad commerce solutions, including PayPal Here, Digital Wallet, and Bill-Me-Later.
PayPal Here
PayPal Here is a cost effective solution featuring a card reader and corresponding mobile app that allows merchants to accept credit, debit, PayPal and checks anywhere.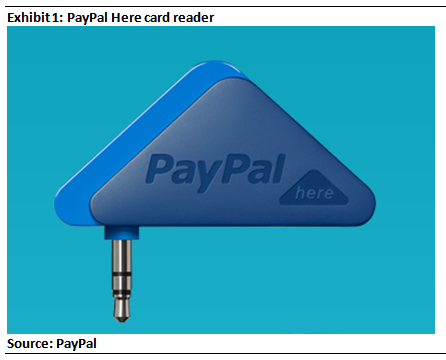 PayPal Here currently competes against Square in this space, but I believe that PayPal has several compelling advantages over its rival, namely it:
Accepts checks and debit
Charges lower fee (2.7% vs. Square's 2.75%)
Displays funds instantly on the PayPal account
Returns 1% cash back on purchases
While the service is still in its early stage, initial reception is encouraging. I note that over 50,000 merchants have signed up during the first week.
Digital Wallet
PayPal will roll out its new digital wallet platform next month. The new platform allows users to:
Store multiple payment methods such as cash, gift cards, coupons, air miles
Choose the mode of payment after they complete the transaction
Pay in installments
Have 5-7 days grace period to pay off all purchases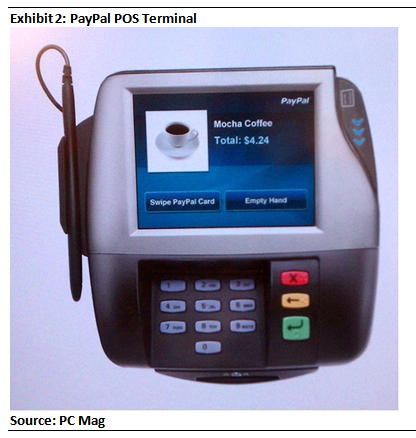 In my view, digital wallet is more convenient and secure than traditional wallet in that money is stored in the cloud and can be accessed via multiple devices. The platform will likely result in incremental revenue growth in the foreseeable future as consumers begins to appreciate its benefits and convenience.
Bill-Me-Later
eBay acquired BML in 2008 and the unit will likely play an increasing role since it will fund much of the receivable balance from the digital wallet. BML balances are paid off via ACH and will allow PayPal to experience lower funding cost, which I view as a strong competitive advantage.