Introduction
I conduct formal Portfolio Reviews of my public Dividend Growth Portfolio (DGP) twice per year, in April and October. Here are reports of the past two reviews:
The DGP contains real money and actual stocks, and it illustrates real decisions made in real time. Its purpose is to demonstrate how one person (me) executes strategies and tactics of dividend growth investing. You can see my successes and mistakes, form judgments on whether stuff make sense or not, and comment on whatever you think will help me or the dividend growth community.
The discipline of semi-annual formal Portfolio Reviews is designed to force me to think about the portfolio strategically, as well as to make decisions about each stock and take appropriate actions. The formal reviews are part of a buy-and-monitor habit that helps avoid the pitfalls of a passive buy-and-forget approach.
I'll skip repeating the list of items that I check during a Review. You can consult either of the two previous articles to see those. Here, I'll report on what has happened since last time and the issues facing the portfolio.
Telefonica Cuts its Dividend
One stock, Telefonica (TEF), cut its dividend late last year. So I sold it recently despite its still-high dividend yield of nearly 14%. After reading various announcements by the company concerning its dividend over the past few years, I decided that Telefonica did not meet the standard of confidence that I like to have, and that I would rather put the money into a more reliable dividend raising stock. So I used the proceeds to initiate a position in Shaw Communications (SJR), a Canadian firm whose core business is providing cable and satellite television, high-speed Internet, digital phone, home satellite, and telecommunications services to nearly 4 million customers, mostly in Western Canada. Chairman J. R. Shaw and his family control the company, which I like-it means that the company keeps its owners' interests front and center. Shaw has a current dividend yield of 4.6% and increased its dividend almost 9% last year. By swapping Shaw for Telefonica, I took a momentary hit to my total dividend payout in return for a stock with a good dividend growth record that I have more confidence in.
What to Do about Abbott?
Soon after Abbott (ABT) announced its intention to split into two companies last October, I wrote an article, "Abbott: Still a Dividend Growth Stalwart?" in which I expressed my misgivings from a dividend growth investor's standpoint. After discussing what was then known about the split, and noting that the old Abbott had been an ideal dividend growth stock for years, I ended with this conclusion:
Absent more information leading to an ability to predict with confidence that both new companies will adopt the dividend practices of their parent, I will sell Abbott, in all or in part. I will have a tear in my eye if it happens. There's no sense of urgency to sell. I believe that current dividend practices will remain in place until the actual split at the end of [2012]. An important test will come [in] April [2012], when Abbott's usual dividend increase would normally occur. If the increase drops to 2%-3%, I would probably consider that a signal to get out right away.
We now know the 2012 dividend increase: 6.3%, not bad but the lowest since 2008 during the Great Recession. I believe that the company is conserving cash for expenses associated with the transformation into two companies.
So I have put it "on the clock." I placed a 7% sell-stop order under the stock at the beginning of April. My intention is to continue to monitor announcements and information about the reorganization, but to reduce that sell-stop by 1% per month (so in May, I will adjust it to 6% under the current price). That gives the company about six months to convince me why I should continue to hold it. Meanwhile I can benefit from price advances and receive quarterly dividends. (For the moment, I am accepting the risk that a flash-crash incident could mistakenly trigger a sale. I may make the sell-stop a "mental" one to avoid that risk)
I place the burden here on the company. I have read what many people have written about Abbott, and if there is a majority view, it is to hold the stock unless a strong reason appears to sell it now or to sell one of the two new companies after they are formed. In my opinion, I already have a reason to sell, namely the uncertainty created by the decision to transform the company and abandon the integrated business model that Abbott had. So now I place the burden on the company to provide reasons for me to keep it. That is the same standard I use when considering a new purchase, and I see no reason not to apply that requirement here.
Long-time readers know that I prepare a "story" for every stock, and that my general rule is that if I cannot give a company at least half-credit on its Story, I eliminate it from consideration. I find that I cannot at this time confidently even compose a Story about Abbott concerning its dividend(s), yield(s), and likely dividend growth rate(s) going forward after the split. If I did not already own it, I would not buy it as a dividend growth stock.
Meanwhile, Mr. Market has liked the news. In the chart, the big black spike up in the middle of last October is the day the reorganization was announced. Since then, the price has been on a steady rise upward, almost always staying above its 50-day simple moving average (the blue line). So my 7% stop price is in no danger of being hit just yet. As the spread tightens over the next few months, however, I do expect that at some point I will say good-bye to Abbott. I don't rule out the possibility that at some future date, I might buy one of the two new companies back if it turns out to be a terrific and reliable dividend growth company the way Abbott has been.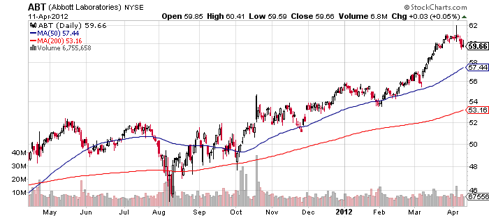 Click to enlarge
(Click to enlarge)
McDonald's: The Happy Meal
McDonald's (MCD) is perhaps the most successful stock in the DGP from both price and dividend growth perspectives. It increased its dividend 15% in 2011, and that was actually a slowdown from the previous few years. I have purchased McDonald's three times (in 2008, 2009, and 2011) and have a blended 56% paper profit. My yields on cost on the three blocks range from 3.6% to 5.1%. That's the good news. The "bad news" is that the price rise has pulled the legs out from under MCD's current yield, which at about 2.8% is below what I would require to buy it. The price rise has also raised MCD's proportion in the portfolio to 19%, which is just short of my 20% max for any position. All that said, the company has a stellar dividend growth record, which alone may be a reason to keep it even at the reduced current yield.
So by selling I could capture several years' worth of future dividends right away and then redeploy them into a different stock or two with a higher yield. That's like accelerating a few years' worth of future dividend reinvestments into the present, which is an attractive proposition. It would also immediately raise the portfolio's dividend flow and increase its overall yield on cost. Or by not selling, I can maintain a stock with a superb track record that is highly likely to deliver above-average dividend increases for years to come.
I haven't decided yet, but I am leaning toward splitting the baby on this one: Sell some and retain some. That would help me diversify the portfolio a bit, which is something I have been considering from a strategic perspective. A few stocks that I have my eye on are Intel (INTC), AFLAC (AFL), and Hasbro (HAS), as well as building up the new position in Shaw.
Dividend Returns
The Dividend Growth Portfolio's principal objective is to deliver 10% yield on cost within 10 years of inception. Given that the inception value of the DGP was $46,783, that goal is exactly the same as saying that I want the DGP to generate at least $4678 in dividends in 2018. Note that a 10% yield on cost would mean that the portfolio would be approximately delivering performance as good as the historical total return of the market via dividends alone. That's why I stated the goal in the way that I did. I find the prospect of generating those kinds of returns without market gyrations to be inspirational and exciting.
Inception date was June 1, 2008. Here's the dividend record since then through the end of March:
| | | | |
| --- | --- | --- | --- |
| Year | Dividends Received | Yield on Cost | Increase from Prior Year |
| 2008 | $998 | 2.1% | NA |
| 2009 | $1568 | 3.4% | 57% |
| 2010 | $1799 | 3.8% | 15% |
| 2011 | $1960 | 4.2% | 9% |
| 2012 (projected) | $2088 | 4.5% | 7% |
The projected numbers for 2012 are based on information known at the end of March. I have every reason to believe that as more dividend increases are announced and dividend re-investments are made, all the numbers for 2012 will go up.
Here's the projection for the next 12 months as of the end of March:
Dividends to be received: $2187
Yield on cost: 4.7%
Again, I expect these numbers to go up by the time the 12 months actually play out. Overall, it looks like the portfolio is on track to hit or exceed the $4678 goal by 2018.
I accumulate dividends until they hit about $1000, then target a single stock for purchase. Right now more than $900 is sitting in the cash account, so a reinvestment is just around the corner. As soon as I make it, that purchase will raise the dividend stream a little. That is one of the simple pleasures of dividend growth investing.
Total Returns
For total return fans, the DGR has been a good but not spectacular performer. Here are the stats as of the end of March:
Inception value: $46,783 (June 1, 2008)
Current value: $57,496
Increase: +23% (5.5% CAGR)
Stocks Held
Abbott (about 10% of portfolio)
Alliant Energy (LNT) (10%)
AT&T (T) (4%)
Chevron (CVX) (5%)
Johnson & Johnson (JNJ) (11%)
Kinder Morgan Energy Partners (KMP) (8%)
McDonald's (19%)
PepsiCo (PEP) (17%)
Realty Income (O) (11%)
Shaw Communications (3%)
Disclosure: I am long ABT, INTC, MCD, T, CVX, JNJ, O, KMP, PEP, LNT, SJR.