This week's insider's picks have popped up frequently on my value stocks screen. But it wasn't until I observed two key insider buys this month that I peeked under the covers and found that there's a real story going on an Actuant (ATU), a global manufacturer of industrial products and systems.
My methodology uses insider trading data from Bluetrader. I monitor hundreds of weekly trades, looking for interesting stories that may slip between the cracks.
Actuant is a small cap stock with a market cap just shy of $2 billion. It sells industrial products like hydraulic and mechanical tools, rope and cable systems to the energy sector, and pieces and parts for solar paneling.
Founded in 1910, the firm has four segments in niche industrial business lines.
The stock is up over 20% in 2012 but is pretty much flat over the past 12 months.
After a tough 2008-2009, the company has returned to its consistent track record of consistent growth on the top line and EPS.
The company has initiated a stock buyback program for up to 7M shares, or 10% of outstanding ATU shares.
The company invests heavily in both organic growth (new products, emerging markets) and acquisition-based growth and has structured its balance sheet with ample access to growth capital.
What ATU does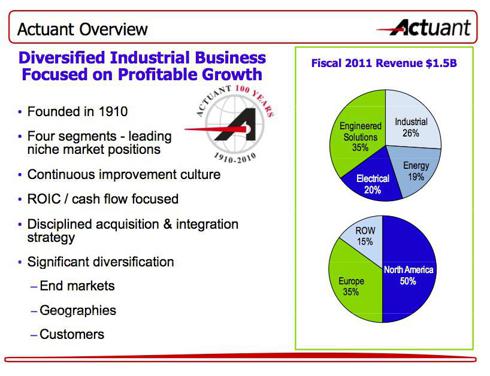 Click to enlarge
(Click to enlarge)
Actuant has 4 business lines: Engineered solutions, Industrial, Electrical, and Energy.
50% of its business is done in North America, 35% in Europe and the rest spread throughout the Rest of World.
3 reasons to like the stock
Good product pipeline/momentum across portfolio: With 4 divisions and exposure to different geographies, investors get a good exposure to both stable and higher-growth products and services
Financial structure to fund growth: ATU has $481M in net debt with a revolver a term loan and some notes and bonds out there. Things don't start maturing until 2015 and beyond. M&A will play a role in expanding product lines, sales teams and distribution into new geographies around the world -- particularly, emerging markets.
Good financial track record: ATU has put up pretty consistent numbers throughout its recent history, growing slowly and surely throughout its lifespan, beating estimates each of the last 4 quarters.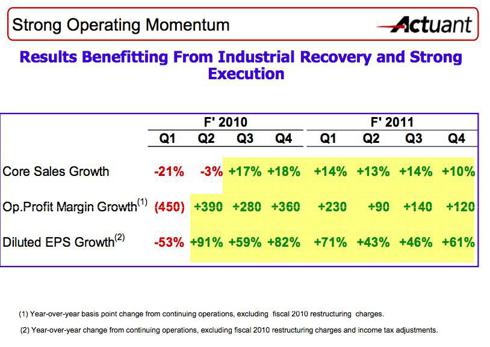 Click to enlarge
(Click to enlarge)
See also Bret Jensen's 7 Reasons to Buy Actuant Corporation (Seeking Alpha).
What's going on here, who's buying the stock?
Insider activity has been positive in Actuant. Insider buying began on April 9th when David Scheer, EVP of ATU's Electrical division, scooped up 3700 shares of ATU on the open market, for a buy of over $100k.
Scheer's purchased was followed closely by Sheri Grissom's (Actuant's head of human resources) 2nd open market purchase of 2012. She bought 1755 shares on April 11th, which when added to her 2136 shares she bought in January, comes to about $100k of acquired shares.
Not too shabby.
The one black mark on insider activity is Robert Blackmore (head of Engineered Solutions) selling close to $1M worth of shares.
I have a theory here: Blackmore is a veteran (joined in 2002) and has seen the value of his shares probably rise significantly. Grissom and Scheer both joined in 2011 and they want in.
Plus, it pays to look at the insiders' perspectives:
Engineered Solutions (Blackmore): While Engineered Solutions is 35% of ATU's biz, its core sales are actually shrinking. From his viewpoint, things aren't all that interesting. If you look at ATU as a pipeline of offerings, Blackmore's division is definitely late-stage.
HR (Grissom): Holy smokes! ATU has made a strategic decision to acquire talent that's going to help it grow and innovate, hiring 100 new people to this end. It has a $14M budget for product development/market research. So, from Grissom's point of view, things are looking totally up.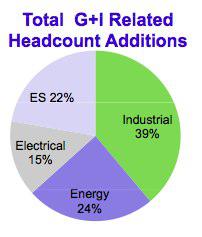 Also a growth opportunity (organic and via acquisitions)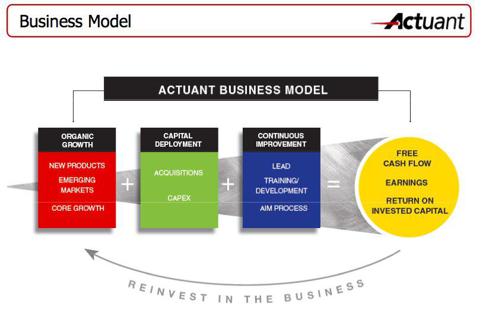 Click to enlarge
(Click to enlarge)
Actuant has a pretty defined growth plan that includes acquisitions as well as core growth. Actuant's been pretty successful identifying smaller players that tuck in nicely to the ATU fold with niche exposure, good leadership with products and management, and are attractive from an EBITDA basis.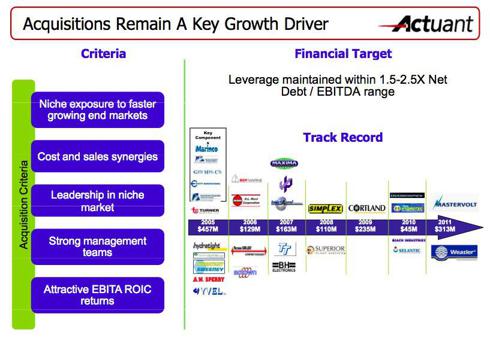 Click to enlarge
(Click to enlarge)
Disclosure: I have no positions in any stocks mentioned, and no plans to initiate any positions within the next 72 hours.
Disclaimer: This should not be construed as investment advice. I've tried my best to be as faithful to the story as I could, using sound resources to help describe the insider trading activity at leading companies. But you should definitely do your homework — don't base an investment decision off this information.