You've probably heard many opinions that Chinese real estate is in a bubble. However, much of the prognostication has been backed by hearsay and speculation. Below, I go beyond the hypothetical by illustrating the hard data that demonstrates that Chinese real estate is in a bubble. I will go further by anticipating how investors could potentially profit from the collapse of Chinese real estate bubble.
Most investors value residential real estate using a variety of measures. These include: price-to-incomes, price-to-rents and affordability. Essentially, people buy homes when they can afford the monthly payments.
Comparable sales are also often used, but I think this is the weakest form of property valuation. Arguing an asset is worth $x because a similar asset sold for a $x suffers from pro-cyclicality and becomes a self-fulfilling prophecy.
The first three charts below compare property valuations in the US with those in China and a selection of Chinese cities. According to three measures (price-to-incomes, price-to-rents, mortgage affordability) Chinese real estate is vastly overvalued relative to US housing.
The Chinese housing bubble may already be imploding. Assuming declining home prices drag the Chinese banking sector with it (and with the banking sector, local governments and the credit expansion fueling the Chinese fixed asset investment boom deriving Chinese economic growth) broad-based China-related ETFs, such as iShares FTSE China 25 Index ETF (FXI) or iShares MSCI Hong Kong Index Fund (EWH) could decline in value.
(Click charts to enlarge)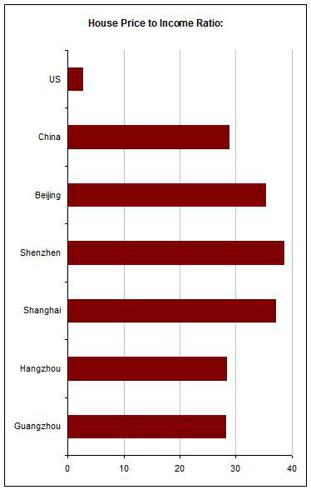 Click to enlarge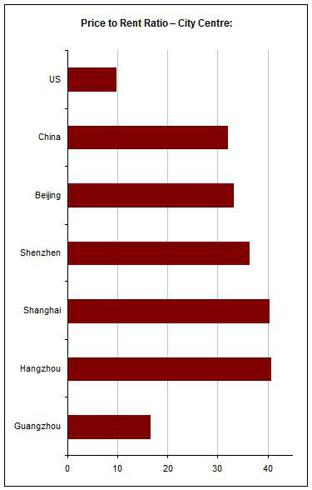 Click to enlarge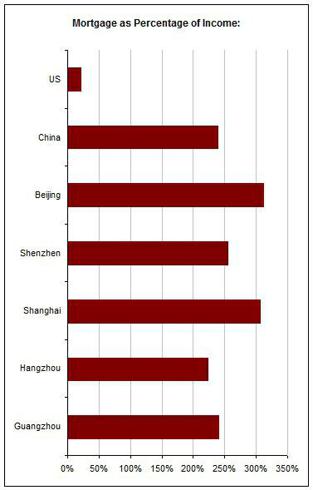 Click to enlarge
Looking beyond China, investors could consider the affects of a Chinese housing decline on the countries that depend on China: Australia and Canada.
Perhaps coincidentally, the real estate markets in both Australia and Canada have boomed alongside the real estate market in China. The three charts below compare the housing markets in Australia and Canada with that of the U.S. While inexpensive by Chinese standards, Australian and Canadian property is anywhere from 2-5x more pricey than U.S. property.
If China experiences a significant slowdown because of a collapsing property market, a reasonable person might expect Chinese raw materials imports to slow. This would impact Australia and Canada, since they both export raw materials to China.
A decline in demand for raw materials would probably cause the Aussie (FXA) and Canadian dollar (FXC) to fall relative to commodity importers. It could also hit Australian and Canadian commodity producers such as BHP Billiton (BHP) or Potash Corp. (POT) - even if they don't directly do business with China.
Alternatively, one could look directly at the commodities themselves. If Chinese housing collapsed, even gold (GLD) and silver (SLV) may decline alongside the broad commodity complex (DBC).
Finally, if a Chinese housing collapse created a domino affect starting with exporters and ultimately slowing the domestic Australian and Canadian economies, hitting confidence and causing layoffs, the housing bubbles in both these markets could pop.
(Click charts to enlarge)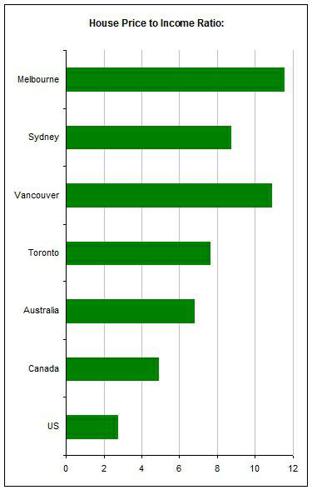 Click to enlarge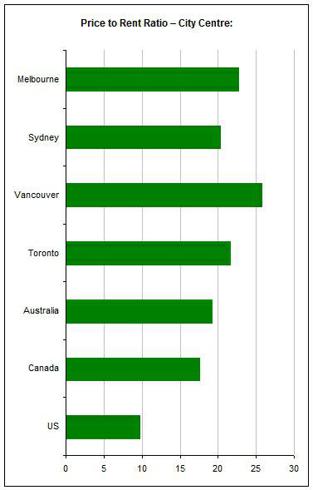 Click to enlarge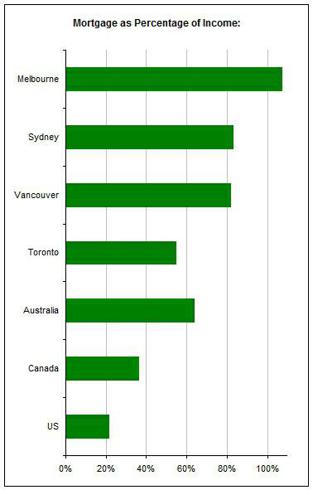 Click to enlarge
Disclosure: I have no positions in any stocks mentioned, and no plans to initiate any positions within the next 72 hours.
Additional disclosure: Data source: Numbeo.com This is not advice. Short selling is risky and could lead to unlimited losses. While Plan B Economics makes every effort to provide high quality information, the information is not guaranteed to be accurate and should not be relied on. Investing involves risk and you could lose all your money. Consult a professional advisor before making any investing decisions.