Analysts are becoming more and more bullish on Citigroup (C) since the first of the year. It is interesting to watch the adjustment in the earnings over the last 90 days. (EPS trend went from $1.06 90 days ago); ($0.93 60 days ago); ($0.95 30 days ago); to $1.04 presently.
(click to enlarge)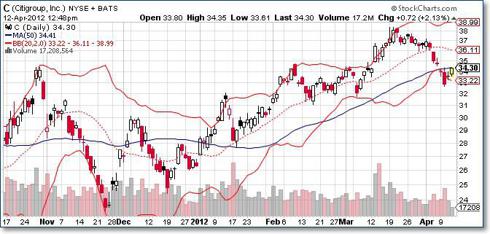 Yet, revenue is expected to decrease by about 28% year over year-- $19.7 billion from $27.4 billion just a year ago. This has been the trend for the stock and it is no surprise as most of the bank stocks have suffered. Revenue fell last quarter by 6.3%, 0.3% in the third quarter, and losses in the first and second quarters.
But this is the year the trends are suppose to reverse.
Stocks are still way up from the lows that we experienced in October. It also looks like fund managers are interested in investing in stocks. Stocks have performed much better than bonds and sometimes-to try and balance out the portfolios, stocks are sold in an effort to level out long term asset allocations.
Since fund managers are still interested in stocks, money will continue to pour into the markets and the financial sector will get a good share of that. The recent downturn in Citigroup is the first major sell off we have seen this year in the stock. In March the stock reached 6 month highs so it is not too surprising that profit takers have swarmed the stock.
But look for Citigroup to rebound and move higher. Increasing bullishness comes with a tough April. The Dow and S&P 500 notched their biggest weekly declines last week but optimism among money managers is strong. Tobias Levkovich, a strategist says;
"While tech stocks have remained a long-standing favorite for the investment community and utilities have stayed out of favor, there is some renewed enthusiasm for consumer discretionary names and financial's are still preferred."
For this reason, we are looking at Citigroup to remain bullish right on through earnings next week. It might be a good time to buy since the stock has dipped so much.
Disclosure: I have no positions in any stocks mentioned, and no plans to initiate any positions within the next 72 hours.