From a Seeking Alpha News Brief:
Shares of hog and beef producer Smithfield Food Inc. were down Monday, as analyst slashed the company's projected earnings based on weak hog prices and growing hog supply. BB&T downgraded Smithfield from a buy to a hold, and cut its current quarter earnings target to $0.17/share from $0.48/share. "Hog-production profitability has deteriorated dramatically into loss-making territory, and we do not foresee a quick recovery," said BB&T analyst Heather Jones… The US Agriculture Department reported last month US inventories for hogs and pigs increased 3% from last year. Live hog prices are down 20% since August. China could change the demand concerns if it chooses to purchase more US-made pork, analysts added. Shares of Smithfield dropped 3.5% to $30.42 in early afternoon trading on Monday.
In light of the news, I wondered what the impact might be on one of my holdings, Brazilian food company Sadia (NYSE:sda-old). Armed with my trusty Google Translator, I downloaded the Portugese Investor Presentation from their website.
From their latest quarter, it looks like Sadia does about 47% revenue in exports. For the first half of 2007, 11 percent of their export revenue came from "Suinos", which I'm guessing is swine. Americas (not broken up by U.S., Mexico, and South America) comprised 16 percent of export revenue. Though we don't know the exact product mix by region - the following charts do give comfort around the diversification of Sadia's revenue across their products (Beef-bovidos, Pork-suinos, Chicken-aves, Chicken Parts, Processed Foods-industrializado, Other) and their geographies: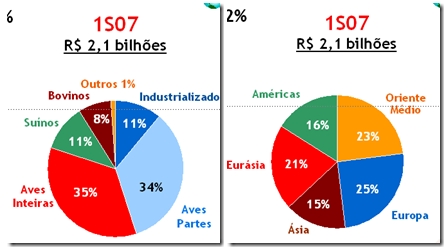 Smithfield's SEC Edgar filings don't break out their export revenue, so I'm unsure how much of Smithfield's experience with hog price decline is indicative of the U.S. market, versus the international supply and demand dynamics.
Sadia's chart below tells an interesting story that pork prices in the world market have increased and then decreased slightly (in Brazilian Real), but because of the US Dollar devaluation against the Real, have increased in price by 7.1%. I'm guessing the way to read this chart is that Pork prices in Export markets declined from 4.44 Brazilian Real per Kilogram in 2006 Q2 to 4.34 R$/Kg in 2007Q2, or a 2.3% decline. Over the same year over year comparison, the US Dollar depreciated 9.4% against the Brazilian Real.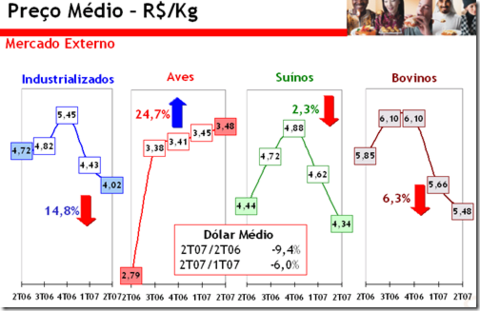 You can actually compare the Export market prices with the prices Sadia achieved locally, as shown below: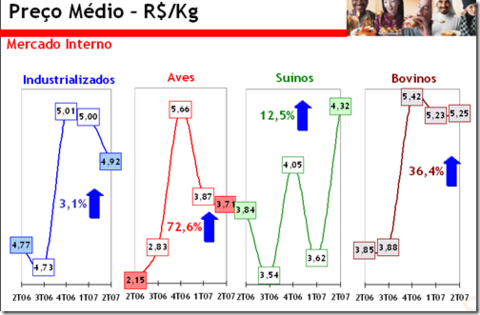 For pork and beef, it appears that Sadia has been able to garner higher prices abroad than domestically.
I think the long-term investment story still applies.
Check out this chart from the World Health Organization (via GreenFacts), that highlights the growth in per capita calories consumption of livestock products (meat and milk) in the developing world by 2030: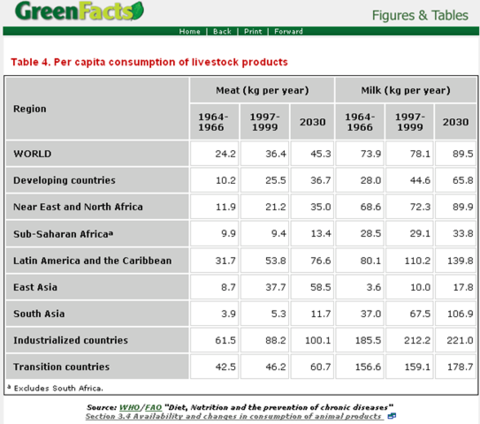 However, I think Sam Jackson and John Travolta were more convincing than all these charts and graphs, drawn from this classic exchange in Pulp Fiction: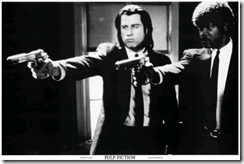 Vincent: Want some bacon?
Jules: No man, I don't eat pork.
Vincent: Are you Jewish?
Jules: Nah, I ain't Jewish, I just don't dig on swine, that's all.
Vincent: Why not?
Jules: Pigs are filthy animals. I don't eat filthy animals.
Vincent: Bacon tastes gooood. Pork chops taste gooood.
Disclosure: Author has a long position in SDA