Nokia (NOK) issued a dire warning Wednesday about its upcoming quarterly report. Its shares dropped 16% on that day. On Thursday, as of this writing, it is down another 4%. What's particularly bothersome is two pieces of news:
Mobile Phones gross margin of approximately 26% and Smart Devices gross margin of approximately 16%.
In the first quarter 2012, Nokia sold more than 2 million Lumia devices at an average selling price of approximately EUR 220 (reported within the Smart Devices business unit). Furthermore, Nokia has seen sequential growth in Lumia device activations every month since starting sales of Lumia devices in November 2011.
So we get to know that first, Nokia's current average gross margin for smartphones is lower than regular cellphones. And second, Lumia, the new Windows 7 based smartphone isn't selling very quickly (in comparison, iPhone sold 37 million units in Q1 2012). Is the news so terrible that it is totally unexpected? Well, not really.
First, since Lumia 900 had not yet been launched during fiscal Q1 2012, Nokia's smartphone sales much have included a large share of Symbian based devices. I wonder who were the consumers that bought those smartphones with a dying operating system. Nokia must have been dumping them at close to production cost -- as is reflected in the razor thin gross margin. It's ugly, but it should be totally expected.
Second, the lower-end Lumia devices launched prior to April were not selling very well. It is disappointing but perhaps non-essential. At least in the United States, where wireless carriers heavily subsidize initial cost of devices but earn the money back from service charges, there isn't much real juice in low end smartphones these days anyways. The only device that matters is the top-end phone, how good it is, and how much it costs after subsidy. Based on my observation and some estimates based on its Amazon sales rank, Lumia 900 should sell at least 1 million units per month, far exceeding the pessimistic estimates by analysts prior to its launch.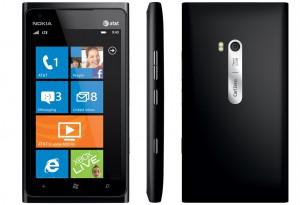 According to this Barron's article, Lumia 900's gross margin is 52%, still a notch lower than Apple (AAPL) or even Samsung, but it would be a respectable number nevertheless. Nokia reported that it sold 77 million smart devices in 2011 (most of them are obviously Symbian devices), with a gross margin of 23.7%. If we put Lumia 900's (and follow up) sales figure for 2012 at a what I believe to be conservative estimates of 15 million units, adding a housecleaning 38 million (50% drop) Symbian devices at a gross margin of again 16%, the overall gross margin will improve to above 32% (again very conservative, since Lumia should get more weight from higher price per unit).
The gross margin of smartphones at Nokia should improve significantly, moving into the second quarter of this year. Later in 2012, Nokia will introduce the Windows 8 phone Apollo when Microsoft (MSFT) launches its new operating system. A Windows 8-based tablet from Nokia is also in the works. It is expected to be introduced later this year.
The verdict: Nokia is obviously in fairly big trouble. But the night is darkest before the dawn. Unlike Research in Motion (RIMM), it appears Nokia's future could only get better.
Disclosure: I have no positions in any stocks mentioned, and no plans to initiate any positions within the next 72 hours.