In a previous article related to Apple (AAPL) posted on December 1, 2011, an investment in a bull-put credit was considered for Apple, as fortunes for the company were foggy with the passing of Steve Jobs. Since the article, Apple's stock price has rocketed due to its spectacular performance as shown below (click to enlarge):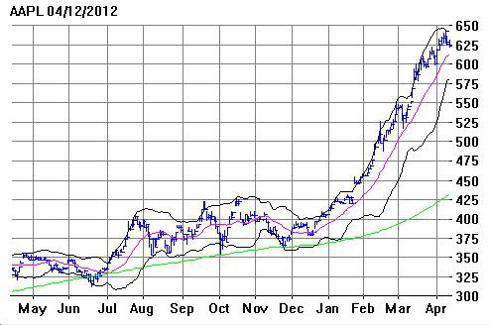 For the most recent quarter, Apple's revenue of $46 billion is more than that of Microsoft (MSFT) and Google (GOOG) combined ($21 billion + $10.6 billion = $31.6 billion). In the short-term, the speculation presented in the previous article as to the performance of Apple's stock was spot-on, as a long position entered for the company on the date of the previous article and sold at the 2011 December options expiration would have resulted in a loss of -1.8%. However, the bull-put credit spread considered in the previous article would have returned 8.7%, as the $381.02 price of the stock at 2011 December options expiration was above the $350 strike price of the short put option.
With Apple's upcoming earnings release on Tuesday, April, 24, 2012, entering a bull-put credit spread as in the previous article is not advised, however, an investor long Apple's stock over the previous few months, or years, might want to protect the gain, just in case the company reports tepid results. A tepid earnings report is unlikely at this point, but not impossible.
A protected covered call might be considered for Apple, as it enables an investor to potentially generate a profit, yet provides protection in case the stock has a bad hair day. A protected covered call may be entered by selling a call option against a stock and using some of the proceeds from selling the call option to purchase a protective put option.
Using PowerOptions tools, a number of protective covered call positions were found as shown below:

The highest returning protected covered call has a potential return of 3.9% (38.5% annualized) with a maximum potential loss of 7.6%, even if the stock price drops all the way to zero. The specific call option to sell is the 2012 May 625 at $32.20 and the put option to buy is the 2012 May 555 at $8.85. A profit/loss graph for one contract of the protected covered call is shown below: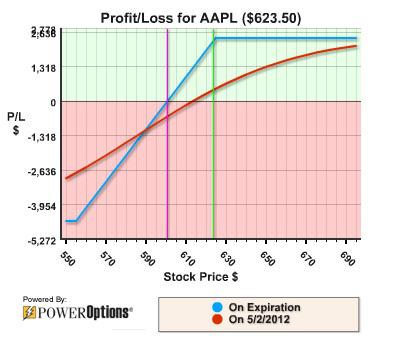 For a stock price less than $555 strike price of the put option, the price of the protected covered call remains unchanged (at expiration). If the price of the stock increases to around $690, the position can probably be rolled in order to realize additional potential profit.
After Apple reports earnings in a few days, entering another bull-put credit spread as in the previous article may be considered.