By Brendan Gilmartin
Overview
IBM (IBM) is slated to report Q1 2012 earnings after the close of trading on Tuesday, April 17. Results are typically released at approximately 4:05 p.m. ET and will be followed with by conference call at 4:30 p.m. IBM is a member of the Dow Jones Industrial Average, a company with broad market influence that could have a direct impact on the index futures when it delivers quarterly results. With the shares hitting all-time highs earlier this month, expectations are quite high ahead of the numbers.

Outliers and Strategy
Adjusted/Non-GAAP Earnings Per Share is forecast to come in at $2.65 (Source: Yahoo Finance) with a range of $2.46-$2.73. Given the recent run-up, look for earnings above $2.70 in order to sustain the recent advance.
Revenue: The estimate is $24.77 billion; the range is $24.46 billion to $25.09 billion.
Gross Margin: This is a key measure for IBM. A miss could be a catalyst to sell the shares.
Earnings Per Share Guidance (FY): Look for updated guidance for FY 2012. The estimate is $14.93.
Keep an eye on Accenture (ACN) as a potential sympathy play off the IBM numbers.
Despite retreating from all-time highs near $210, IBM is trading at 15.7x earnings, above the five-year average of 12.9x, suggesting plenty of room on the downside in the event of a miss on earnings. Last quarter, a marginal miss on revenue ($29.49 billion vs. $29.71 billion estimate) initially sent IBM shares lower in after-hours trading.
Recent News
04/12: Goldman Sachs maintained a Buy rating and a $223 price target on IBM, according to StreetInsider.com. The firm reportedly expects IBM to deliver solid Q1 results with upside to EPS, revenue, and guidance.
04/04: Bank of America/Merrill Lynch downgraded IBM from Buy to Neutral, according to Benzinga.com, citing limited EPS upside at current levels. The firm maintained a $215 price target.
04/03: JPMorgan Chase raised the price target on IBM from $210 to $225, following the run-up in the shares to all-time highs, according to a post on StreetInsider.com. The firm maintained an Overweight rating.
03/01: IBM was named the leading server vendor in the Q4 2011 period with 33.7% revenue market share, according to Gartner.
Technical Review
IBM recently touched an all-time high of $210.69, but has since broken the uptrend going back to mid-January. After breaking below the 20-Day SMA (near $206) for the first time since the previous earnings release back in January, the shares look to be building support near $202.50. Below that level is support at the 50-day SMA near $200, with further downside risk to $195. Resistance is at $207.50, followed by the aforementioned high of $210.69. (Chart courtesy of StockCharts.com.)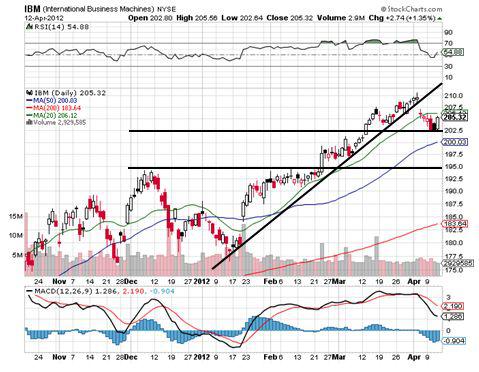 Summary
IBM is coming off a recent all-time high of $210.69 in advance of the Q1 2012 earnings release. While valuation is a bit stretched on a relative basis, underlying expectations call for IBM to deliver a solid quarter, thanks to cloud-computing, data center expansion, and services growth. While IBM tends to historically top analysts' EPS estimates, the company has shown a tendency to fall short on the top-line. The full-year guidance is also a closely watched measure. Should the company deliver solid bottom-line results for the Q1 period, look for a possible upward adjustment to the FY2012 outlook. Anything less may be seen as a disappointment considering the fairly upbeat sentiment and recent run-up in the shares.
Disclosure: I have no positions in any stocks mentioned, and no plans to initiate any positions within the next 72 hours.
Disclaimer: By using this report, you acknowledge that Selerity, Inc. is in no way liable for losses or gains arising out of commentary, analysis, and or data in this report. Your investment decisions and recommendations are made entirely at your discretion. Selerity does not own securities in companies that they write about, is not an investment adviser, and the content contained herein is not an endorsement to buy or sell any securities. No content published as part of this report constitutes a recommendation that any particular investment, security, portfolio of securities, transaction or investment strategy is suitable for any specific person.