The majority of personal income for Americans comes in two forms. The largest being income from wages and salaries. The second is from what are called personal current transfer receipts, which are benefits received by persons for which no services are performed.
This article attempts to look at the status of both of these critical sources of income for the American people. When we consider that the consumer makes up some 70% of our economy, its a good idea to keep a watch on personal income as well as the savings rate to gage where we might be headed.
Let's first take a look at the current state of income from salaries and wages. This chart shows the year over year nominal wage and salary percentage change over the past 3 years: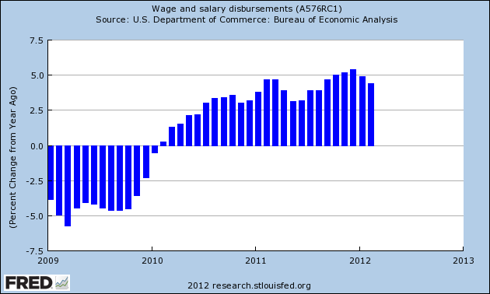 Wage and salaries are growing but so is the number of people working. Here is a chart showing the percentage change in all employees year over year for the past 3 years: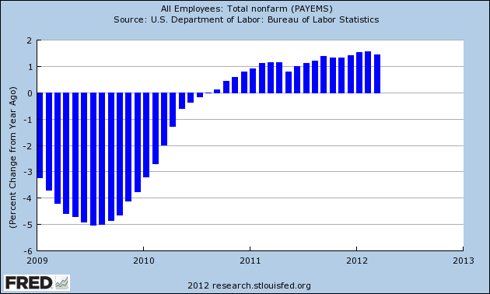 This rather paltry growth in wages and salaries from working Americans is on account of the massive Federal deficits, to fund stimulus, we've been running for the past 3 years now. See this 10 year chart for Federal deficits (10 year chart to give the last 3 years deficits scale):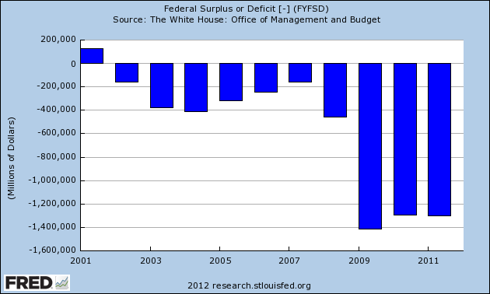 The above chart helps us move on to the next biggest form of personal income, that of personal transfer receipts. This is largely made up of payments for social security and Medicare but also includes food stamps and unemployment benefits.
To help ease the pain of the recession and to make up for the shortfall in income from wages and salaries, transfer receipts were greatly increased. Without those deficits, we would have had no way of paying for all these personal transfer receipts.
Here is a 10 year chart of current transfer receipts where you will notice the ramp up into the recession of 2008 and 2009 that has remained elevated: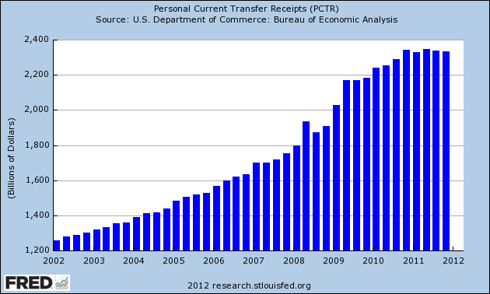 Here is the troubling part. Personal current transfer receipts have been too large as a percentage of total federal government tax receipts. In 2009, nearly 100% of the revenue to the federal government went out as transfer receipts alone. Talk about living above ones means.
Here is chart showing the percentage of federal tax receipts to personal transfer payments going back to 1959: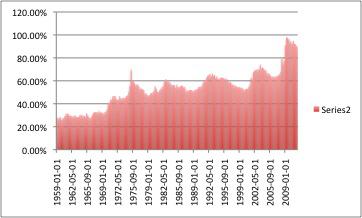 To have any chance of sustainability here, it may be that personal transfer payments have reached a peak as a percentage of federal tax receipts, and this leads me to the next two charts which make me surmise that we may be in for an aggregate decline in total personal income. This would very likely cause a recession.
Here is a chart of year over year growth in personal current transfer receipts for the past 5 years: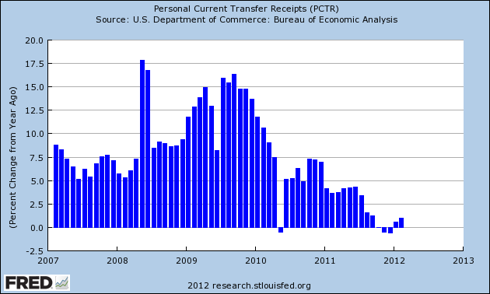 Recent year over year growth in personal income from the government. has come to a grinding halt.
Here is a chart of total personal income, year over year growth for the past 5 years: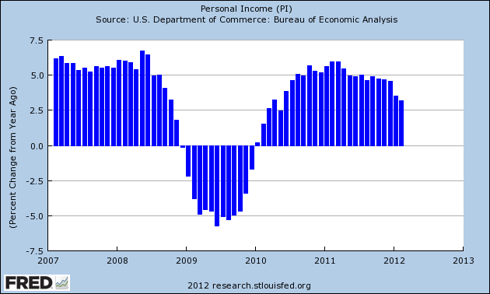 Personal Income growth looks like its rolling over and this time, there will probably be no help by increasing personal current transfer receipts to make up for lack income from wages and salaries.
With a savings rate at 3.7% as of the month of February, there is little room for increased spending from the consumer for the US economy without meaningful personal income growth.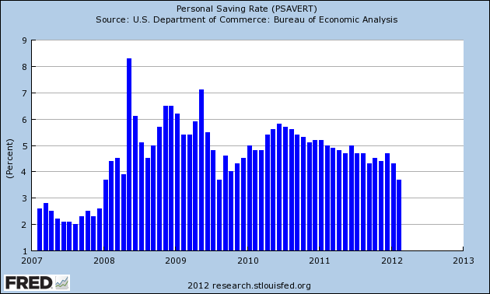 The last piece of information, which to me spoke volumes about the status of our "economic recovery," comes from the employment report for my home state of NY back in February written by Comptroller Thomas P. DiNapoli, "Economic Trends in New York State."
It told me that NYS has regained 46% of all the jobs that were lost during the recession as of the end of 2011. It also told me that the average salary of the jobs created in the past two years is more than 40% lower than the average salaries than the jobs lost during the recession.
Year over year inflation as of March was 2.9% and year over year aggregate personal income, with growth in the number of total employees up, was only 3.2%, meaning aggregate personal income is barely growing and per capita, real personal income is falling already.
This all does not bode very well for the overall economy and I would not be surprised we fall back into a recession this year.
The sector I would think that is most at risk is consumer discretionary (XLY).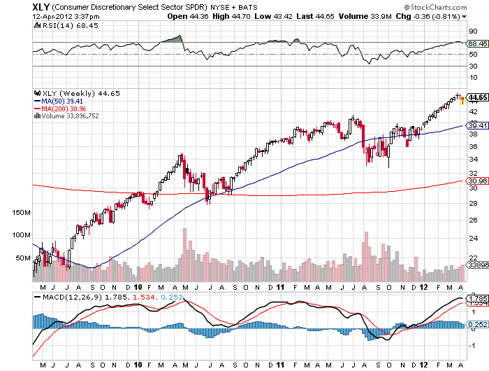 Without income growth, from wages and salaries or the federal government via transfer receipts, 5%+ y/o/y retail sales growth is not sustainable as per the chart below.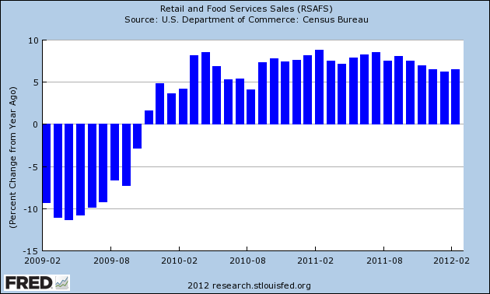 Disclosure: I have no positions in any stocks mentioned, and no plans to initiate any positions within the next 72 hours.