After three months of going up and up, the market has pulled back a bit and seems to be trading sideways in April. Couple of positive days followed by couple of negative days. Rinse and Repeat. This is exactly what happened for most part of 2011, especially until December.
The Dow Jones Industrial Average (DJI) was up on Wednesday and Thursday of this week after 5 consecutive down days. The positive run was aided by Alcoa (AA) earnings and QE hopes. However, China's GDP came below the estimated 8.5%, coming in at 8.1 % Thursday evening. This has already jolted the stock futures and is very likely to hit the entire market. Names that are dependent on China like some material stocks better watch out.
What's An Investor/Trader To Do: If the market continues to behave this way, we believe investors will do well by following the 4 points mentioned below
(click to enlarge)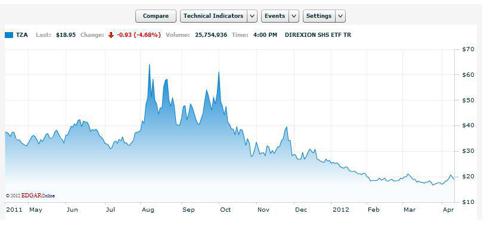 Conclusion: There is no fun in a market that keeps going in just one direction and every stock picker looks like a winner. 2012 has just gotten interesting in our opinion. Choose your exposure to each of the 4 categories mentioned above based on your risk tolerance. We have left out tax and trading costs as they are very specific to the individual. Have fun trading and investing.