So far, 2012 has been the best year for the Biotechnology and Drugs industry. So many stocks have surged in the last three months based on clinical trial results, U.S. Food and Drug Administration (FDA) approval, FDA Advisory Committee's recommendation, European commission approval, recommendation from independent committees, partnership with big pharmaceuticals, acquisitions, and so on. In this article, I will focus on two biotechnology drug companies that has very huge potential for growth, with nice entry points.
Biotech stocks are high risk-reward stocks and hence considerable analysis is required before trading. Use this list as a potential starting point for your analysis.
Horizon Pharma, Inc (HZNP):
Horizon Pharma, Inc. is a biopharmaceutical company that is developing and commercializing innovative medicines to target unmet therapeutic needs in arthritis, pain and inflammatory diseases. On April 23, 2011, the United States Food and Drug Administration, approved DUEXIS (formerly HZT-501), a tablet formulation containing a fixed-dose combination of ibuprofen and famotidine in a single pill.
The Company's other product, LODOTRA (NP-01) is a proprietary programmed-release formulation of low-dose prednisone and has received regulatory approval for the treatment of moderate to severe active rheumatoid arthritis (RA) when accompanied by morning stiffness in Europe where it is promoted by Mundipharma. LODOTRA utilizes SkyePharma's proprietary Geoclock technology and LODOTRA is currently approved for marketing in 16 European countries. Rheumatoid arthritis is a chronic disease that causes pain, stiffness and swelling, primarily in the joints. RA affects approximately 1.8 million people in the U.S. and is not associated with factors such as aging.
On March 7, 2012, Horizon Pharma announced that its Swiss subsidiary and Mundipharma International Corporation Limited and Mundipharma Medical Company have amended their exclusive distribution and supply agreements for commercialization of LODOTRA, a proprietary, programmed-release formulation of low-dose prednisone, in Asia to also include Mexico, Brazil, Argentina, Colombia, Venezuela, Peru, Chile, Ecuador, Dominican Republic, Guatemala, Costa Rica, Uruguay, Bolivia, Panama, Nicaragua, El Salvador and Honduras.
Horizon has completed a Phase 3 trial for LODOTRA in the United States for the treatment of the signs and symptoms of RA. In November 2011, the United States Food and Drug Administration (FDA) accepted for filing and review Horizon's New Drug Application for LODOTRA and set a PDUFA action date of July 26, 2012, based on a standard 10 month review.
The LODOTRA NDA submission was primarily based on results from the Circadian Administration of Prednisone in RA (CAPRA-2) trial, a pivotal, 12-week, double-blind, randomized, placebo-controlled Phase 3 trial involving 350 RA patients (N=231 on LODOTRA, N=119 on placebo). Both treatment groups in the trial continued to receive standard of care RA treatment with a disease-modifying anti-rheumatic drug (DMARD). Results from CAPRA-2 demonstrated:
A statistically significant improvement in American College of Rheumatology (ACR)20 response criteria, the primary study endpoint, for patients who were treated with LODOTRA compared to the placebo group (48.0% vs. 29.4%; p-value = 0.0007).
A statistically significant improvement in ACR50 response compared to placebo (22.3% vs. 10.1%; p-value = 0.0063) and an improvement in the more stringent ACR70 response criteria (7.0% vs. 2.5%; p-value = 0.0955).
A statistically significant reduction in the duration of morning stiffness compared to patients in the placebo group (median relative change: 55.2% vs. 34.6%; p-value = 0.0015).
In addition to DUEXIS® (Ibuprofen and Famotidine) Tablets and LODOTRA, Horizon has a pipeline of clinically enabled product candidates for the treatment of pain-related diseases and chronic inflammation. Horizon is currently evaluating the development pathway for TruNoc and HZN-602.
Click to enlarge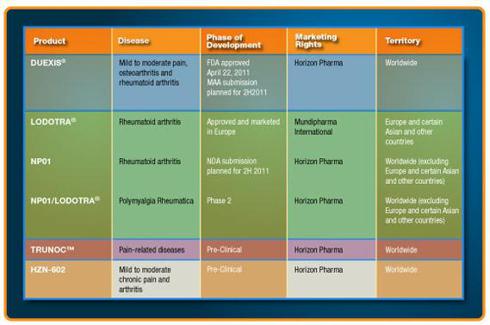 On March 28, 2012, Horizon has filed a patent infringement lawsuit in the United States District Court for the District of Delaware against Par Pharmaceutical, Inc. ("Par") and related to an Abbreviated New Drug Application ("ANDA") that Par filed with the U.S. Food and Drug Administration ("FDA") to market a generic version of DUEXIS® tablets. Horizon already received a Notice of Allowance from the United States Patent and Trademark Office for Application Serial No. 12/324808 entitled "Stable Compositions of Famotidine and Ibuprofen" with claims that cover DUEXIS.
Horizon has a market cap of $121.33 million and currently trading around $3.60 with a 52-week range of $3.05 to $9.34. The stock is trading near 52-week low and nice entry point for investors since FDA approval of LODOTRA drug is quite possible due to the fact that it is already approved in 16 European countries.
Source1 Source2 Source3 Source4
Threshold Pharmaceuticals, Inc (THLD):
Threshold Pharmaceuticals, Inc. is a biotechnology company focused on the discovery and development of drugs targeting the microenvironment of solid tumors as novel treatments for patients living with cancer. Its focus is on product candidates for the treatment of patients with cancer. Its clinical development efforts are focused on TH-302, for which it has worldwide marketing rights.
TH-302 is a hypoxia-targeted drug, for the treatment of soft tissue sarcoma that is thought to be activated under tumor hypoxic conditions, a hallmark of many cancer indications. Areas of low oxygen levels (hypoxia) within tissues are common in many solid tumors due to insufficient blood vessel growth. Sarcomas are a group of aggressive cancers of connective tissue of the body for which there are currently limited treatment options. Soft tissue sarcomas are treated with surgery, chemotherapy and radiation. The American Cancer Society estimates that 11,280 people will be diagnosed with a soft tissue sarcoma in the United States in 2012, and approximately 3,900 people will die from the disease. In Europe, approximately 25,000 people annually are diagnosed with soft tissue sarcoma.
In March 2012, Threshold Pharmaceuticals has received Orphan Drug Designation from US Food and Drug Administration (FDA) and European Commission for TH-302 drug for the Treatment of Soft Tissue Sarcoma.
Threshold Pharmaceuticals signed a global agreement with Merck KGaA, Darmstadt, Germany, to co-develop and commercialize TH-302, Threshold's small molecule hypoxia-targeted drug. Under the terms of the agreement, Merck will receive co-development rights, exclusive global commercialization rights and will provide Threshold an option to co-commercialize the therapeutic in the United States. In exchange, Threshold will receive an upfront payment of $25 million and could receive up to $35 million in additional development milestones during 2012. Threshold is also eligible to receive a $20 million milestone payment based on positive results from its randomized Phase 2 trial in pancreatic cancer.
At this time of announcement Threshold Pharmaceuticals' market cap was $145 million and this stock had a huge rally after this announcement in February since this agreement can yield upto $525 million potential milestone payments, comprised of $280 million in regulatory and development milestones and $245 million in sales-based milestones.
On April 11, 2012, Threshold Pharmaceuticals announced that it has earned a $20 million milestone payment from Merck KGaAfor achieving a statistically significant progression free survival benefit in its 214-patient randomized controlled Phase 2 clinical trial ("404 trial").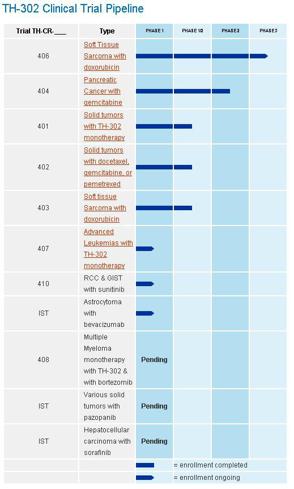 Threshold Pharmaceuticals has a market cap of $338.43 million and currently trading around $6.31 with a 52-week range of $1.18 to $9.07. The current pullback is very good entry point for investors as the stock has more room to grow based on positive earning results, successful sales of TH-302 drug followed by payments from Merck KGaA and positive results from other drugs in the pipeline.
Source1 Source2 Source3 Source4
Disclaimer: I am not a registered investment advisor and do not provide specific investment advice. The information contained herein is for informational purposes only. Nothing in this article should be taken as a solicitation to purchase or sell securities. Before buying or selling any stock you should do your own research and reach your own conclusion. It is up to investors to make the correct decision after necessary research.