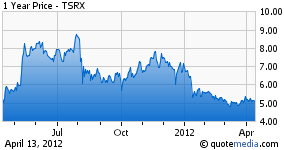 Trius Therapeutics (TSRX) is a biopharmaceutical company that develops and commercializes innovative antibiotics for life-threatening infections. The company announced positive top-line results from their first phase three clinical trial for tedizolid phosphate (TR-701), an IV- and orally-administered, second generation oxazolidinone, for the treatment of serious gram-positive bacterial infections, including those caused by methicillin-resistant Staphylococcus aureus (MRSA). The company is located in San Diego, CA, and run by Jeffrey Stein, Ph.D., President and Chief Executive Officer.
Trius' product offerings are significant because they are well-developed, in a proven market that was already pioneered by big pharmaceutical firms. In addition, competition is actually decreasing due to big pharma's lack of investment and development in this space.
The problem to solve
The company's products address the increasing problem of bacterial resistance to currently marketed drugs. As a result, serious and life threatening infections are in some instances more difficult to treat, and in other instances, impossible. Death by MRSA infection in hospitals, exceeds 19,000 deaths a year. That exceeds the number of deaths due to HIV. So because of declining investment in antibiotic solutions by big pharma, (leading to a leaner pipeline), and the upward trend of bacterial resistance, there is a need for novel therapeutics to treat multi-drug resistant bacterial infections.
Enter Trius' (TR-701,) now in phase three clinical development, and partly addressing the pipeline issue for MRSA indications. The company is expected to complete enrollment of the second phase three trial at the end of 2012.
Revenue base
Not common in many biotech companies is actual revenue. Trius has $60 million in revenues, which are government contract revenues, and which fully front three pre-clinical programs through phase one clinical development. It's developing an (Investigational New Drug) engine of sorts, that is going to be putting drugs into a clinical development pipeline. The most advanced of these is their Gyrase-B program, which is expected to enter the clinic in the first quarter of 2013. That project is funded through a $28 million five-year contract from (the National Institute of Allergy and Infectious Diseases), through Phase I clinical development. The federal government's (Biomedical Advanced Research and Development Authority, is also interested in funding it through phase three.
Gyrase is a broad spectrum drug. According to the company's CEO Jeffrey Stein "it has the potential to be the first truly novel class of broad spectrum antibiotic to enter the clinic in the last 50 years. Its potential value could eclipse the value of the company's late stage product, Tedizolid. This information has not been so visible to investors, but investors should get excited about it."
A significant partner
On the collaboration front, Bayer Pharma (OTCPK:BAYZF) is making $69 million of milestone-based payments to Trius for development of Tedizolid - $25 million of it upfront, half of which will be pre-commercial. Bayer, which will market the drug in Asian territories, is paying 100 percent of their development costs in their territory and 25 percent of development costs in higher value territory, all a pretty solid testimonial to the commercial potential of Tedizolid. If things proceed on schedule, $30-35 million of that will be paid before 2015. The agreement with Bayer does not cover the U.S., Canada, or the European Union, and the company expects to develop similar type agreements for those markets.
Investment Value
This creates the position where investors are paying for the late stage products appropriately, but the company is able to build the full research, clinical, regulatory, commercial capabilities that could then be applied to the earlier stage product once it enters the clinic. This represents an opportunity to enhance investor value, somewhat like a free call option for investors, as they're not paying for it but they will get the end value for it. Essentially, the early stage pre-clinical Phase I and II are funded for Trius.
According to public financial statements referencing the end of Q4 2011, the company reported approximately $59 million in cash on hand, not including the $50 million they netted from a January 2012 public offering. According to company officials, the company is capitalized through NDA filing, which they expect will take place in third quarter of next year.
With relatively low risk from a clinical, regulatory, and financial perspective, a current low cost to enter as an investment ($5.12 per share) and a steady stream of catalyst from news and clinical trials for the next few years to benefit its stock, Trius' value is apparent.
Trius is currently trading at $5.12 per share with a 52wk Range of 4.71 - 9.00, and a Market Cap of $197.82 Million.