It was but a few short decades ago when science fiction television shows began to popularize the notion of a futuristic society littered with useful robots to improve the daily lives of humanity. A generation later, in a society dominated by "smart" gadgets, computers and mobile devices, many would agree that that mankind has still yet to pass that threshold in which robotics have become an everyday part of our lives. But technology is improving, and innovation appears to be underway. Whether by intention or successful accident, the following five companies could play a role in helping to define a robotics future for the world.
Amazon.com (AMZN). Amazon is the latest player to become a robotics pioneer through its recent acquisition of Kiva Systems Inc announced in March 2012. The $775 million all-cash deal will serve to help fully automate its warehouse distribution process, a task necessary in reducing capital expenditure for what is shaping up to be one of the largest operations in the world. In 2011 alone, Amazon added 17 new fulfillment centers that will be sure to expand the need for industrial robotics. Robotic success found on this level of logistics is sure to serve as a convincing model for businesses around the world.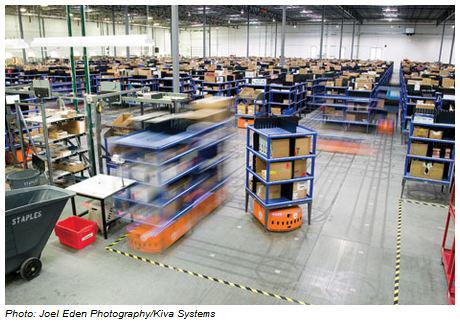 iRobot (IRBT). As one of the more popular robot companies due to its Roomba series automated robot vacuum, iRobot managed to put a face on what practical robot technology can provide to the average consumer. Yet the company also specializes in underwater surveyors and robots for the Defense Department useful for a variety of purposes unfit for manned exploration. When the earthquake in Japan shut down the nuclear power plants, iRobot sent 4 robots to the facility to survey the damage. iRobot stands as one of the more diversified robot plays on the market in terms of the demographics to whom it markets its robotic products.
AeroVironment (AVAV). AeroVironment stands on the cutting edge of unmanned aerial reconnaissance. Primarily a manufacturer of unmanned aircraft systems for the Department of Defense, the company has serviced the military with handheld robotic devices used for the surveillance of ground opposition. As a demonstration of its innovation, the company recently developed the smallest unmanned aerial vehicle to date. Named one of the "50 best innovations of 2011" by TIME Magazine, the Nano Hummingbird was designed by AeroVironment as a compact surveillance unit capable of covert and controlled observation. This would be especially useful for urban environments. Clearly, the company demonstrates the amount of innovation that lies ahead for robots taking to the skies.
Lockheed Martin (LMT). Lockheed Martin serves as a core innovator for the Department of Defense. Equipped with the resources and facilities capable of designing, developing, and producing complex robotic devices and vehicles, Lockheed shows off some of its innovation in this video for projects currently under development for the company. As a company with a $29 billion market capitalization as of April 12, 2012, the company's sheer size provides an unmatched advantage when it comes to the resources able to be put towards further development.
Microsoft (MSFT). One of the unique surprises offered by Microsoft's Kinect gaming console system lies in its offshoot advancements to robotic technology. In many ways, the system has become a household driver of robotic innovation as a core and affordable tool useful in gathering information in regards to a machine's surroundings. As demonstrated in the following two videos found here and here, robotic innovation has become ever more feasible in the garages of average users. This has served to be very much reminiscent of the early days of computer technology.
Disclosure: I am long AVAV.