One large concern when investing in a possibly commoditized industry is the moatability of the business model. What are the barriers to entry? How will the company continue to earn returns above their cost of capital?
Here, we analyze the competitive nature of the Scrap Metal Recycling industry, specifically Schnitzer Steel (SCHN). Similar companies include: Commercial Metals Company (CMC) and Sims Metal Management (SMS). Nucor (NUE) and United States Steel (X) also have interests in metal recycling.
First off, there are distinct differences between scrap metal aggregators, scrap metal producers, and scrap metal exporters. Schnitzer operates in all these avenues, but the key area is in the export business.
Scrap metal aggregators are highly fragmented and consist mostly of independent entrepreneurs scattered across North America. These independent businesses (and smaller public companies like Metalico) collect scrap metal from a variety of sources including junk cars, obsolete machinery and appliances, construction waste, etc. Most simply crush this metal and sell it wholesale to scrap metal producers like Schnitzer.
Schnitzer operates a small segment (Auto Parts Business) that operates dozens of junk car yards along the coasts. They make money from selling the parts within the car, then by transferring the remaining metal to its Metals Recycling Business (MRB). Schnitzer purchases its scrap metal from independent contractors, small companies, and its APB business.
So being a scrap metal aggregator doesn't have much of a moat. The only area within this that might have a moat is the auto parts business (which is Schnitzer's only active play) because the larger you are, the more likely people will come to your yard. Consumers pay an entrance fee into the yard, and then pay per part they pick out. Having a larger yard with more options is a clear benefit to consumers who don't want to pay multiple entrance fees. Also, if your yards are clustered, you can spread out SG&A expenses somewhat (whereas most yards are operated independently).
From here it gets much tougher for smaller players to operate efficiently.
Scrap metal producers purchase large amounts of scrap metal from scrap metal aggregators and process it. There are two ways you can operate more efficiently: either have large distribution networks to aggregate large amounts of scrap metal at wholesale prices, or have very large and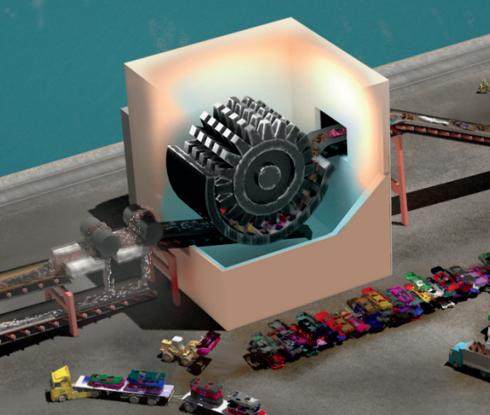 efficient scrappers. Luckily for Schnitzer, these are not mutually exclusive. If you bring in large amounts of scrap metal, you need large scrappers. If you have large scrappers, you need large amounts of scrap metal.
Schnitzer is one of the only companies in North America that has both the financing and distribution networks necessary to take advantage of "mega-shredders". These are 4-5x bigger than normal shredders and help boost operating margins almost immediately (and have been). They still have a significant amount of locations where these can be rolled out. Schnitzer has been ramping up capex to implement these in their remaining yards.
From here, we move to scrap metal exporters. This is where economies of scale and certain competitive advantages can come into play (and where Schnitzer derives 82% of their revenues). North America has a long-term large scrap metal supply gut, while most emerging markets (Turkey, Latin America, China, Korea, Malaysia, etc) have long-term shortages. Schnitzer's share of the export market increased from 14% in 2009 to 21% in 2010. Whoever has the ability to service these markets quickly and efficiently wins. Schnitzer is in the most enviable position.
They have the best networks and equipment to source the metal, in addition to having the best access to shipping routes. They operate seven deep-water ports along the coasts (and own most of them unlike their competitors). Compared to their competition, it seems as if Schnitzer has access to more markets, on both coasts. There is also a level of dependability by owning their ports, which also allows them to place mega-shredders right on the port, decreasing lead times and transportation costs.
Domestic sales are mainly to Schnitzer's Steel Manufacturing Business segment that uses the processed scrap metal to create basic construction materials. This segment operates with little to no margin, but provides guaranteed higher margin sales for the MRB segment.
Overall, Schnitzer is operating in a long-term secular growth story with significant amounts of operating leverage. At the right price, it seems like a great company worth owning.
Disclosure: I have no positions in any stocks mentioned, but may initiate a long position in SCHN over the next 72 hours.