A protected covered call or collar search performed using PowerOptions tools seeking to find the highest returning protected covered call with a maximum potential loss of 8% for a stock price in an up trend and near the lower Bollinger band produced the bio-pharmaceutical company Gilead Sciences (GILD) as shown below:
Closely behind Gilead Sciences were insurance and financial services company Hartford Financial (HIG), oil and natural gas exploration company McMoRan Exploration (MMR) and memory company SanDisk (SNDK).
A protected covered call position can be entered by selling a call option against a purchased or existing stock and using some of the proceeds from selling the call option to purchase a protective put option. The Gilead Sciences protected covered call position has a potential return of 3.6% (36.5 annualized) and a maximum potential loss of 7.5%, even if the stock price drops to zero.
For the search, the 8% maximum loss search parameter was used, as a loss of 8% or less can often be recovered fairly quickly when using income generating methods. To find companies with a stock price in an up trend, the search was configured to find stock prices with a 100 day moving average greater than the 200 day moving average. Companies with a stock price near the lower Bollinger band have had a pull-back in stock price and may be basing for a continued leg up as illustrated by Gilead Sciences stock chart shown below: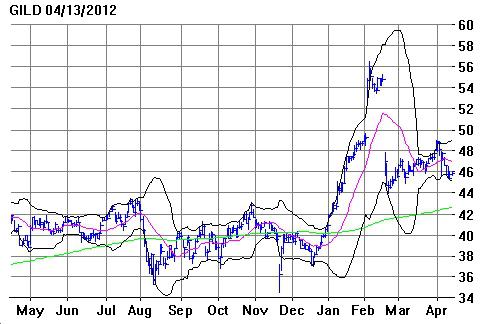 Gilead Sciences Inc is a research-based bio-pharmaceutical company perhaps best known for its development, in collaboration with Roche, of the defense against bird and swine flu, Tamiflu. (Fortune article)
However, Gilead is about more than flu remedies. It has three areas of primary focus: the human immunodeficiency virus (HIV)/AIDS, liver diseases such as hepatitis B and C, and acute cardiovascular and respiratory conditions. This list is likely to increase as a result of both the company's internal R&D program and its ongoing strategic acquisitions. The January 2012 acquisition of Pharmasset makes Gilead as dominant in treatments for hepatitis C as it already is in AIDS medicines. Pharmasset's entirely oral treatment, likely to be approved by early 2014, should be far more palatable for hepatitis C sufferers than the current program of weekly interferon injections combined with ribavirin pills twice a day, and it has fewer and less severe side effects. New treatments recently introduced by Gilead's competitors Merck (MRK), Johnson & Johnson (JNJ) and Vertex Pharmaceuticals (VTRX) still have to be used in conjunction with interferon and ribavirin. (Wall Street Journal article) Other challengers in the fiercely competitive pharmaceuticals market include Abbott Laboratories (ABT), Novartis Pharmaceuticals (NVS), Forest Laboratories (FRX) and BioCryst Pharmaceuticals (BCRX).
In 2011 Gilead launched Complera to expand its available single-tablet therapies for the treatment of HIV, and a further addition to the range will follow in 2012 with the expected introduction of Quad, combining four HIV medicines in a single daily pill. The World Health Organization estimates that there are around 34 million people in the world living with AIDS, while 130-170 million are chronically infected with hepatitis C virus. So Gilead has a large market to address in these two areas alone. The company also has two hepatitis B treatments, three cardiovascular therapies, two respiratory medicines (an inhaled antibiotic and the oral antiviral Tamiflu) as well as antifungal, retinitis and macular degeneration remedies.
Gilead collaborates with its pharmaceutical competitors, including Bristol Myers-Squibb (BMY) and Johnson & Johnson, in strategic partnerships for specific products. In addition, as well as having its own US and international commercial sales operations, Gilead earns royalties by licensing manufacture and sales of many of its products to other companies. Among these affiliates are GlaxoSmithKline (GSK), Pfizer (PFE), Japan's Astellas Pharma, and the Swiss giant Roche. Three major US wholesalers, Cardinal Health (CAH), McKesson (MCK) and AmerisourceBergen (ABC), accounted for 79% of Gilead's 2011 product sales in the US, and 43% of total worldwide revenue. Dependence on such a small number of wholesalers presents a revenue risk in the event of any one of them terminating their agreement or encountering financial or other operational difficulties.
Drug development is a risky and expensive business involving lengthy clinical trials with possibly unfavorable results or inability to obtain regulatory approvals. Many products fail during the development process and are never successfully commercialized. Not surprisingly, R&D accounts for a major portion of Gilead's expenses, amounting to $1.2 billion in 2011. As well as licensing some manufacturing to third parties, the company has its own manufacturing facilities in California, Canada and Ireland.
Gilead has a tiered pricing system based on a country's economic status and the prevalence of HIV within its borders. This system allows 134 countries in the developing world to acquire Gilead products at greatly reduced prices. Some products are donated to assist in clinical studies of disease, and Gilead also works closely with the World Health Organization and other non-government agencies.
Since 2010 Gilead's biggest selling products have been the HIV antiviral products Atripla and Truvada, generating 40% and 35% respectively of total 2011 sales. (The US patents for these two products expire in 2021, the European patents in 2018.) Antiviral products as a whole accounted for 87% of total sales. Total revenue in 2011 was $8.4 billion, 5.5% higher than 2010. Revenue has doubled in the last four years, but the growth rate slowed in 2011, mainly as a result of declining Tamiflu royalties in line with a reduction in pandemic planning worldwide. Gross margin percentage also declined slightly following an adjustment in the percentage share paid to Atripla collaborator, Bristol Myers-Squibb. Net income attributable to Gilead in 2011, $2.8 billion, was 3.4% lower than in 2010. Senior unsecured notes to the value of $4.7 billion were issued in 2011, lifting the senior notes liability to $7.6 billion and cash and marketable securities to $10 billion. (Form 10-K 2011 (pdf))
The Q4 2011 earnings call provided an opportunity for Gilead's president and CEO John Milligan to enlarge on the competitive advantage of the company's increasing number of single-tablet regimens for HIV. He also said that the main product introduced by the Pharmasset acquisition will be able to be integrated into other treatments in Gilead's portfolio, providing the opportunity for significant revenue growth and diversification. CFO Robin Washington indicated that $5 billion of 2011 revenue came from North America and $3 billion from Europe, leaving $400 million generated in the rest of the world. The company has what he described as commercial operational capabilities' in the US, Canada, Europe and Australia, and a growing presence in South Korea, Hong Kong, Taiwan and Singapore. Company guidance puts 2012 sales in the range $8.6-$8.8 billion, a 6-9% increase on 2011.
Gilead Sciences is determined to grow its business beyond its core antiviral products, and internal R&D coupled with key acquisitions are beginning to achieve that aim.
Investing in bio-pharmaceutical companies can be the most stomach churning type of investing, as the prospects for a company's profits tend to vacillate from nothing to going ballistic, usually depending upon testing/trials and FDA approval. Additionally, Gilead Sciences quarterly earnings report should be forthcoming, so a current investor in the company might consider protecting an unrealized profit in the stock using some type of protection, in case the company releases some bad news.
The protected covered call for Gilead Sciences shown in the table above may be entered by selling the 2012 May 46 call option for $2.75 and purchasing the 2012 May 41 put option for $1.15. The profit/loss graph for one contract of the protected covered call is shown below: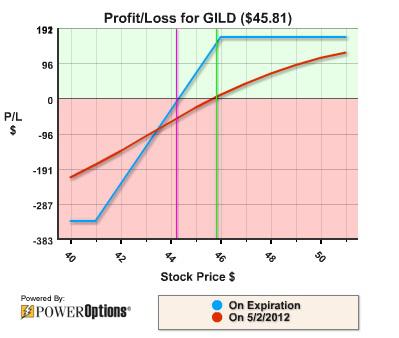 For prices of the stock below the $41 put option strike price, the value of the protected covered collar remains unchanged (at expiration). Additionally, if the price of the stock increases to around $50, the position can most likely be rolled in order to realize additional potential return.
Disclosure: I have no positions in any stocks mentioned, and no plans to initiate any positions within the next 72 hours.