By Steven Ruiz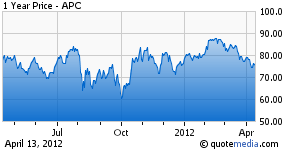 Anadarko (APC) is one of the world's largest independent oil and gas production and exploration companies with 2.3 billion barrels of proven reserves. In this article, I will illustrate how Anadarko has fared against the competition in the same sector and what the future holds and where Anadarko is headed.
Anadarko had a 25% stake in the oil site where the 2010 Deepwater Horizon spill occurred in what would become the worst oil spill in U.S. history. Anadarko settled the legal issues related to the spill with British Petroleum (NYSE:BP) in October 2011. The settlement cost Anadarko $4 billion and the 25% stake in the oil at the spill site. There were estimates of the spill cost to Anadarko being as high as $12.5 billion, so this settlement made sense economically. The biggest positive side to the settlement for Anadarko is that it would not be liable for any future claims, and it could put the disaster behind it. In fact, the news was bullish for the company, since the prolonged legal battles and open ended claims for damages could have crippled the company for years.
BP, one of Anadarko's biggest competitors, gave Anadarko an advantage by removing all liability and future litigation in the Deepwater Horizon Gulf spill. British Petroleum, on the other hand, has to deal with damages from five states, the U.S. government, the EPA, business owners, residents and a list of too many more to count.
Although British Petroleum has been handing out money to settle the damages, anybody can forego the money offered and file a lawsuit to get more in court. Plus, British Petroleum is the most visible company involved in the spill and the one people will always associate with the disaster. Anadarko will have some degree of amenity in the future because the headlines and news stories focused on British Petroleum.
Anadarko stock recently traded at $78 a share. It has been on the rise since the height of the Deepwater Horizon oil spill in 2010 when it traded around $34 a share. Anadarko has had some major oil finds in 2012. It had a successful field appraisal off the coast of Mozambique, drilled another successful test well off the coast of Ghana, and the Caesar/Tonga mega project started production off the coast of Louisiana.
In addition, Anadarko went into a drilling partnership with LINN Energy (LINE) to develop the Salt Creek Field in the Powder Springs River Basin in Wyoming. The agreement has LINN Energy receiving a 22% stake in the claim in exchange for LINN Energy investing $200 million over the next three to six years. Anadarko expects this field to produce for at least 10 years. This deal gives Anadarko some cash upfront to help get the oil out of the ground and take advantage of oil that's near all-time highs. The increase in proven reserves is bullish for Anadarko and, coupled with the high price of oil, investors should be buying the stock.
Anadarko recently had a major natural gas find too. In addition to finding oil off the coast of Mozambique, gas was discovered there as well. The 30 trillion cubic feet of gas estimated at the site will be a great revenue source in the future when natural gas rises from recent 10 year lows. Anadarko, in addition to the recent find off Mozambique, has natural gas fields in Wyoming, Pennsylvania and at Eagle Ford in Texas. This positions Anadarko well for the price increase in natural gas that is coming over the next few years. These natural gas reserves give Anadarko another income stream and another reason to be a buyer of Anadarko stock.
A competitor of Anadarko and supplier of natural gas, Duke Energy (DUK), is a multi-state utility and nuclear energy supplier. Because part of Duke Energy is a utility company, it decided to get involved with nuclear power to supply its customers. In my opinion, nuclear power has become a burden rather than the safe, smart, high volume power producer it was purported to be. Nuclear plants are risky as evidenced by the recent shut down of Catawba Nuclear Plant and costly to build and maintain. There is also the growing public sentiment, after the Fukushima reactor meltdown in Japan, to phase out nuclear power which is perceived as too dangerous to maintain. Duke Energy also has a some real estate investments. Anadarko has a more streamlined and focused business model than Duke. I prefer Anadarko because of the lower risk and the focus on oil and gas supply.
Anadarko does a few things well and has concentrated on them. Anadarko explores for oil and gas and then gets that oil and gas out of the ground for sale to other companies. ConocoPhillips (COP), which made $3.4 billion in its last quarter earnings, is an oil and gas producer, explorer and supplier. Unlike Anadarko, ConocoPhillips is also a petrochemical producer and has a retail chain of gas stations. ConocoPhillips has realized it might easier to concentrate on fewer steps in the supply chain. ConocoPhillips is in the process of restructuring its business by spinning off its retail chains into a separate company that will be known as Phillips 66. It's a smart move which will allow the petrochemical and oil and gas production to work together and better utilize assets and manpower. ConocoPhillips added new supplies off the coast of Angola and in the deep water in the Gulf of Mexico. In another sign of financial strength, ConocoPhillips also has been buying back its shares. It bought back 3% in the fourth quarter alone. I like ConocoPhillips and the recent business decisions. Both ConocoPhillips and Anadarko are headed in the right direction.
Chesapeake (CHK), which deals exclusively with onshore natural gas exploration and production, has the largest onshore leasehold in the United States with 20 years of proven reserves. It has a wide array of fields with some in Texas, Oklahoma, Pennsylvania, Wyoming and Louisiana. Unfortunately, natural gas is at 10 year lows so it's going to be hard to make money with natural gas even with all those reserves. I would stay away from Chesapeake stock until the natural gas market goes back up. Anadarko has oil reserves to go with its natural gas drilling and has been better equipped than Chesapeake to handle depressed gas prices. Chesapeake is also land based and only has reserves in the United States while Anadarko has reserves offshore and onshore. Anadarko has reserves in other parts of the world such as off the coast of Africa and Latin America. I prefer Anadarko over Chesapeake for these reasons.
Where does Anadarko head from here? Anadarko may look for a smaller cheap gas explorer and producer to acquire to take advantage of the inevitable rise in natural gas prices from historic lows. Anadarko can get a natural gas producer cheaper now while the gas market is down. Anadarko will continue to stay an independent company and will not merge with a bigger company unless something dramatic happens to the oil industry. I also see Anadarko doing more onshore drilling in the United States and Canada because of new drilling techniques and new exploration technology that will allow new discoveries. Anadarko is well run and versatile, having more than one source of income, but it does not get too spread out from its core business like some of its competitors. Anadarko is a good company, and I highly recommend buying this strong stock in the energy sector.
Disclosure: I have no positions in any stocks mentioned, and no plans to initiate any positions within the next 72 hours.