Recently everyone seems super bullish on China Natural Gas (OTC:CHNG), which closed on October 10th at $10.26. The readers of Seeking Alpha already know about CHNG and probably have made some pretty good money on it, as it was written about back in June when it was still under $4. What the readers of Seeking Alpha may not know is that Bodisen Biotech Inc (OTCPK:BBCZ) holds 2,063,768 shares of China Natural Gas or almost 10% of the outstanding shares. Bodisen Biotech, Inc. is a leading manufacturer of liquid and organic compound fertilizers, pesticides, insecticides and agricultural raw material certified by the Petroleum Chemical Industry Administrative office of China (Chemical Petroleum Production Administrative Bureau), Shaanxi provincial government and Chinese government. The company is headquartered in Shaanxi province and is a Delaware corporation.
Now while CHNG.OB has been surging in price this year, BBCZ.PK got hit hard on two fronts. First a very cold spring combined with August flooding impacted their core business. On top of that an insider stock transfer scandal caused them to be delisted from the AMEX exchange and now they trade on the pink sheets. They do also trade on the London Stock Exchange. This 1-2 punch has caused the stock to lose 80% of its market cap in the last 52 weeks. Now while some price depreciation was indeed warranted, I believe the extent of that depreciation is vastly over done and has created a unique speculative value play. Here is why:
Lets look at the balance sheet as of June 30th 2007: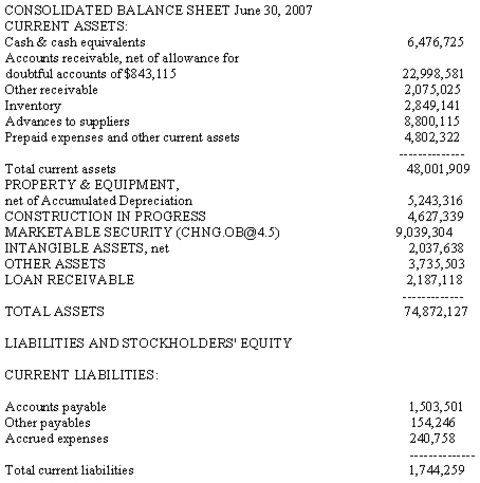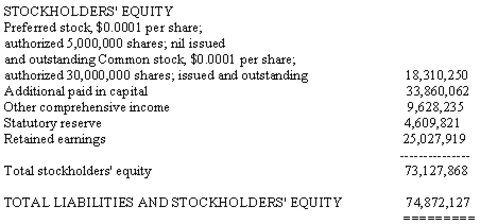 As of October 10th 2007, BBCZ trades at $2.00 share.
For that you get $1.16 in CHNG stock + $2.60+ in current assets. Not to mention a business that has been profitable on a historical basis
The company has no long term debt and almost no short term debt!
The appreciation in CHNG.OB and the appreciating Yuen could give a nice kick to Q3&Q4 earnings, and may be a catalyst for a nice short term pop in the stock back to the $3-4 trading range and while a short term gain is always nice to have, I believe BBCZ.PK offers some very nice longer term capital appreciation prospects.
Please note that most pink sheet stocks are considered somewhat illiquid and are classified as speculative investments . BBCZ is no exception so please invest prudently and only with speculative capital.
Disclosure: The author is a private investor/money manager and holds a position in BBCZ.PK and has added to that position in recent days as CHNG.OB has continued to appreciate.