The market is having its first significant volatility of the year over the last week or so. The VIX is up and we have had several triple digit moves, both up and down, over the last 10 trading sessions. This is the kind of market that gives investors an opportunity to buy on the dips especially on those equities that have taken a tumble and now sell significantly under key price targets. One stock in the energy sector that meets these criteria is Pioneer Drilling Company (PDC).
Pioneer Drilling Company - "Pioneer Drilling Company, through its subsidiaries, provides contract land drilling services and production services to independent and oil and gas exploration and production companies in the United States and Colombia." (Business Description from Yahoo Finance)
8 reasons Pioneer is a worthy pick up at $8 a share:
It is poised to more than triple earnings over the next couple of years. The company earned 31 cents a share in FY2011 and analysts have it making $.74 in FY2012 and $1.01 in FY2013.
It is way below its consensus price target. The seven analysts that cover the stock have a $14 median price target on PDC. The low target price is $10 and top price target is $18.
It sells for just 4% over book value and under 4 times operating cash flow.
Analysts have it growing revenue by 30% this year and over 15% in FY2013.
Insiders are sitting tight and have only sold less than 25 basis points of their holdings in the previous six months.
The stock is selling at 8 times forward earnings, which is an over 50% discount to its historical average.
It is projected to grow revenue and earnings faster than key competitors like Helmerich & Payne (HP), but is selling at a lower forward PE (8 vs 9.3)
The stock is selling at half its highs this summer. After a break near $6 (its long-term technical support), it looks like it was trying to build a base at these levels over the past four months (See Chart).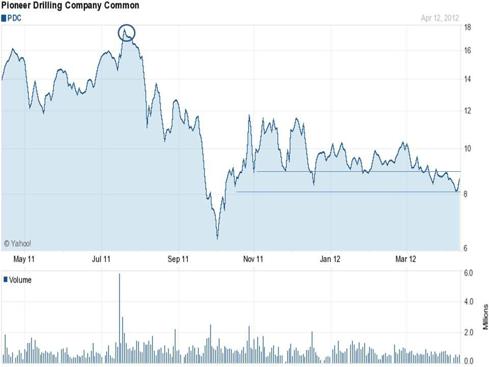 Click to enlarge
Disclosure: I have no positions in any stocks mentioned, but may initiate a long position in PDC over the next 72 hours.