Packaging Corp.(NYSE:PKG) makes some 2.4 million tons of containerboard annually, most of which is used in PKG's corrugated products manufacturing operations. PKG is a leading producer of corrugated shipping containers, multicolor packaging and displays, and boxes for the meat and agricultural industries. The company operates two linerboard mills, two corrugating medium mills, and nearly 70 corrugated products plants. To support its mills, PKG leases the rights to more than 100,000 acres of timberland in Georgia and Tennessee.
The dividend PKG pays caught my eye. It's $1.00 a share, giving the investor a yield of 3.4%. It takes about 61% of earnings to pay the dividend, but the company's strong balance sheet and cash flow offer some comfort to investors. The dividend has been raised for the past 3 years in a row, starting with 60 cents a share in 2004.
Earnings have increased as well, after a down movement in 2005, going from 64 cents a share in 2004, then to 49 cents. Last year, they more than doubled to $1.20. This year analysts are looking for $1.60 and $1.80 next year. The stock held relatively steady through each of those years and has finally started to move upward. In fact, it's trading at an all-time high as this is written.
In the second quarter, earnings were up 42% over the same period last year. That was on a sales increase of 6%. There were higher expenses in the quarter from labor, benefits, and transportation costs. To counter those, prices were increased and a better product mix with higher margins was sold. Good levels of inventories, higher production and volumes also boosted earnings.
Higher expenses are expected to be a continued pain to the bottom line. Those energy, labor, benefit and raw materials costs are most likely going higher along with pulpwood, wastepaper and transportation expenses. Furthermore, the domestic economy appears to be slowing, particularly in the manufacturing sector, a heavy user of corrugated boxes.
The good news is that price increases are sticking and global demand is strong. With its low-cost mill system which depends less on fuel oil, natural gas, and wastepaper than its competitors, PKG should have a competitive price advantage.
Here are a few numbers to ponder: Officers and directors own almost 13% of the stock. Over 30% of the stock is held by 3 institutions, including Goldman, Sachs, PCA Holdings and Capital Research and Management. Current assets are 1.75 times current liabilities with $208 million of that in cash. Market cap is $3.0 billion with 105.342 million shares outstanding. Sales are expected to grow, on average, by 4% a year over the next 5 years while earnings are forecast to grow, on average, 19% a year, in the same time period.
There's nothing exciting about corrugated products unless you like decent profits, a nice dividend, and a steady stock performance. PKG is only the sixth largest producer of containerboard and corrugated products, but it has one of the most efficient mills. If it can continue to sell strongly abroad and costs don't get ahead of price increases, this stock seems to have a good chance of continuing to slowly improve.
PKG will hold a conference call on Thursday, October 18, 2007 at 10:00 a.m. (Eastern Time) to discuss third quarter 2007 results. Third quarter 2007 earnings will be released after the market closes on October 17, 2007. For access to the conference call, dial (866) 836-4700 (U.S. and Canada) or (703) 639-1416 (International) by 9:45 a.m. (Eastern Time).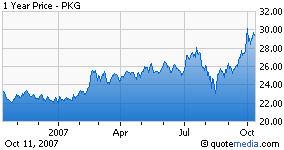 Disclosure: none