We follow few REITs as we have shied away from real estate over the past two years. ProLogis (NYSE:PLD) is one of the five exceptions mentioned in earlier articles.
Residential real estate has taken a beating this year; however commercial has held up and industrial has been doing rather well. ProLogis is an industrial real estate investment REIT.
ProLogis concentrates its efforts in three segments, cleverly using its diversity to feed into its own long term plans as explained below. The largest segment, contributing half of profits is the warehouse distribution centers otherwise known as Property Operations [PO]. Income is derived from rent and management fees on wholly owned and co-owned properties.
A vast network is in place concentrating on trade between Asia with Europe and North America (US/Mexico). Facilities are geographically dispersed as follows;
North America: Canada (1), Mexico (6), USA (35)
Europe: Belgium (1), Czech Republic (1), France (5), Germany (4), Hungary (1), Italy (4), Netherlands (3), Poland (5), Romania (1), Slovakia (1), Spain (4), Sweden (3), UK (4).
Asia: China (17), Japan (7), Korea (1), Singapore (1)
The vast majority of locations are adjacent to primary airports and seaports. We emphasize that PLD's PO growth stems from global trade. As pointed out in another article, rapid global economic expansion is expected to continue for another five years. As long as trade continues to grow, there will be increasing demand for warehouse distribution facilities.
The other two segments are somewhat intertwined and can feed into the primary warehouse distribution operations as well. The second segment known as "Fund Management" [FM] manages industrial/commercial properties of 13 other trust funds. FM also buys properties, refurbishes them for resale or rent through affiliated trusts. These trusts are not owned by ProLogis; assets are maintained and managed by ProLogis. ProLogis holds an equity stake in each of the 13 funds. Essentially the difference is that ProLogis doesn't end up owning the buildings out right, but does everything else. Of course, ProLogis has the inside track on all desirable properties that mesh with its global strategy, that go up for sale from time to time.
The third segment is the Corporate Distribution Facilities Centers [CDFS]. Basically the realty part is the same as FM with the noticeable difference that PLD is managing distribution centers for corporations whereas in the FM segment PLD is managing a variety of assets for other trusts. Here too, PLD will acquire properties for refurbish/resale to other trusts or for itself. The key is property management.
We found that analysts were all over the place and Standard & Poor's McMillan has the most recent publicly published updated coverage (09/28/2007 $72 target). Here is a breakdown: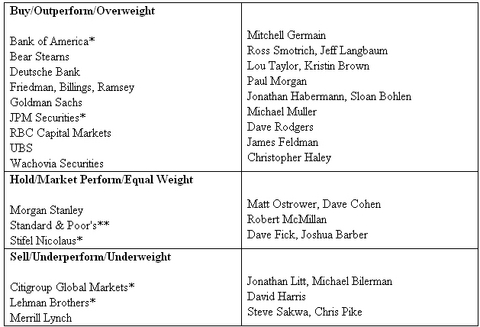 * May be outdated.
** McMillan still lists a buy rating though the stock has reached his target. We think that estimated EPS 2007, 2008 figures and Q3, Q4 EPS breakdowns are typos.
We understand our colleagues concerns regarding any real estate investment. PLD has seen tremendous growth over the past two years. Rental income increased from $635 million in 2005 to $928 million in 2006. For the first six months of 2007, rental income came in at $531 million compared with $441 million for 2006. Debt has increased as well. In 2002, debt was $2.7 billion on $5 billion worth of assets [54%]. In 2006, debt increased to $8.4 billion on $12.6 billion in assets [66%]. As of 6/30/2007, debt increased to $9.6 billion.
Perhaps Lehman and Merrill are concerned about a possible asset degrading that would blemish the balance sheet. We are not overly concerned with this scenario at this time as the majority of properties owned by PLD are outside the USA where prices are continuously rising. In addition, warehouse facilities are not subject to the same oversupply situation as residential properties. Good locations are hard to come by.
Another major concern expressed by some of our colleagues is higher interest rates. Here too, we are not overly concerned. PLD should be able to pass along any increase as long as global trade continues to grow. Newcomers to the warehouse distribution segment are faced with the same interest rates. The competition has to deal with the same interest costs; everyone is in the same boat. There may however be a lag time that would temporarily impair earnings. For the time being, it looks like the worst is behind us regarding interest rates.
The sole devastating risk to our bullish stance on PLD is that protectionism will set in due to the large US trade imbalance. Then again, if the whole world goes kaput, PLD will be the least of our problems!

Based on current trends, 2008 will see slower growth as PLD consolidates prior acquisitions including the fairly recent industrial assets acquisition from Parkridge ($1 billion). Our 2007 EPS estimates are above consensus, factoring in the rental increases disclosed for Q2 2007. We think that the average 8% increase is ongoing. The 2007/2008 evaluation line charts do take into account the lower 2008 growth. We will know if we are on track by October 25th, 10 AM.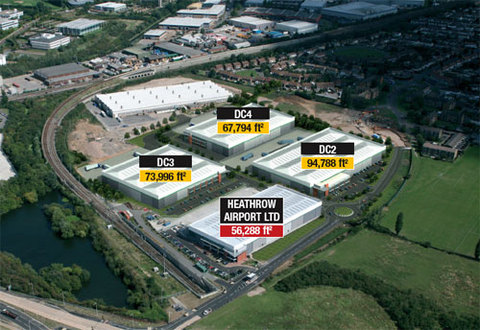 Disclosure: No holdings by analyst, associates are long.