Let's look at a protected covered call or collar search performed using PowerOptions tools seeking to find the highest returning position for a profitable company with a maximum potential loss of 8%, a stock price in an uptrend, and that is near the lower Bollinger band. This search produced the financial services company Morgan Stanley (MS), as shown below:

Not too far behind Morgan Stanley were biopharmaceutical company Gilead Sciences (GILD), appliance company Whirlpool (WHR), robot company iRobot (IRBT), and computer memory storage company SanDisk (SNDK).
The Morgan Stanley protective covered call has a potential return of 3.7% (36.5% annualized) with a maximum potential loss of 7.8%, even if the stock price drops to zero. A protective covered call may be entered by selling a call option against a stock and using some of the proceeds from selling the call option to purchase a put option for protection.
Profitable companies were found by selecting a search for a price-to-earnings (P/E) ratio of greater than zero. The maximum potential loss parameter of 8% was selected, as a loss of 8% or less can often be recovered using income generating methods. Searching for companies near the lower Bollinger band includes names that have recently had a pullback in price and could be basing for another leg up in price. Companies with a stock price in an uptrend were found by selecting to search for a 100-day moving average greater than the 200-day moving average.
The financial services industry has been rocked to the core in the last five years. But when governments and major corporations need to raise capital, they still turn to a U.S.-based global business that has been operating for over 75 years. They call in Morgan Stanley, a financial powerhouse with a long history, now embracing very necessary changes in its operating structure, risk management and regulatory framework.
Morgan Stanley provides services to corporations, governments, financial institutions, and individuals. Its 62,000 employees are distributed among its headquarters in New York, major regional offices in London, Tokyo and Hong Kong, and around 1,200 other offices in the 42 countries where it has a presence. Operations are divided into three main segments: Institutional Securities, Global Wealth Management Group, and Asset Management. Institutional Securities covers government and major corporate capital raising; the underwriting, sales and trading of equity and fixed income securities; and corporate lending and general financial advisory services. The Global Wealth Management Group serves high-net-worth individual investors and small- to medium-sized businesses with brokerage, investment advice, financial planning, cash management services and lending. Asset Management offers portfolio management and strategies, mutual funds and other investment products, and is directed at institutional (pension plans, insurance companies, banks) and individual investors.
The company president's 2011 letter to shareholders (pdf) included the information that in the preceding year the firm had occupied No. 1 ranking in three areas -- mergers and acquisitions, global IPOs, and global equity -- advising on nine of the top 10 transactions during the year, including deals for General Motors (GM), Citigroup (C), Agricultural Bank of China, and Brazilian giant Petrobras (PBR).
The company conducts its business through a complex web of wholly owned subsidiaries and joint ventures with other global financial institutions. These include the retail broker Morgan Stanley Smith Barney, a joint venture with Citigroup, and the struggling Japanese broker Mitsubishi UFJ Morgan Stanley Securities. The latest strategic partnership, announced March 28, 2012, is with OSF Merchant Banking in Brazil, a major growth area for Morgan Stanley along with India and China. The company's competitors include divisions of some of its joint venture partners as well as Goldman Sachs (GS), Bank of America (BAC) subsidiary Merrill Lynch, BlackRock (BLK), and CME Group (CME).
Since September 2008, Morgan Stanley has operated as a bank and financial holding company subject to supervision and regulation by the Federal Reserve under the Bank Holding Company Act. This means that from July 2010 it has fallen under the jurisdiction of the new Dodd-Frank Act in the U.S., coping with more intensive scrutiny and with rules governing high capital and liquidity requirements and compensation paid to senior executives. It may also have difficulty in divesting itself of business segments that are not permitted under its new status as a banking entity, and in 2012 is likely to apply to the Federal Reserve for a third one-year extension to the two years originally allowed for such divestment. Such problems only add to existing difficulties as the company struggles to recover from the effects of the U.S. and global economic downturn in 2008-2009 and drastic real estate losses following the bursting of the housing bubble, while responding to many lawsuits resulting from activity in those years and coping with the current European sovereign debt crisis. Hedging and other risk mitigation techniques can only go so far in protecting against such threats.
As a result of these challenges, the company's net income figures for the last five years have been on a roller coaster ride. While net revenues grew modestly in 2009 following the 2008 low point, then surged in 2010 and steadied in 2011 to $32.4 billion, the picture they paint is blurred by discontinued operations and non-controlling interests. Net income applicable to continuing operations is a far more reliable indicator. In 2010 it reached $4.7 billion, a spectacular recovery from 2009's $1.35 billion, driven mainly by an $8 billion increase in revenue (largely from improvements in the company's trading and investment activities as principal). However, in 2011 net income fell to $4.1 billion, partly as a result of higher operating expenses but also impacted by income tax effects. Only $2.1 billion of the $4.1 billion net income is attributable to common shareholders, and this translates into earnings of $1.23 per diluted share, compared with a loss of $0.77 back in 2009.
Revenue by segment in 2011 shows that 53% is generated by Institutional Securities activity, 41% by Global Wealth Management, and only 6% by Asset Management. Revenue figures by region reveal that the Americas account for 69% of the total, Europe/Middle East/Africa for 21% and Asia for 10%. (See the company's Form 10-K for 2011 (pdf).)
Opening Morgan Stanley's Q4 2011 earnings conference call, James P. Gorman remarked that the company's prospects looked brighter than at any point since he became CEO two years ago. The problems with the joint venture with Mitsubishi UFJ Financial Group (MTU) had led to a realignment of the global partnership between the two companies. (The Japanese group now owns 22.4% of Morgan Stanley and has two board seats.) The settlement with bond insurer MBIA (MBI) resulted in a $1.8 billion charge for Morgan Stanley but freed up about $5 billion in capital. The fixed income segment reorganization and the decision to shed 1,600 employees are both expected to contribute to sustainable improved performance. CFO Ruth Porat commented on major balance sheet improvements in capital, funding and liquidity.
Perhaps the most significant remark made by James Gorman was that "for the first time in two years, our to-do list is not our problem list, and we can focus our energies on enhancing our franchise." Morgan Stanley appears ready face a brighter future, despite its ongoing difficulties.
Morgan Stanley's stock price is currently near its previous support level around $18, as shown below: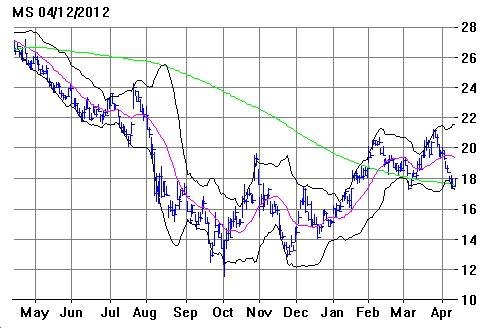 The company reports earnings results on April 19, 2012, which is probably one reason the protected covered call has such a high potential return. A current investor or one considering taking advantage of the high potential return might consider entering the protected covered call shown above, as the position generates income while remaining protected by the put option in case the company releases bad news in a few days. The specific call option to sell is the 2012 May 18 at $0.96 and the put option to purchase is the 2012 May 16 at $0.30. A profit/loss graph for one contract of the protected covered call position is shown below: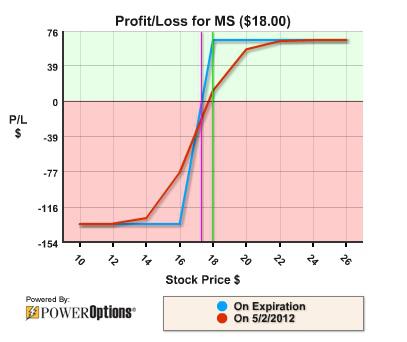 If the price of the stock drops below the $16 put option strike price, the value of the protected covered call remains unchanged (at expiration). Additionally, if the price of the stock increases to around the $20 to $22 range, the position can most likely be rolled in order to realize additional potential return.
Disclosure: I have no positions in any stocks mentioned, and no plans to initiate any positions within the next 72 hours.