Shares of steel giant Arcelor Mittal (MT) are trading near a 10 year low. However, there are now reasons to consider buying MT, as we analyze below.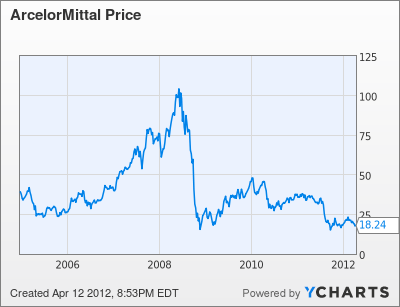 Options Activity
Option Monster reported on the high level of bullish options activity recently; 3,200 May 18 calls were purchased while an equal amount of May 18 puts were sold. Volume at both strikes was over 4 times open interest. This comes after the purchase of nearly 20,000 January 2014 January calls on Wednesday. The large block trades of likely represents institutional money. Institutional money is usually smarter, thus worth following. In summary, the recent options activity points to upside ahead for MT over the short-term and long-term.
Valuation
MT trades at just 0.48 times book value and 5.65 times forward earnings. This compares to U.S. Steel (X) which trades at 1.12 times book value and 7.44 times forward earnings. Similarly, Nucor (NUE) trades at 1.74 times book value and 10.25 times forward earnings. MT is currently trading at a cheaper valuation than both NUE and X.
Dividend
MT currently pays a dividend of 4.11% or 75 cents per share. Again, this compares favorably to both NUE and X. NUE currently yields 3.46% while X currently yields 0.68%.
Conclusion
While MT has not been a strong stock over the past 10 years, it might be time to reconsider MT. The bullish options activity, cheap valuation, and strong dividend point to a higher stock price.
Disclosure: I have no positions in any stocks mentioned, and no plans to initiate any positions within the next 72 hours.