Sherwin Williams (SHW), the $11.87 billion large-cap global manufacturer and distributor of paints, coatings, and related products operates 3,450 specialty paint stores. Its products include: architectural paints & coatings, protective products, marine products, automotive finishes, aerospace coatings, and original equipment product manufacturer finishes.
In addition to its stores, Sherwin Williams also distributes its products through direct sales staff and outside sales representatives. The Sherwin Williams personnel offer expert advice for a high level of customer service. This service will keep customers loyal for their future needs and is paramount to the company's growth.
The company just increased its earnings per share estimates for Q1 2012 from 0.56 - 0.74 to 0.92 - 0.95. This is a significant increase which shows the confidence that management has for the quarter's performance. Upward earnings revisions such as this typically result in positive earnings surprises in quarterly earnings reports.
| | |
| --- | --- |
| Dividend Yield | 1.4% |
| Forward PE Ratio | 16.8 |
| PEG | 1.3 |
| Price to Book Ratio | 7.83 |
| Profit Margin | 5.04% |
| Return on Equity | 28.27% |
| Diluted EPS | 4.14 |
| Operating Cash Flow | $735.81M |
| Free Cash Flow | $648.98M |
| Current Ratio | 1.05 |
Although Sherwin pays a modest dividend of 1.4%, it is another 1.4% that can be relied upon to be added to the company's stock appreciation. The company offers a dividend reinvestment plan that investors should find helpful to grow shares as a long-term investment.
Sherwin Williams looks fairly valued at the moment. If the stock price continues to accelerate in line with earnings growth, then it will remain fairly valued.
The company has 14 upward earnings revisions for 2012 and 11 upward revisions for 2013. It is expected to grow earnings annually at 15.07% for the next five years. If investors reinvest dividends, they can expect the current price of $115 to be worth about $246 in five years for a total gain of 114%. This should easily exceed the market's expected growth of 10.61% annually over the same period.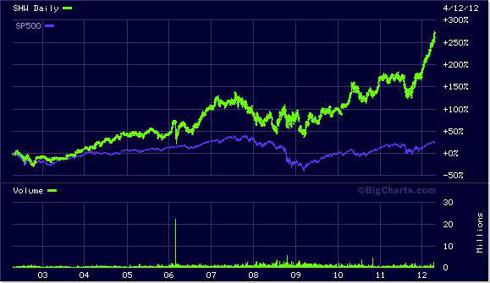 Click to enlarge
(Click to enlarge)
Sherwin Williams is planning to open 50 - 60 new Paint Stores in 2012. The company added 60 new stores during 2011. It is committed to expanding its store base while maintaining a strong service level.
Sherwin Williams looks like a good market outperforming investment for at least the next five years. With the combination of dividends and stock appreciation, SHW should paint a bright future for investors in the years to come and leave the S&P 500 looking dull in comparison.
Disclosure: I have no positions in any stocks mentioned, and no plans to initiate any positions within the next 72 hours.