The world's unquenchable thirst for energy continues to drive exploration companies to search for new sources of oil and natural gas. After hitting paydirt, those companies must be ready to put a cap on it, which is where T-3 Energy Services, Inc. (Nasdaq: TTES) plays an important role.

For investors, T-3 Energy has provided something of a gusher, with a one-month return of 34.3%, a three-month return of 21.7% and a 12-month return of 122.5%, according to Thomson Financial's calculations. The stock hit a 52-week high Wednesday of $46.52, and in a rising stock market there has been little reason for it to fall back. That's a huge improvement over T-3 Energy's 52-week low of $18.04, seen on Jan. 30.

The driving question that investors are trying to answer is how much upside potential remains for T-3 Energy—can they expect a continuation of that gusher or will profits dry up to a trickle?

T-3 Energy was created in 2000 through the combination of Cor-Val and Preferred Industries. But the Houston-based company's roots in the energy industry are deep, extending back for more than 25 years.

T-3 designs, manufactures, repairs and services the equipment used to drill and complete new oil and gas wells in both land-based and offshore operations. In an industry where parts failure is not an option, many of the big exploration and pipeline companies are customers of T-3 Energy; their operations depend on its valves, wellheads and other devices that are engineered to handle intense pressure of 15,000 pounds per square inch and beyond.
T-3 Energy has 18 manufacturing operations spread across North America. The company noted in its 2006 annual report that from April 2003 through March 9, 2007, it had introduced 43 new products as it places an emphasis on new-product development in a push to become a major original equipment manufacturer.
On Oct. 1, T-3 Energy said it had received commitments from three natural gas-producing companies in North America for its new Diamond Series wellhead technology. The company placed the value of the commitments at around $4.3 million.
In 2006, T-3 Energy said revenue increased 58% to $163.1 million, while net income rose to $18.4 million from $4.5 million the year before. Net earnings per share also rose, to $1.65 last year, from $0.42 in 2005.
For the most recent quarter, ended June 30, T-3 Energy's net income was flat, at $4.24 million, compared with $4.34 million in the 2006 quarter, after it booked $1.9 million in one-time charges. Earnings per share amounted to $0.35 versus $0.40 in the 2006 period. However, the company reported that income from continuing operations for the quarter was $5.3 million, or $0.44 per share, compared with $4.4 million, or $0.40 per share, the year before. Revenue was up 36% to $51.9 million.
"The continuing increase in demand for our original equipment products and the increase in our manufacturing capacity and geographical expansion have resulted in an increase in our revenues for the second quarter," said CEO Gus D. Halas in a statement accompanying the report. "Our outstanding quotes continue to grow from previous periods and our backlog remains steady even with the increase in shipments of all of our products."
Backlog increased 9% to $61.8 million from June 30, 2006, while outstanding quotes hit a record of $197.8 million in July—which the company predicted would lead to a bigger backlog.
In its midyear financial report, T-3 Energy said its original equipment product revenues accounted for about 74% of total revenue in the second quarter, compared with 65% in the year-ago quarter. T-3 Energy also said that it has grown its sales force, which it expects to yield bottom-line improvements for the remainder of the year. T-3 is expected to report its third-quarter results later this month or in early November.
So far, T-3 Energy apparently has not attracted much in the way of analyst coverage. Most recently, Matrix USA in an Oct. 1 report trimmed it from a "buy" to a "hold," solely on the belief that currently it's fairly valued.
Back in April, analyst Robin Shoemaker of Bear Stearns & Co. initiated coverage of T-3 Energy at "outperform," then reiterated that rating in June, but upped his price target to $38 from $32. It has since blown past that level.
Institutional investors hold about 84% of T-3 Energy's traded shares, with California hedge fund Cannell Capital Management owning about 8.8% of outstanding shares.
When it reports third-quarter results, Thomson Financial estimates call for the company to report earnings per share of $0.60, a 29% increase from the $0.46 posted in the 2006 quarter. For the year, the Thomson estimates call for a 42% increase in earnings per share, to $2.39.
Bear Stearns' Shoemaker issued a report over the summer on the oilfield services and equipment business, which outlined his belief that the sector is likely to see continued contraction through mergers and acquisitions. In a story in Platts Oilgram News last month discussing Shoemaker's research, T-3 Energy was listed among the top 10 prospects for possible acquisition.
The price target at both Thomson Financial and Zacks Investment Research is at $48, so there appears to be a bit more upside potential in the immediate future for T-3 Energy.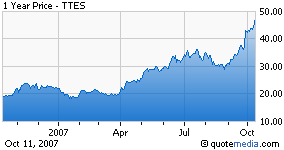 Disclosure: none