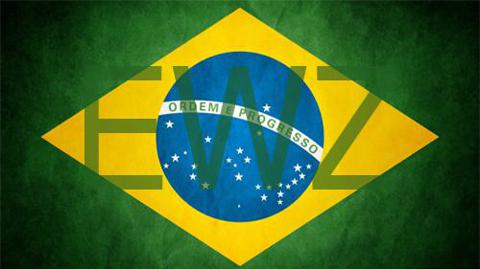 The big news in investing for risk-tolerant investors has been emerging markets. And while more volatile, smaller markets like Thailand have been making headlines with their recent dramatic gains (the MSCI Thailand Investible Market Index Fund (THD) has been up as much as 267% since 2009), there's one frequently overlooked giant sitting right in our own backyard that's seen transformational growth over the last few years: Brazil.
The Portuguese-speaking country of 190 million has only fairly recently emerged from decades of political chaos and economic mismanagement. The peaceful handover of power in 2011 from the popular President Lula da Silva to the current President Dilma Vana Rousseff marked a turning point in Brazilian politics, which had previously been distinguished by more military coups than bears recounting.
Fueled by ferocious Chinese demand for commodities and a rising middle class (it's claimed Lula's administration lifted 26 million Brazilians out of extreme poverty and allowed another 36 million to enter the middle class), the Brazilian economy has been on a tear recently, and recently passed up the United Kingdom to become the sixth largest economy in the world, with a GDP of $2.5 trillion in 2011.
In fact, the Brazilian economy has been so strong recently that the government has taken aggressive steps to prevent the Brazilian economy from experiencing too much inflation. It has addressed this by raising interest rates, although this comes with its own set of problems, as foreign investors flock to higher yields from the real. The Brazilian government has in turn moved to discourage too rapid an inflow of investor money by taxing foreign investments.
(Click to enlarge)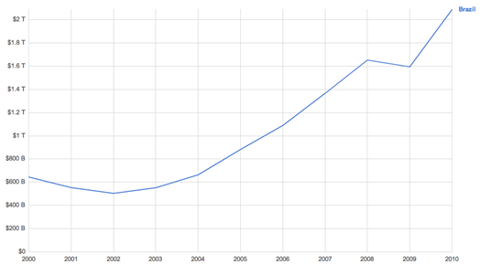 Brazil's GDP has risen steadily over the last decade, to more than $2 trillion in 2011, eclipsing the U.K.
The most popular and most liquid ETF that provides exposure to this booming market is the iShares MSCI Brazil Index Fund (EWZ), with average daily volume of 14.7 million. The fund tracks the MSCI Brazil Index, and has an expense ratio of 0.59%.
Its five largest holdings are Petrobras (preferred stock) (9.27%), Vale SA (NYSE:VALE) (8.52%), ITAU Unibanco (NYSE:ITUB) (7.47%), Petrobras (NYSE:PBR) (6.90%), an Banco Bradesco (NYSE:BBD) (6.03%). That's to say, Petrobras, the Brazilian oil company, accounts for 16.17% of EWZ all by itself. EWZ's top three sector allocations are financials (23.40%), materials (20.77%) and energy (19.59%).
(Click to enlarge)

Compare EWZ's performance (in blue) with that of the iShares MSCI Emerging Markets Index ETF (EEM, in red). Emerging markets have recently taken a beating, but EWZ has consistently underperformed the broader emerging market sector.
While the economy has been growing quite well, a government spat with Chevron (NYSE:CVX) and Transocean (NYSE:RIG) over a November 2011 oil spill has investors jittery. Brazilian regulators brought a $10.6 billion suit against the companies last December and have also announced that they will seek criminal charges against Chevron executives. On top of this, Brazilian prosecutor Eduardo Santos de Oliveira has announced another $10.9 billion suit against the companies. Many analysts find the damages sought by the government to be so excessive as to be absurd: They claim $3.5 million per barrel spilled, far in excess of the U.S. government's statutory limit of $4,300 per barrel.
This action against foreign oil companies has also seen Brazil's Petrobras stock fall nearly 30% over the last year, which could have a large effect on EWZ, as it is by far the fund's largest holding.
It's worth noting that Brazil has been pushing for some time now to be granted a permanent seat on the UN Security Council. As of yet, the Obama administration has demurred, instead backing nuclear-armed India, which occupies a much more strategic part of the world for U.S. foreign policy. It remains to be seen whether Brazil will see its Security Council ambitions fulfilled after the 2012 presidential elections.
Disclosure: I have no positions in any stocks mentioned, and no plans to initiate any positions within the next 72 hours.