Scripps Networks Interactive (SNI) operates lifestyle-oriented cable television channels with distribution primarily in the U.S.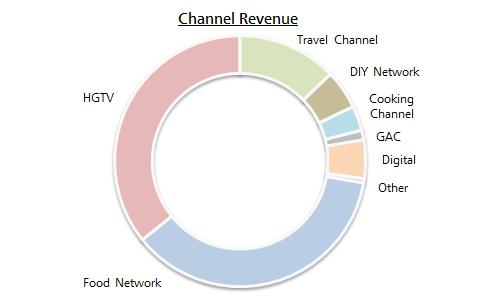 Scripps's two main revenue generators are the Food Network and HGTV, each representing about 36% of revenue. Food Network is 69% owned by Scripps with the remainder owned by the Tribune Company. Food Network's programming is centered around food preparation, and restaurant experience and review while HGTV is focused on home remodeling, decorating and other related topics. Another important asset, generating 13% of total revenue, is the Travel Channel, owned 65% by Scripps and 35% by Cox Communications.
Remaining revenue is split between a number of tertiary assets, including DIY Network, Cooking Channel, Great American Country (GAC) and Digital. Revenues in the last category are attributable to a number of websites, some based on television brands such as FoodNetwork.com, Food.com and CookingChannelTV.com.
For the company as a whole, about 70% of revenue is generated from advertising, while 28% is generated from subscriber fees and 2% from other sources.
Strategically, the company is focused on building the Travel Channel brand through creating additional content and expanding distribution internationally for all the company's assets. Scripps has also expressed interest in buying out the Tribune Company of its Food Network interests. A resolution will likely have to wait until Tribune exits bankruptcy.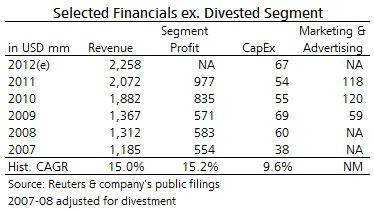 Revenue has grown from $1.2 billion in 2007 to $2.1 billion in 2011, representing a 15% compounded growth rate. About 4% of the growth is attributable to the purchase of the Travel Channel. Food Network, HGTV and DIY Network have grown at 14%, 7% and 20% over the period, respectively.
Segment profit, which includes profit attributable to non-controlling interests, has grown at a similar rate compared to revenue showing good conversion of revenue to profit. Reported financials have been adjusted for the divestment of the company's internet shopping related businesses in 2011.
For 2012, analysts expect about $2.3 billion of revenue for Scripps and $3.13 of EPS (compared to $2.87 of EPS for 2011). EBITDA is expected to grow by 7.8% in 2012 compared to prior year, according to analysts.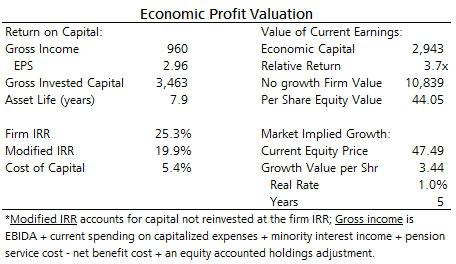 For the purpose of calibrating the model, EPS of $2.96 is assumed based on a blend of 2011 and 2012 figures due to the somewhat aggressive ramp in expected profitability in the second half of 2012. The non-renewal of Man v. Food, an important piece of content for Travel Channel, also plays a role in evaluating earnings on the cautious side. This translates into gross income of $960 million.
Gross invested capital employed at Scripps is $3.5 billion, and largely comprises intangible assets. With an asset life of 7.9 years, the company's IRR is about 25% and after considering Scripps reinvestment rate to maintain its existing level of economic capital, its modified IRR is 19.9% or about 3.7x the cost of capital.
One of the major adjustments made to determine value is the consolidation of non-controlling (minority) interests. The issue arises from a mismatch between the balance sheet and income statement in firms with large amounts of non-controlling interests. In these cases, the easiest way to bring the two statements into line with each other is to consider a hypothetical purchase, at market value, of these interests.
The adjustment has been made at a valuation of 16.5x 2011 earnings attributable to non-controlling interests. This figure is included in the no growth firm value of $10.8 billion leading to a per share equity value of $44.05. The current market price of Scripps's equity is $47.50, slightly above value the calculated value of the existing business, which in my view implies a 1% real growth rate over the next five years.
Before further discussion, it worth noting one additional valuation factor related to television production accounting. In reality, when Scripps creates a television program it is creating a long-term asset. Food Network programs air many times after production for a series of years. However, GAAP accounting does not reflect this economic asset to any great degree. There is limited capitalization of development costs, but the equivalent asset life is not much over a year, although GAAP accounting does do a good job of normalizing earnings during periods of content investment.
Capitalizing these costs over a longer period leads to lower returns on capital (an IRR around 15%), but much greater economic capital. The valuation impact on the existing business is limited, an increase of around $3-4 per share, but the value of growth is lessened. However, the major benefit in my view is the recognition of substantial real asset value.
Turning to an investment conclusion, Scripps has an excellent set of stable assets with continued growth potential, in my view. The company can outperform the growth rate discounted by the market by growing the Travel Channel and distributing food and home content internationally. In addition, the core franchise should continue to perform well in the domestic market.
The nature of the programs aired by the company should make revenue and profit less apt to fluctuate due to changing entertainment tastes which implies less risk. Finally, although an acquisition would be complicated by the ownership structure of Scripps, the asset would attract several bidders in any sale process that should attract a premium valuation given likely revenue and cost synergies.
Disclosure: I am long SNI.