Apple (AAPL) fell on a big "up" market day Thursday, and was negative for the week. What's going on here? Is the sky falling, or is AAPL maybe taking a breather, with investors perhaps feeling a little pressure from a government e-book price fixing probe?
As you probably know, AAPL has been one of the best stocks to buy for price gains year-to-date, and over the past year. However, it looks like it may be slowing down a bit, and you might want to hedge your 2012 gains.


If you had the good fortune to buy AAPL on its way up, you may be wondering if it's time to take some profits or hedge your gains. There are many ways to approach hedging, but selling covered calls is an options trading strategy that will create some immediate income for you.
We've detailed 2 approaches to selling covered calls:
1. Longer Expirations: Selling further out in time, to earn more call premium, and achieve a lower break-even price. In this example, we've used AAPL's opening price for 2012 as our cost, in order to show how much of 2012's gains you can hedge by selling covered calls with various expiration dates:
Click to enlarge.


Your call premiums increase as you sell further out in time - the January 2013 $625.00 call pays $76.10, and hedges over 35% of the year-to-date gain, vs. a $52.45 call premium for the nearer August call, which hedges approx. 25% of the gain. Your break-even cost is also lower with the higher January 2013 call option premium, but your annualized yield is lower, since it's a 9-month trade, vs. only 4 months for the Aug. 2012 trade. (Since we don't yet know what AAPL's ex-dividend date will be for the 3rd and 4th quarter, we've speculated that it might fall before the August expiration. However, it would certainly fall before the October 2012 expiration.)
2. Higher Strike Prices: A more bullish approach would be to sell covered call options at a higher strike price, in order to leave more room for future potential price gains. You certainly wouldn't be the only AAPL bull in the crowd, since many analysts have been ratcheting their price targets higher for AAPL. We used AAPL's 4/12/22 price of $622.50 for this example, which shows the range of call option payouts you'd receive for 3 different Jan. 2013 strike prices.
All 3 strike prices are above AAPL's current price, but as you sell at higher call strike prices, you'll receive less premium. However, the Jan. 2012 $640.00 call strike price leaves you $17.50/share in potential assigned price gains, vs. only $7.50/share for the Jan. $630.00 strike price. As usual, the more call premium you receive, the lower your break-even is:

Dividends: Apple announced in March that it will be entering the world of dividend stocks sometime in the July-Sept. 2012 quarter, paying $2.65/share quarterly.

Valuations: AAPL's PEG ratio might turn out to be lower than 1.25, since they've exceeded earnings estimates handily for the past 3 out of 4 quarters. AAPL is also one of only 4 large cap stocks with 40%-plus sales growth over the past 5 years; growing sales over 41% through the Great Recession is quite a feat:

Financials: Stellar management ratios, strong margins, and no debt.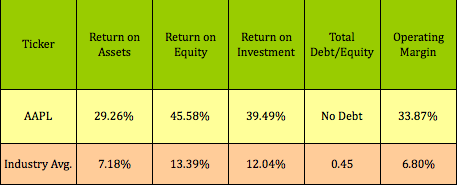 Disclosure: I am long AAPL via being short AAPL put options.
Disclaimer: This article is written for informational purposes only and isn't intended as investment advice.