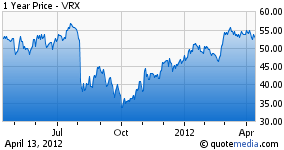 Valeant Pharmaceuticals (VRX) share price has risen 1.3% in the past year and 234% in the past two years. I believe that Valeant will stay in good standing for the next year and would be a safe investment for long term investors.
Following a loss of $110 million in 2010, Valeant bounced back in 2011 with a $300 million profit, virtually wiping out the deficit. This is due to a very healthy pipeline of generic drug development mixed with original drug development, which is uncommon in the biotech industry. This upside that Valeant experienced in 2011 has given investors a firm confidence in the company, and the news has not been shy about public praise, leading to the continual growth of the shares.
Where Valeant's strength lies is in its ability to understand what it needs to do to expand and produce capital in the future. Valeant is actively identifying small biotech research companies that would provide strengths to the weaker areas of Valeant's FDA approved products, its pipeline, and areas it is lacking in.
For example, Valeant recently made the addition of Natur Produkt to its drug research force, and last year acquired PharmaSwiss SA. Both of these small biotechs have helped to increase the versatility of Valeant in the market. Furthermore, Valeant has been partnering with other successful biotech companies such as GlaxoSmithKline (GSK) to not only increase notoriety, but to ensure the highest standards of research, professionalism and patient/client wellbeing. With the ferocity that Valeant constantly exudes to create capital and the consistent track record of biotech acquisition and growth, I feel that Valeant is a great long-term investment.
Valeant has a market capitalization of $17 billion, a price to earnings ratio of 111.76 and a 52-week range of $32-$57. TEVA (TEVA) is a competitor of Valeant due to its extensive generic product line. TEVA has a market capitalization of $38 billion, a price to earnings ratio of 14.58 and a 52-week range of $35-$51. TEVA also has a dividend and yield of 0.79. The last competitor of Valeant is found in five FDA approved drugs by UCB S.A. (UCB), which has a price to earnings ratio of 28.35, a 52-week range of $26-$35, and a market cap of $6 billion.
UCB currently has five FDA approved drugs on the market involving cold, epilepsy, ADHD and rheumatoid arthritis treatments. Unfortunately for UCB, Valeant also has treatments for all of these ailments, except for ADHD. What gives Valeant the upper hand is that its medications are all generic brands, making the cost of production and medication cheaper. Plus, Valeant is selling these medications on a worldwide scale to many different markets. I do not see much competition with UCB even when comparing the two company's pipelines. UCB is focusing mainly on developing central nervous system medications for diseases such as Parkinson's, epilepsy, anxiety etc. Many of UCB's developing drugs already have a generic and marketed match in the product line of Valeant. I feel Valeant won't be hindered by UCB.
The main competition of Valeant is TEVA. Commonly considered in the public eye as the leader of generic drug manufacturing, TEVA also has an extensive product list of generic brands as well as its own name brands. With a share price around $45, TEVA has fallen 11% in the last year, but raised 21% in the last five years. I feel that TEVA is a pretty solid long-term investment when considering the perks of a generic brand producer.
I always advise against investing in a company that does not have a successful FDA approved drug, due to the likelihood that promising drugs in development will more often than not fail, and investors will lose their money that they invested due to misleading positive press on a drug trial.
That being said, the generic drug game is much different. No money or time is put into researching and sending drugs through clinical trials. A company simply buys the data for an already FDA approved and presumably successful drug, copies it for cheap and sells it cheaper. Generic brands are guaranteed success over the brand name drug due to its similar effectiveness and cheaper costs. The catch is that once a patent ends, any company can begin creating and marketing a generic brand. This leads to high competition between generics, and the original brand is lost in a black hole. This is where Valeant and TEVA are competing. Based on the fact that they manufacture similar generics, we are left to rely on the trends of each company. To put it simply, Valeant is rising in share much more rapidly than TEVA. Despite the fact that Valeant's current pricing can make a few investors uneasy, I still think that Valeant is a better company to invest in than TEVA.
Valeant has risen consistently over the past few years and has a nice track record and business direction. The fact that Valeant is in the generic brand game makes it a much more stable company in the biotech industry compared to the companies sinking money into the highly uncertain development of original brand drugs. I can see no real downside to Valeant's direction for the next year and would definitely pick Valeant over its competitors in a long-term investment.
Disclosure: I have no positions in any stocks mentioned, and no plans to initiate any positions within the next 72 hours.