I've written about a few companies which I am long either through positions in the stock, or with option positions in the past. It's prudent for one to assess their own performance from time to time and see how they are doing, and adjust accordingly. I like to do this on at least a monthly basis, and often more frequently. Thursday evening it was time to assess how the following three choices have performed, and make decisions going forward before the market opened on Friday.
Google (GOOG)
After writing the following on March 5 :
Like Apple, Google is an absolute behemoth. Dominant in the search engine space, Google has diverse interests under the umbrella of technology as well. Google Android based smart phones and tablets have provided a significant competitor for Apple within the portable space. Google is also dominating the mobile search space as well, which is rapidly growing. Do not let the high share price fool you. Google is a 100 car train that is going full steam ahead and difficult to stop.

I agree with the sentiment of fellow Seeking Alpha contributor Scott Tapley on valuation in his recent article. My 2012 end of year price target for Google is $850, or approximately 37% above Friday's close of $621.25
I initiated a long position in Google the next day at a cost basis of $600.23. Google's chart since then has been as follows :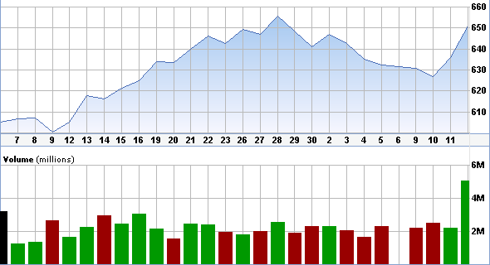 The closing price of Google on Thursday was $651, for a bit over 8% on paper gain. Moving forward I was forced to consider that after hours Google has risen another 1.42% on a strong earnings report beating estimates by $0.43 per share. But something else caught my eye and gave me concern. The news of an announced, effective 2 for 1 stock split, and the questions and what appeared to be negative sentiment and confusion this sowed amongst the news outlets. Consider this article here by Evans Capital, or simply search GOOG on the Seeking Alpha main page and read the numerous articles full of speculation and opinion.
Obviously, Google was an excellent choice for the past month, as upwards of 8% per month is a year over year gain of 100%. But with stock futures down leading in to market open this morning, I set a sell order and liquidated my Google position at $645.30 for a total gain of 7.5%.
Apple (AAPL)
On March 23rd I wrote the following :
For our strategy, we should be comfortable with the notion that Apple will appreciate in value at least 8% by June 16, 2012. Thus, we make our assumption that Apple will be at nearly $650 by this date.

Our aim will be to maximize our return, but also to protect against our downside some, in case of a short term pullback. Because of this, we will be purchasing call options at a strike price roughly 5% below today's price. Given our $5,000 limit, I would suggest the June $580 APPL calls, at $50 each, for a total cost of just over $5000 plus fees.

For this strategy:

Purchase one June $580 AAPL call for $5000.
After which I purchased a number of these calls. Each of these calls was now worth $6430 Thursday evening or an increase of 28.6 percent. When considering Apple's chart since purchase of these calls here :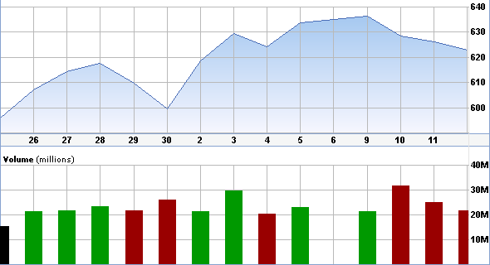 It is obvious I could have locked in more substantial gains had I sold the options on Monday, as the underlying share price was much higher. I still hold an extremely large profit, though, for such a short time frame of just over 2 weeks. I needed to consider if I believed Apple was beginning a correction, or if this was just a bit of profit taking and I expect the share price to increase as June is approached.
Again, this morning the overall futures weighed upon me and because of this I felt Apple would continue to be sold off as investors considered the stock to be in overbought territory. I set a sell order for my options at $64. They sold near market open for a profit of 28%.
To answer whether or not this was a good choice for purchase at the time, the answer is an emphatic "yes!"
Pandora (P)
In a different type of play, and on a much shorter time frame, I have owned put options against Pandora since market open on Monday as I wrote here :
As of this morning around market open, as I disclosed intention within my article released over the weekend, I am now short Pandora through a long position in April and May $10 put options and June $9 put options.

Since becoming an author at Seeking Alpha I have made my position on Pandora clear. After huge regrets in not following my own advice to short the stock or purchase puts before the last earnings call, I decided to follow my conviction as the stock flirted with the $10 support level, and take the plunge once I felt the stock was about to turn south yet again. Over the weekend while looking at the charts and reassessing my position on the company, as well as considering the macro situation, I felt it was time to enter my short position.

It is not that I particularly dislike the service. To be fair I have used Pandora in the past, and I know of many people who have tried and some who do use Pandora. As a free application that people can use to play personalized music stations at home or on the go through their smart phone, it works. But does it work as a business? In my opinion, no, not yet. Sirius XM (SIRI) which IS a viable business, is by far my preference in the vehicle where I do well over 90% of my music listening. Pandora doesn't even come close in content or ease of use within the car. My preference at home is actually Spotify or simply listening to my own collection. I want on demand, not "give me a playlist I may or may not like" when I am in a position to provide my own input. My girlfriend is in a similar position, preferring Apple's iPod at the gym rather than running Pandora on her Samsung Galaxy.
Consider Pandora's chart since this position was opened, keeping in mind that a decrease in share price is beneficial :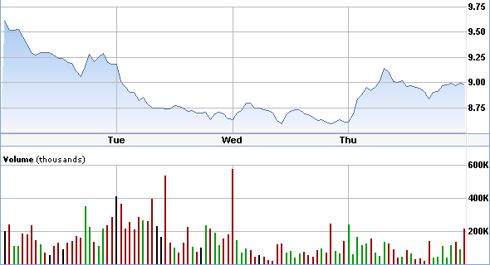 The April puts were at approximately 35% gain, May at approximately 38% gain and June at approximately 12.5% gain. Each and every put was now green, and the April and May expirations at $10 strikes had shown dramatic increases. Unfortunately, I felt, had I sold Wednesday, I could have locked in gains approaching 80% for these options. I needed to decide if I believed Pandora would continue down or is appearing to rally. As I commented within Spencer Osborne's article where he suggested Pandora had found a new trading range :
I think $9 is going to form a new resistance if anything... certainly not a new support. It's bearish times for P, and they'll need some good news to pull out of the trend, I think. I wouldn't go long the stock until there's a clear upward signal with news.
Obviously the April options were the most important to deal with, as they had little time left until expiration. With a bearish market today at open, and my sentiment surrounding Pandora's decline remaining firm and intact, I chose to hold this position into next week despite already posting very large gains on paper. I see no reason for Pandora to reverse direction as there has been no positive news from the company, and there does not appear to be any on the horizon.
As promised, I considered each position for Friday, made decisions, and executed them. How would you have played these three varied positions, given the entry points and gains?
Disclosure: I am long SIRI.
Additional disclosure: I am long SIRI April, May and June $2 calls. I am long P $10 April and May and $9 June puts.