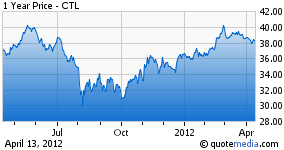 U.S. telecommunications giants CenturyLink (CTL) and Verizon (VZ) have made acquisitions and expenditures to broaden their service offerings to different sectors. Both have made acquisitions and expenditures in managed services and cloud computing. Both have made expenditures in broadband services and offering entertainment and streaming services to customers.
CenturyLink has consumer offerings of broadband, cable and high speed Internet in the U.S. and in managed services in foreign markets. Verizon has the same consumer offerings domestically as well as wireless on a global basis. Verizon offers managed services and cloud computing worldwide. The success of both these companies depends on the growth of their services, organically or through the performance of their acquisitions. Each company has made considerable capital expenditures to provide all of these services. The performance of these acquisitions will be the foundation for the future revenue and income growth for each of these companies. Let's look at which company is likely to have the better performance based on its acquisitions and its capital expenditures.
CenturyLink's common shares trade around $38.50, in between a 52-week range of $31.16 and $43.49. It has a price earnings multiple of 36.5, earnings per share of $1.07, and a dividend yield of 7.40%. CenturyLink has total cash of $128 million and total debt of $21.84 billion. Its book value per share is $33.67.
CenturyLink purchased Savvis in April of 2011 for $2.5 billion to enter the cloud computing market. CenturyLink's acquisition of Savvis contributed to the increase in operating revenue for the fourth quarter of 2011 to $4.65 billion from $1.72 billion in 2010. The acquisition brought about the increase in demand for data services and high speed Internet.
CenturyLink's business markets group grew 2.8% in the fourth quarter 2011 to $446 million from the fourth quarter 2010. The group generated a total of $947 million in total revenues. Its 2011 managed services and cloud computing acquisition Savvis posted operating revenues of $260 million in the quarter a 3.65% increase from the same period in 2010. Hosting revenues were $197 million, an increase of 7% from the same period in 2010. Managed hosting revenue was $98 million, an 11.8% increase from the fourth quarter of 2010. Full year Savvis operating revenues were $1.039 billion a 12.6% increase from 2010. The company achieved quarterly bookings in excess of 23% from the third quarter of 2011. The bookings for services were mainly in Europe and from the financial and government sectors.
CenturyLink recently announced that it has entered into an agreement with Cognizant to provide cloud and data center services to deliver cloud based services. Cognizant is a provider of IT, Consulting and business process outsourcing services. Cognizant gains the ability to offer value added services to clients by using CentryLink (Savvis') cloud computing services with its industry leading provision of information tech, consulting and business process outsourcing services. The use of Savvis' services will provide existing clients with more flexible and cost-effective IT solutions.
A recent release has CenturyLink acquiring a 165,000 square foot property in a joint venture with Digital Reality Trust (DLR) in Hong Kong. The building will be capable of supporting up to 5.76 megawatts of IT load capacity. The joint venture will give CenturyLink collocation and managed/cloud services along with the Hong Kong government's Digital 21 Strategy of making Hong Kong a data center hub for cloud services. The partnership is through CenturyLink's acquisition and done under the Savvis banner. The deal will meet the burgeoning demand for high quality data center services from global companies who want to expand IT operations in Hong Kong.
The demand for these services is growing rapidly in Asia. This deal comes on the heels of Savvis entering the Asian market in Singapore and the launch of cloud computing services in Japan. Savvis services approximately 2,500 companies of which more than 30 are the top 100 clients of Fortune 500 companies.
CenturyLink forecasts revenues between $18.2 billion to $18.4 billion, capital expenditures of $2.6 billion to $2.8 billion and earnings per share of $2.25 to $2.45 per share in 2012.
Verizon's common stock trades at around $37.40, between a 52-week range of $32.28 and $40.48. Price earnings ratio is 46:55, and it has earnings per share of $0.85. The dividend yield is 5.10%. Verizon has total cash of $13.95 billion and debt of $55.15 billion. The book value per share is $12.69.
Verizon acquired Terremark in April 2011 for $1.4 billion so that Verizon can provide integrated enterprise cloud solution to accelerate growth in the global business and government managed services sector. Verizon acquired Terremark's business and government customers and 13 global data centers.
Verizon may have acquired Terremark Worldwide to increase its footprint in the managed IT and cloud service market, but there have been no updates as to the progress of that acquisition after 2011. Most of Verizon's announcements contain news of new entertainment and broadband offerings aimed at individuals and households.
Verizon's investor relations show announcements detail its entry into the residential broadband high speed market over its 4G network providing speedy, simple, advanced and effective wireless connections from Verizon to homes for all household devices. As well, Verizon has announced new services that will create a new affordable and easy way to access video entertainment. The new services offer an on demand series with content steaming and download services from Verizon. The new product and portfolio of content will be offered in the second half of 2012.
Verizon expended $3.6 billion last year to purchase wireless bandwidth from Comcast (CMCSA), Time Warner (TWC) and Bright House Networks. The company purchased 259 billion POP's for $3.6 billion. This will meet the increasing demand for wireless services and bandwidth. The purchase ensures that mobile service needs are met and not interrupted by a lack of bandwidth. This purchase is in line with the long-term wireless strategy and focus on providing mobility to its Xfinity or entertainment services. Every move Verizon makes is to feed its wireless network need and ability to deliver content over traditional wireline, broadband and wireless platforms and mobile hardware.
Verizon's fourth quarter results showed 7.7% revenue growth the same period in 2010. Despite record revenue growth, on an annual basis, the company had earnings of $0.85 per share in 2011 compared with $0.90 in 2010. Cash flow from operations were $38.9 billion for the year and capital expenditures were $16.2 billion.
Verizon attributes the revenue growth in the fourth quarter of 2011 to strong demand for wireless, FiOS and strategic services, but does not break down segmented increases. FiOS is telecom service offered over fiber optic lines. The main benefit is its speed and relatively lower cost.
Verizon's fourth quarter summary only had a brief statement that "sales of strategic services to business customers remained strong." The company does not give particulars, whereas the fourth quarter announcement had quite a bit of information about wireless and wireline services and how they contributed to the revenue growth in 2011.
Verizon, other than stating that there was great momentum for 2012, has not provided particulars with respect to forecasts for 2012.
These companies have different styles in reporting. Verizon is taking the tact that rather than make any promises and under-delivering, it will wait and see what the future brings from all sectors of its business.
CenturyLink, despite its size and its series of acquisitions, reports future numbers based on what the current performance is and the assessed growth matrix. This reporting method makes it easier to err on the side of transparency and make investment decisions based on information provided as opposed to hoped for.
Verizon is focusing on consumers and households, CenturyLink is focusing on building a national and international presence in cloud computing and IT services to businesses worldwide. Verizon is invested and continues to invest heavily in wireless, a slow growth, high churn business. Content provision is increasingly competitive with offerings from many service providers from the traditional networks and cable services to specific content and on demand services such as Netflix and Hulu.
These two companies are growing in different directions. Time will tell whether or not the concentration of managed services and cloud computing will be the better direction. Wireless is a high turnover business. Entertainment is too fickle an environment. The victor in that arena will be able to provide all manner of content over any platform to any device or household, all the time, on demand. This is a big order to fill, but Verizon is giving it a try. CenturyLink is taking a short term capital intensive route into cloud computing. CenturyLink has shown impressive growth in these areas. Despite the high capital outlays which will continue to impact revenues and earnings in 2012, these acquisitions will become cost effective within 18 to 24 months. CenturyLink has forecast diminished revenues in 2012, after that, barring any technological advances that make cloud computing obsolete, its investments will pay off handsomely and in turn, reward its investors.
Disclosure: I have no positions in any stocks mentioned, and no plans to initiate any positions within the next 72 hours.