Starbucks (SBUX) will report 2Q12 results on April 26th. The Street expects the firm to earn $0.39 per share on $3.18 billion in revenue, and guide $3.3 billion for Q3.
Heading into the earnings, investors can expect:
Continued momentum and dollar share gain in the K-Cup segment
Ramp up of multiple key revenue drivers
Moderation of coffee cost to bode well for margins in FY2013
SBUX introduced its K-Cup in November 2011 and instantly took 7.7% dollar share of the market. Since then, SBUX's dollar share of the K-Cup market almost doubled to 14% while Green Mountain Coffee Roaster (GMCR) saw its dollar share decline from 70% to 57% from November 2011 to March 2012.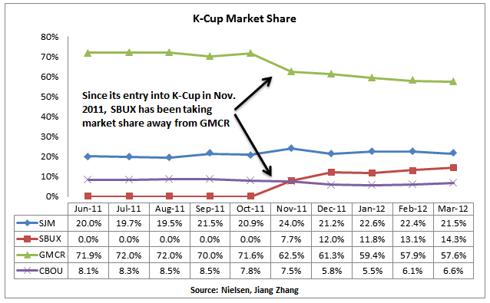 Despite accounting for only 7% of the company's total 2011 revenue, the CPG business, which consists of mostly packaged coffee and tea, is emerging as a key revenue driver as SBUX looks to expand its distribution channels and footprints beyond its traditional retail stores. I note that SBUX's acquisition of Evolution Fresh last November to enter the $50 billion health and wellness sector is an example of the company's focus on the CPG segment, which is also the fastest growing segment with 70% y/y revenue growth in 1Q12.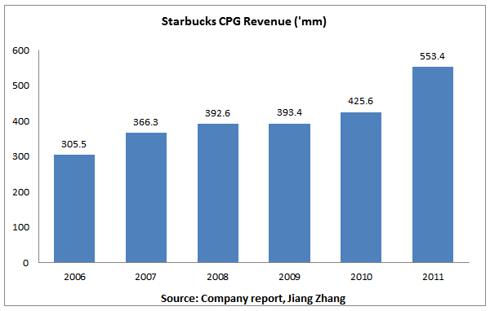 Another attractive revenue driver is Verismo single-cup. Despite the expectation that it will likely to have minimal revenue contribution this year, the Verismo system allows SBUX to enter the $8 billion premium single-cup coffee segment and once again greatly expand its product categories.
Finally, the recent decline in coffee prices should allow SBUX to secure future inventories at favorable price point, which should enhance margin going forward into FY2013.
Disclosure: I have no positions in any stocks mentioned, and no plans to initiate any positions within the next 72 hours.