Rail is now contracting year-over-year even if coal is ignored. Another pundit renewed his recession call. And the growth of Federal revenues are strangely weak - all summarized in The Economy is Not So Hot.
Yet trade seems to be saying the economy is OK.
Trade balance is an important index to Econintersect which uses the data to validate economic projections. To further our understanding we rebuild the analysis from scratch using unadjusted data. You might have heard pundits throwing out reasons why this February data was distorted - but our analysis is trend based and inflation adjusted, and the data continues to have positive economic implications for the USA economy.
The market expected a trade deficit $53.0 billion and the seasonally adjusted headline data from US Census came in at $46.0 billion. The Econintersect trade balance number is $50.5 - and exports contained an unusual $329 million bump in aircraft exports and $285 million bump in industrial machines.
In perspective, the current values of both imports and exports are at record levels - but there is a long term degradation of the inflation adjusted growth rates of exports (notwithstanding the bump this month). However, imports show rate of growth is increasing which usually indicates the USA economy is growing at a faster rate.
Growing exports is a sign of an expanding global economy (or at least a sign of growing competitiveness).
click to enlarge images
Overall, exports have been at record levels for the last 18 months, but imports have also been at record levels for 12 of the last 15 months. The graph below uses unadjusted data.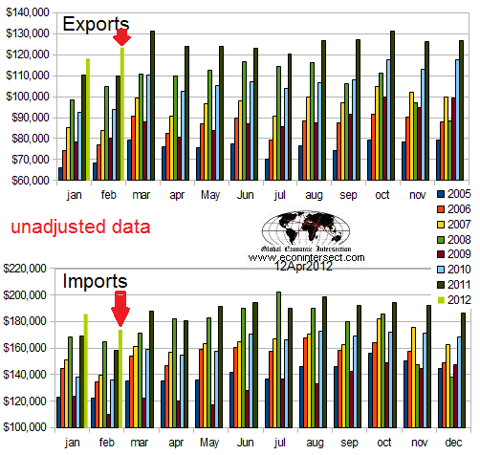 Econintersect is most concerned with imports as there is a clear recession link to import contraction. Removing oil from imports gives us a more precise view of the Main Street economy. Adjusting for cost inflation allows apples-to-apples comparisons in equal value dollars between periods.

As shown in the above graph:
import growth with oil have been trending up since mid-2011
import growth less oil was trending down, but spiked up in January
export growth was trending down since mid-2010 spiked this month. This spike may not be permanent as it was centered on a big upward change in aircraft exports and industrial machines.
Overall the data was not recessionary - and showed continuing domestic and global demand. Export growth is demonstrating a slowing global economy - and the upward bump this month may not be a trend. Note: This is a rear view look at the economy.
For a listing of caveats that go with understanding trade balance.
For a summary of Economic Analysis including my normal weekly summary.