Netflix (NFLX) report 1Q12 results on April 23rd. The Street expects the company to report:
Revenue: $869
Loss per share: $0.27
28 million global subscribers
Heading into the earnings investors can expect:
Healthy growth in global subs, namely in the streaming and international segments
Continued investment in its long term portfolio through original and exclusive content
Since 3Q11 when Netflix suffered a subscriber setback due to poor strategic execution, domestic subs has recovered nicely in 4Q11 and on path to hit a new high with the ramp up of streaming subscriber base. As of last quarter, Netflix had a total of 24.4 million domestic subs, of which 21.7 million, or 89%, consisted of domestic streaming subs. For Q1, I expect Netflix to have 26.4 million total domestic subs, assuming 23.2 million streaming subs to account for 88% of total domestic subs.
click to enlarge image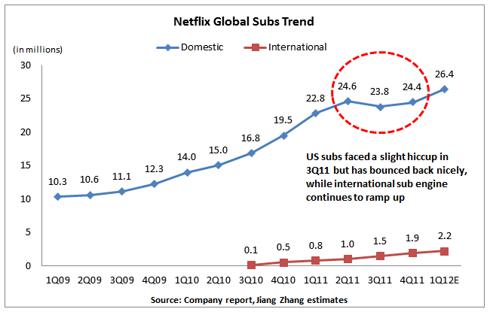 In February, Netflix premiered its first original content series, Lilyhammer, starring Steven Van Zandt. The show tells a story of a New York gangster who testified against his former boss and requested to be whiteness relocated in Norway. While it cannot be compared to HBO's The Sopranos, Lilyhammer signifies a critical step of Netflix's growth strategy as the company focuses more on original content to differentiate itself from rivals including Hulu, Amazon (AMZN) and HBO.
The lack of sufficient viewer reviews cannot allow us to fully gauge how well Netflix viewers receive the series, but I would like investors to note that:
Independent films on Netflix generates substantial viewership and is one of main selling points to attract new subscribers
The first season of Lilyhammer attracted a record 20% of Norway's population when it premiered on January 25th, indicating that the series could have some potential in the future