Background
In January of 2012, Curis (CRIS) and Roche (OTCQX:RHHBY) were granted FDA approval to market Erivedge, a first-in-class hedgehog inhibitor to treat advanced and metastatic basal cell carcinoma. Roche estimates approximately 14,000 patients in the U.S. with aBCC, and 8,000 additional patients in Europe and Australia (Roche submitted an MMA with the EMU for marketing approval in Europe early in 2012, and we expect approval mid-to-late 2012, as this is a highly unmet need). Further, 4,000 patients who would benefit from Erivedge suffer from Basal Cell Nevus Syndrome (patients who have BCNS suffer from multiple BCCs over the course of their lifetime).
At $7,500/month per patient, Erivedge-- on only the aforementioned-- currently approved indications would represent >$1.5 billion in revenues for Roche. Curis is entitled to 5-10% royalty from Roche for sales of Erivedge. Analysts currently have peak royalties of >$85 million in FY2016 for Curis on just the current approved aBCC indication.
There are approximately 2,000,000 cases of BCC per year in the United States. Of these 2,000,000 cases, ~.02 represent metastatic BCC, ~.03 represent substantial deformity, ~1% represents inoperable (the aforementioned all represent the currently approved indication for Erivedge), ~2% represent poor surgical candidate, and the remaining ~97% represents an uncomplicated lesion which can easily be removed through surgery, imiquimod 5% cream, or topical 5-fluorouracil 5% cream.
Of the 2% which represent "poor surgical candidates", this patient population would be ~40,000. These patients would be considered "operable" candidates, however, substantial deformative scarring would be a possibility. We believe this is where Erivedge has a significant chance for further upside to forecast revenues.
Operable Basal Cell Carcinoma
In late 2010, Genentech Roche began a Phase II Study exploring the potential for Vismodegib (brand name Erivedge) to treat patients with operable nodular basal cell carcinoma. The study was designed with three (3) patient cohorts:
Cohort 1: Rate of complete histologic clearance [CHC] of target nodular BCC lesions at the time of Mohs excision [Time Frame: Up to 12 weeks]
Cohort 2: Rate of durable complete histologic clearance of target nodular BCC lesions at the time of Mohs excision [ Time Frame: Up to 36 weeks ]
Cohort 3: Rate of complete histologic clearance of target nodular BCC lesions at the time of Mohs excision [ Time Frame: Up to 20 weeks ]
Preliminary results in the form of an abstract became available for the First Cohort in Nature.com over the weekend:
Preliminary results of a Phase 2 trial evaluating efficacy and safety of vismodegib (GDC-0449) in operable basal cell carcinoma

KG Gross,1 H Sofen,2 LH Goldberg,3 H Sharata,4 TK Hamilton,5 K Zerivitz,6 H Yue,6 R Firestein6 and I Caro6 1 Skin Surgery Med Grp, San Diego, CA, 2 Derm Research Assoc, Los Angeles, CA, 3 DermSurgery Assoc, Houston, TX, 4 Madison Skin & Research, Madison, WI, 5 Atlanta Derm Vein & Research, Atlanta, GA and 6 Genentech, South San Francisco, CA

Basal cell carcinoma (NYSE:BCC) is the most common malignancy in the US with nodular BCC as the most frequent clinical subtype (~60%). More than 90% of BCCs may have alterations in the Hedgehog [HH] signaling pathway that cause constitutive signaling and contribute to carcinogenesis. Vismodegib is a selective Hh pathway inhibitor that has shown efficacy in advanced BCC. This single-arm study evaluated the safety and efficacy of vismodegib to produce complete histological clearance [CCL] in newly diagnosed, nodular, operable BCC. Eligible patients were required to have 1 clinically nodular BCC lesion in the scalp or the "cape" area (chest, shoulders or upper back). After 12 weeks of vismodegib 150 mg orally daily, patients underwent Mohs surgical excision with independent pathological review. Twenty-four patients were enrolled: 10 (42%) with a target lesion in the scalp and 14 (58%) in the "cape" area. Most frequent adverse events [AES] were: muscle spasms in 19 patients (79%); dysgeusia 19 (79%); alopecia 8 (33%); fatigue 5 (21%); and nausea 5 (21%). Most AEs were Grades 1-2; 6 patients (25%) reported Grade 3 AEs. No serious AEs were observed. One patient was discontinued for ineligibility. Clinical responses were reported in 23 (96%) patients. Ten patients (42%) achieved CCl as assessed by pathologic examination (95% CI: 23.4%, 63.4%). In the 10 patients with CCl, clinical assessments showed 5 (21%) CRs, 4 (17%) PRs and 1 (4%) SD. In the 14 patients (58%) without CCl, there were 5 (21%) CRs and 9 (37%) PRs. In 24 patients with operable nodular BCC, the pathologic CCl rate was 42% after 12 weeks of vismodegib therapy. Clinical responses were demonstrated in the vast majority of patients. Further study is ongoing to assess recurrence in similarly treated patients and in patients with longer durations of therapy.
The results will be part of the Society of Investigative Dermatology's Annual Meeting in May of 2012.
According to the abstract, clinical responses were seen in 96% of patients on Erivedge. 42% of these patients received complete histological clearance after undergoing an independent pathological review. Side-effects were similar to previous studies of the drug.
According to Curis and Roche, Erivedge in operable BCC is not intended to replace surgery, but to act as a neoadjuvant to therapy. The thought is, if you can drastically reduce the burden and size of the tumor, the less invasive the surgery will be. By attempting to clear the tumor from the subcutis levels of tissue, up to the superficial layers of dermal tissue, you could drastically reduce the size of scarring, and potentially, remove surgical disfigurement in some areas such as the ear, nose, face, and eyelid. Surgery would still need to take place, however, at a much less invasive level.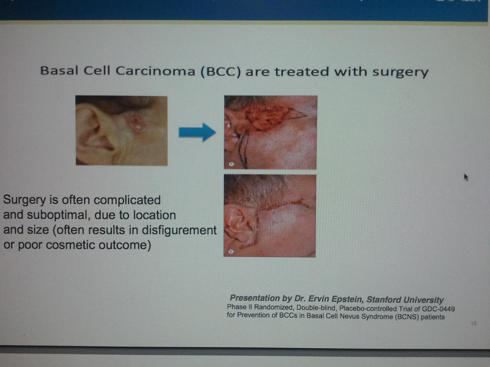 Click to enlargeSource: Curis
We believe capturing just a small fraction of the operable population would potentially add an additional $180 million - $360 million in annual Erivedge revenues at peak sales. (.20 X 40,000 pts X $7,500/mo X 3-6 months treatment before surgical excision).
Cohorts 2 and 3 of this trial are continuing and are due for readout in late 2012 or 2013. Although this trial is only a Phase II, we believe positive data from this trial could be used in an "off label" setting. Further, with the broad label the FDA gave to Erivedge upon approval, it is actually reasonable that dermatologists and physicians could in fact use Erivedge in the operable setting in cases where the BCC is advanced enough, even though surgical removal would be first standard of care.
Discussion
Curis, Inc. is currently valued at ~$350 million. With peak sales of Erivedge in the current approved indication estimated at >$1 billion to Roche, Curis would be eligible to receive 5-10% royalties. Current forecasts to not include the operable setting, nor do they include potential blockbuster indications such as the pancreatic, small-cell lung cancer, chondrosarcoma, and gastroesophageal (which should have Phase II data readouts in the coming months -- we expect pancreatic, chondrosarcoma and SCLC data at ASCO). Further, Genentech recently began a Phase I study with Vismodegib in hepatocellular carcinoma.
At a current market-cap of ~$350 million, we believe Curis is one of the most undervalued biotechnology companies in the public markets. We believe not only is the market entirely underestimating the revenue potential for Erivedge in all indications, but the market is giving no value whatsoever to Curis' broad targeted oncology pipline.
Pipeline
Erivedge: first-in-class Hh inhibitor in partnership with Genentech Roche;
CUDC-101: targeting EGFR, Her2, HDAC;
Debio 0932: targeting Hsp90 in partnership with Debiopharm;
CUDC-907: targeting PI3K, HDAC.
CUDC-101 is currently in Phase 1 studies in HPV-negative, advanced head and neck cancer patients in combination with other agents. In Curis' 4Q11 earnings conference call, management noted the first dose escalation cohort was completed and a complete response (CR) was seen in the first patient dosed. Further, positive efficacy signals were seen in the second and third patients at the same dosing schedule. Further data is expected from this trial in the second-half of 2012. Curis estimates there are 30,000 patients per year in this setting.
'101 is also doing a Phase 1-1b study in a broad range of other tumor types. A confirmed partial response (PR) was seen in a patient with a gastric tumor (>20% reduction in tumor size). Further, in squamous cell head and neck cancer, two (2) pts had partial responses. Two (2) patients with liver cancer had stable disease, with one lasting 47 weeks stable.
Debio 0932 is a Hsp90 compound currently in Phase 1b testing, and expected to begin Phase II testing in NSCLC. Current Hsp90 drugs have shown a great deal of efficacy in ALK mutated NSCLC patients. Infinity Pharmaceuticals (INFI) and Synta (SNTA) both have Hsp90 compounds in human studies. Pfizer (PFE) recently received FDA approval for Xalkori in patients with ALK mutated NSCLC. Analysts predict this to be a multi-billion dollar drug. Although Hsp90 is a different type of molecule than Xalkori, the patient population is the same, and it is a very large in dollar terms.
CUDC-907 is a PI3K inhibitor. Curis expects to begin Phase 1 patient studies in 2012. CUDC-907 has a funding agreement with the Leukemia & Lymphoma Society. We would like to note the value of PI3K compounds: in 2011, Gilead Sciences (NASDAQ:GILD) acquired Calistoga Pharmaceuticals for potentially up to $600 million for its PI3K Phase 2 compound.
Institutional Ownership (Top 10: 12-31-2011)
Curis shares outstanding as of 12/31/2011: 78 million
First Eagle Investment Management: 17.2 million shares
Baillie Gifford: 3.4 million shares
Blackrock: 4.4 million shares
Vanguard: 1.9 million shares
State Street: 1.3 million shares
Northern Trust: 1.1 million shares
Franklin Resources: 750,000 shares
Dimensional Fund: 537,000 shares
KBC Group: 470,000 shares
Bridgeway Capital Management: 382,000 shares
SOURCE: NASDAQ.COM
We view the current institutional ownership as extremely weak -- that is a actually a very good thing. If you exclude First Eagle Asset Managment, Curis' institutional ownership is a weak 20-25% of total holdings. We believe most potential investors have stepped aside in the past, not wanting to get involved with Curis until data from its pivotal study in BCC was announced.
Noticeably absent from Curis' institutional holders are large multi-disciplinary asset management firms such as FMR (Fidelity), Adage Capital, and Wellington Management (who own positions in several Boston-based biotechnology companies). Further, healthcare-specific funds such as Sectoral Asset Management, Biotech Value Fund, Orbimed, Ayer Capital, BB Biotech, Baker Brothers, Perceptive Advisors, Healthcor, and Redmile are noticeably absent as well.
Based on our discussion in this article, we believe it is only a matter of time before some, or all of these funds become shareholders of Curis. One of the reasons we have found this to be such a compelling investment at current levels, is because none of the aforementioned funds are currently shareholders of Curis (as of 12-31-2011). As an investor, we ask ourselves: "do we want to be long the stock before the largest funds pile into the name, or after and the stock has already made most of its move?" We have chosen to hopefully ride the wave.
Again, with the royalty potential in Erivedge, and three (3) other compounds of which almost no value whatsoever is being attributed, we strongly feel that many of the aforementioned funds will be piling into CRIS over the next 12-18 months and hope management does a better job at helping to attract these investment firms. (If institutional ownership remains flat, this is a clear indication that Senior Management is not properly executing, in our opinion).
Our thesis is that there is 200-300% upside to CRIS shares over the next 18-24 months, barring a global macro-meltdown. We feel, as more data from Erivedge becomes clear in indications other than BCC, royalties from Erivedge begin to exponentially ramp, and data begins to emerge from CUDC-101 and Debio-0932, CRIS could potentially be valued between $1.0 billion - $1.5 billion or $12.00 - $18.00/per share.
This is our thesis for our investment in CRIS. Please do your own due diligence and come to your own conclusions.
Disclosure: I am long CRIS.
Additional disclosure: We provide no investment advice nor recommendations. Everything written herein, and is not to be taken as a recommendation or advice. It is our own thesis on why we took such a position. Please do you own research and make your own investment decisions.