I was lucky enough to have my father introduce me to investing at an early age. He was a risk averse, old-school, Buffett-type investor who focused mainly on accumulating the conservative and enduring dividend growth blue chips. One of his favorite stocks to add to in any prolonged downturn was Caterpillar (CAT).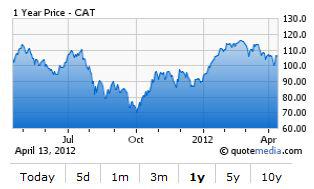 During these recessionary periods he believed that Caterpillar offered not only a nice and stable dividend but also a tantalizing growth prospect when the world engine turned back on.
I witnessed this first hand during the liquidity crisis as he went all in with Caterpillar in the 30s. It is now trading consistently north of the $100 mark. It has risen basically 300% in 3 years and his yield is now over 3%.
Is this too much too fast? Let's examine some of the metrics to determine if valuation still warrants adding to current long positions. Currently, Caterpillar is trading at roughly $106 per share, which puts its current P/E ratio at 14.3 and its forward P/E ratio at 11.2.
In comparison, the company is priced at a discount to its peers - the average current and forward P/E ratios of the machinery industry are 22.05 and 13.59, respectively.
In addition to its attractive valuation levels, Caterpillar also pays a small dividend currently yielding about 1.7% annually. While that figure may not be very high, there is potential growth for forward looking conservative investors.
Caterpillar has a nice history of raising its dividends for 18 consecutive years and we can expect them to continue to do so in the near future. It also has one of the most attractive payout ratios I have seen since doing valuations at about 24%.
Caterpillar also presents a healthy earnings growth expectation of 15% annually. If global economic conditions continue to improve, look for Caterpillar to follow suit. Old machinery will need to be replaced. Machinery companies that delayed upgrading equipment will need to replace existing equipment sooner rather than later.
This, combined with the company's aggressive streamlining actions and solid presence in emerging markets, makes for a very positive outlook for Caterpillar. They also seems to be a very popular choice among hedge funds. The total number of hedge funds listing Caterpillar in their holdings has increased nearly 20% since last year. In total, there is now $1.9 billion in total investments in the company at the end of December, versus $1.1 billion at the end of September.
Recent acquisitions include mining equipment company Bucyrus in a 2011 deal valued at $8.8 billion. The purpose of this purchase was to help the company establish a stronger foothold in the mining markets, which could be a major boost thanks to the ramped-up production seen in emerging economies like India and China right now. Caterpillar was able to reduce its costs in the deal by paying cash.
Caterpillar may face downward pressure if markets continue to swoon. I would like to pick it up at around $90, but that would require a significant push from current levels. I still feel that even at current valuations it is a great long-term buy for conservative investors.