Pharmaceutical Product Development, Inc. (NASDAQ:PPDI), the large CRO (contract research organization) headquartered in Wilmington, NC, appointed Simon J. Britton as vice president of clinical operations for Asia. The position is a new one, and it is accompanied by a realignment of PPD's international operations.
PPD now splits its Phase II-IV clinical trials into four geographical divisions: the US, Asia, Latin America and the EMEA (Europe, the Middle East and Africa). Its Asian operations are located in China (Beijing and Hong Kong), India, Korea, Singapore, Taiwan and Indonesia.
For the past seven years, Britton has worked for GlaxoSmithKline (NYSE:GSK). In his most recent position at the company, he headed GSK's international clinical operations, which were sited in 25 different countries. His appointment and the establishment of a separate region for Asia were done in recognition of the area's growing importance to PPD. Worldwide, PPD has offices in 29 countries, and it employs over 10,000 professionals. Over the past 12 months, PPD reported earnings of $163 million on revenues of $1.3 billion. It has a market capitalization of $4.6 billion.
PPDI 1-yr chart: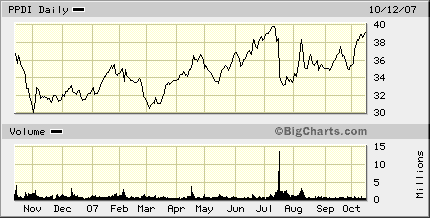 Disclosure: none.