Moderate to conservative investors looking for high yield without high volatility should consider Senior Housing Properties Trust (SNH) as part of their portfolio. SNH operates as a healthcare real estate investment trust (REIT), distributing at least 90% of its REIT taxable income to shareholders. The current dividend payout announced on April 3, 2012 is $1.52 per share annually, which translates into a 7.2% yield. The dividends have increased consistently over time to maintain a high yield.
As of its April 2012 investor report, SNH owns 378 properties in 39 states and Washington D.C. It has approximately 580 tenants in these properties. The $5 billion investment portfolio comprises 8.1 million square feet of medical office building [MOB] space with 30,800 beds/units.
Senior Housing Properties Trust Facility Breakdown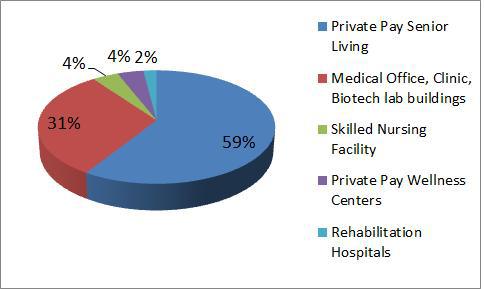 The REIT is undervalued as the price to book ratio is currently only 1.39. Price to book ratios under 3 indicates an undervaluation. SNH has operating cash flow of $255.56 million and free cash flow of $175.95 million. The profit margin of 33.64% and operating margin of 53.73% are attractive. EBITDA totaled $355.05 million.
Senior Housing provides a dividend reinvestment plan (NYSEARCA:DRIP) to help accelerate the growth of your investment. The REIT has provided a total return of about 15% per year (dividends plus stock appreciation). Using a more conservative total return of 14%, an investment of $1000 in SNH should be worth about $1925 in five years and $3707 in ten years if dividends are reinvested.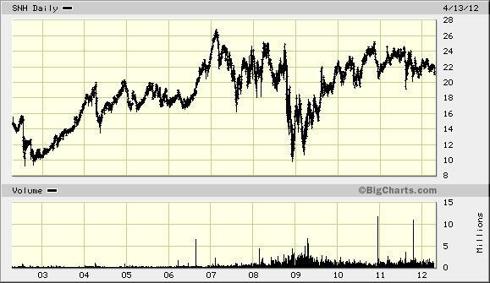 Click to enlarge
This REIT is a great way to invest in the aging baby boomers in the years ahead. With about 10,000 baby boomers retiring every day (3.65 million per year) for the next 19 years, SNH should be a reliable investment for the future. Many seniors will use the various facilities that are owned by the trust.
SNH has investment grade ratings of Baa3 from Moody's and BBB- from Standard and Poors. The REIT operates with financial flexibility and a strong balance sheet with low leverage.
Investors looking for high yield income should consider SNH. The growing number of retiring baby boomers and the positive and growing supply and demand fundamentals of the healthcare industry should allow this REIT to be profitable for investors for many years to come.
Disclosure: I am long SNH.